This Week's "Rich and Faimous" Faculty Welcome Event and University's Involvement in "Family Day at the Park" Among Upcoming Events
Plans to energize the student experience at the Stanislaus State Stockton Campus continue to evolve.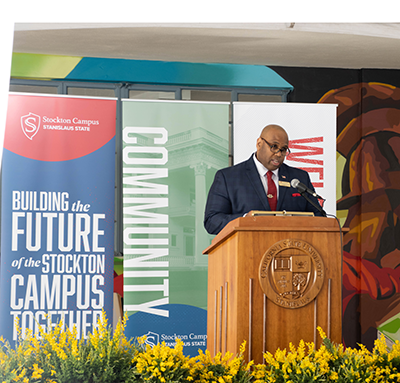 When the 2022 fall semester begins next week, new and returning Stockton students will see enhancements and upgrades to the student lounge, recreation room and library, along with new signage, food services similar to what is offered in the Turlock campus library and a soon-to- be completed food pantry.
Funding received from the State and the Office of the Chancellor are expediting a number of projects that include:  
Construction of an academic building, which is currently in the design phase;  
Renovation of Magnolia Mansion for the Community Equity Research Center (CERC), which is currently in bidding;  
Renovations to Acacia Court and a facility master plan for the campus are underway and will continue through this academic year.  
And that's just the beginning of the buzz.    
On Wednesday, Aug. 17, the Stockton Campus will host a welcome back and social event for faculty with Stockton Campus Dean Faimous Harrison and Provost and Vice President of Academic Affairs Rich Ogle in attendance.  
The event, "Rich and Faimous in Stockton," will provide new and returning faculty, professional staff and members of the Provost Advisory Council an opportunity to engage with members of our Warrior community from both campuses.  
Breakfast, snacks and lunch will be provided, along with a chance to tour Acacia Court. Representatives from Academic Affairs, Stockton Campus, SPEMI and Student Affairs will provide updates for the 2022-23 academic year. Additionally, the Office of Information Technology will conduct two faculty classroom technology training sessions on the same day.   
The University is also gearing up to participate in one of Stockton's long-standing community events, Family Day at the Park, set for Sept. 17 at Webber Point. More than 20,000 people are expected to attend the event, which is celebrating its 25th anniversary.  
Family Day at the Park provides an opportunity for Stan State to showcase its programs and services and to engage with "families, alumni and community stakeholders from near and far," Harrison said.  
Representatives from the Office of the President and division leaders have pledged that their areas will participate and are strongly encouraging their departments and units to promote their programs, services and resources by tabling during the event.  
Email the Stockton Campus for more information and keep an eye on StanNews in the coming weeks to stay informed of related news and events.