Jaclyn Garcia Brings a Personal Touch to Counseling and Psychological Services at Stanislaus State's Stockton Campus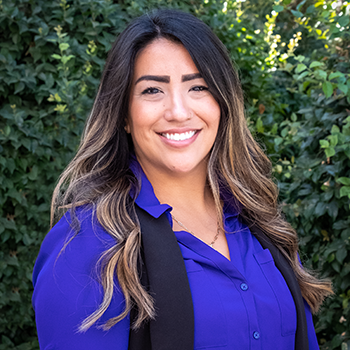 She was named for actress Jaclyn Smith, who portrayed one of "Charlie's Angels" on the hit television series her mother watched while pregnant, and it's only appropriate, because Jaclyn Garcia demonstrates an angelic heart. 
The Stockton native left her role as a therapist in the San Joaquin County Jail last August after seven years to become Stanislaus State's first full-time Counseling and Psychological Services (CAPS) counselor at the Stockton Campus. 
"It's full circle," Garcia said. "Now, I have an opportunity to give back to the campus community and students what was given to me years ago when pursuing my bachelor's degree in psychology while I was also a single parent. I had a supportive community that not only included friendships but also professors and it was a wonderful experience."   
Garcia is married now, and her son is 16 years old, and as the Stockton Campus welcomes  a growing population, the students face challenges very similar to those Garcia encountered.  
Understanding the challenges of balancing single parenthood and academics led Garcia to start a parenting support group that will meet in the spring semester. She also continues to focus on building partnerships with various Stockton community-based organizations. Most recently, the Stockton Campus event highlighting Domestic Violence Awareness, was held in partnership with Women's Center Youth and Family Services. 
The first day she was able to occupy her newly created office in November, she had students ready to meet face-to-face after months of telehealth meetings. 
Garcia is more than a person filling a chair for students seeking help with mental health challenges.  
She's a born-and-raised Stocktonian who graduated from St. Mary's High School, which her single mom paid for by working two jobs, went to San Joaquin Delta College and then transferred to Stan State. 
Some of her high school peers went off to other locales for college and careers, but Garcia found what she needed in Stockton. 
"Coming from a Hispanic culture, being a first-generation graduate, my roots run deep in Stockton," she said. "All of our family, multiple generations, are here. My friends are here. I never thought I needed to get away and develop my life elsewhere." 
Instead, Garcia wanted to make a difference in her community as a thank you for the city that had given her so much. 
That led her to work with those incarcerated at the county jail. 
"One of my passions is working with the incarcerated population and to provide support in their rehabilitation," she said. "It is important to remember that all human beings have value and that they matter."   
Garcia wanted to use her marriage and family therapist license to counsel a different population when her former supervisor at the jail, Cynthia Borges-O'Dell, the director of Stan State CAPS, let her know about an opening at the University. 
The idea of a counselor on the Stockton Campus was proposed some time ago, and when Borges-O'Dell was hired a year ago, she hoped to spend one day a week there. Student Affairs had always been committed to offering services to the Stockton Campus and when funding for two new positions came through, it was decided to have a full-time counselor in Stockton. 
"It was fate," said Borges-O'Dell. "The team interviewed her and loved her. It was such a great fit. Not only was she personable and wonderful and talented, but she's from the area. She has community connections, and she graduated from the Stockton Campus. She understands the culture of the campus and the positivity, the beauty, the nuances of what the Stockton Campus has to offer." 
Garcia got to work quickly, and more plans are in the works. 
CAPS expects to launch Well-Being Ambassadors on the Stockton Campus in the spring semester. Envisioned by Borges-O'Dell, the ambassadors would be trained to provide peer-to-peer support. 
"I've always been a believer in peer advocacy and peer support," Borges-O'Dell said. "The overall goal is to connect them with other Stan State peer ambassadors in Basic Needs and the health peer educators with the Student Health Center. We want them to collaborate supporting students and doing outreach, especially with new students." 
Borges-O'Dell and Garcia teamed to create peer mentors at the jail, which helped to improve relational interactions and enhance rehabilitation.  
"Jackie took the idea and embraced it, bringing it to life, just as she is doing here at Stan State with the Well-Being Ambassadors and implementation of CAPS services at the Stockton Campus," Borges-O'Dell said.  
The ambassadors are a pilot program on the Stockton Campus and the hope is to later introduce ambassadors to Turlock. 
With psychology majors and master's in counseling students on the Stockton Campus, Garcia envisions students with the requisite empathy to listen, understand and create an environment of belonging. Ambassadors would provide supportive mentoring and guide their peers to the appropriate resources. 
At long last, Stockton has a champion for such resources in Garcia.