Despite Studying Several Languages, Her Heart is with Her Native Spanish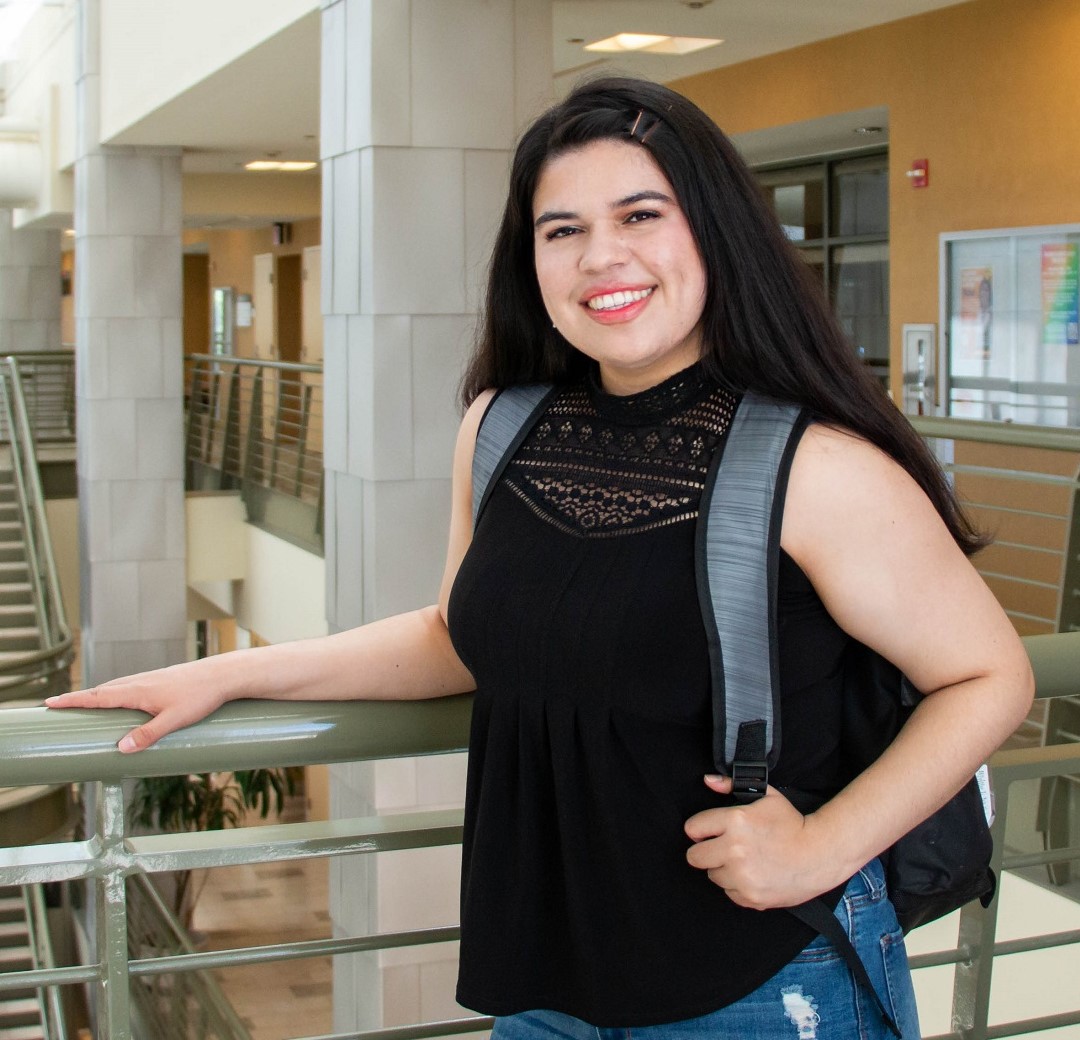 Melissa Rubio loves languages. 
She grew up in a Spanish-speaking home and began picking up English when her older brother and sister started school.  
Rubio became fluent in both languages through dual-immersion classes in Delhi schools. Last summer, she devoted herself to learning Portuguese and is now both fluent and literate in the language. She has been studying Japanese since she was 12, and she's learning Tagalog, exchanging Spanish lessons with an online friend for lessons in the Filipino language. 
The Delhi High School graduate who once aspired to teach kindergarten is now a McNair Scholar with dreams of turning her language skills into a doctorate in Spanish linguistics and one day teach the subject at the college level. 
Rubio's career path is decidedly influenced by her experiences at Stanislaus State, the university her parents insisted she attend rather than one far away, because her elder sister, Natalie, was a student here. 
Rubio doesn't seem to mind. She said Natalie, with whom she has always been close, has been her angel, helping her register for classes and encouraging her to use resources, including the tutoring and writing centers. 
"It's all been a breeze for me, and it is thanks to my faith and family," Rubio said. 
Life is about to change for the first-generation sisters who enjoy studying in the library and walking to classes together. Natalie expects to graduate in May with a degree in child development with hopes of becoming an early childhood educator. Melissa is embarking on a path to graduate school. 
After taking two years of Native Speakers Spanish, AP Spanish and Chicano Studies in high school, Rubio took a year-long break from the subject. When the pandemic hit, she enrolled in her first Stan State Spanish course, and she knew she had to follow her heart. 
"Elders in my community told me I spoke Spanish excellently," Rubio said. "They said, 'never let it go.' Even though they encouraged me to keep doing that, I wanted to do it, anyway." 
Her Stan State Spanish courses were unlike any of those in high school. 
"You don't only learn about the language, but you learn the history, the context and the culture as well," Rubio said. "Everything intertwines. You learn about the customs, the music, the food. Everything is important when it comes to learning the language. You can't separate culture from language." 
And Rubio can't separate herself from her culture or her language. 
"The people who influenced me are my parents, because they speak Spanish," Rubio said. 
At an early age, both her parents took on the responsibility of raising siblings in their native Mexico. Rubio's mother was 5 when her mother died. Consequently, she helped raise two younger siblings: a 2-year-old and an 8-month-old. Rubio's grandfather worked to send all his children to high school, and Rubio's mom graduated and found work as a secretary. 
Rubio's father was the second of 13 children. He was the most responsible older male and left school early to support the family. At age 17, he was the first of his siblings to move to the United States, where he started working in the fields and now works as a truck driver. 
Rubio said her parents never fully understood the value of education and would have loved her regardless of the grades she brought home, but she always strived to earn excellent grades. She also found time to enjoy extracurricular activities. She played violin, was the lead vocalist in her high school's mariachi band and was a cabin leader at a camp for sixth graders. 
"I didn't get to go when I was in sixth grade, so when I was a senior, I decided to go as a cabin leader, and I loved the experience," she said. 
She's active at Stan State, too. Rubio is currently a leader for the Civic Action Fellows and is tutoring freshmen and Denair High School students, whom she encourages to pursue a college education. She also is a part of the Academic Success Center's First Gen Workshops and is vice president assistant of Chicanos Unidos for Academic Achievement (CUAA), an organization where, "I can proudly engage in my cultural customs and share with anyone interested," Rubio said. 
A deeper appreciation of her cultural customs came through learning Spanish, the language spoken in her home. But a deeper understanding of the language, Rubio said, came from a Spanish linguistics course. 
"Our professor gave us manuscripts in Latin and made us apply linguistic concepts and make them into the Spanish words they are today," Rubio said. "I had to translate those Latin words using my knowledge. Linguistics is a science, a math. I had to dissect, simplify, rearrange the word, and, only then, discover its modern use. I had to translate the whole Latin paragraph into modern Spanish. I found that absolutely interesting and intriguing. I got an A in that course and became passionate about doing the same in other languages. While I was doing that paragraph, I saw how I could turn it into Portuguese as well. I asked my professor if I could convert these words into other Romance languages. She said I could. 
"I decided to duplicate the concepts to possibly learn even more languages in the Romance area." 
The lesson partly influenced Rubio's planned McNair Scholar research project. 
"Because I'm so interested in Hispanic Linguistics, I want to see the differences between bilinguals and trilinguals," Rubio said. 
She hopes to study those who are bilingual and multilingual and measure their levels of fluency and literacy in the languages they understand and find out what motivates them to acquire proficiency in a foreign language. 
"I want to encourage more people to learn a language other than English and see how their knowledge in their mother tongue could facilitate acquiring another language as Spanish has done so for me," she said.