Note: This article is part of the StanGrad series highlighting Stanislaus State students who are part of the Class of 2019. Read more StanGrad profiles.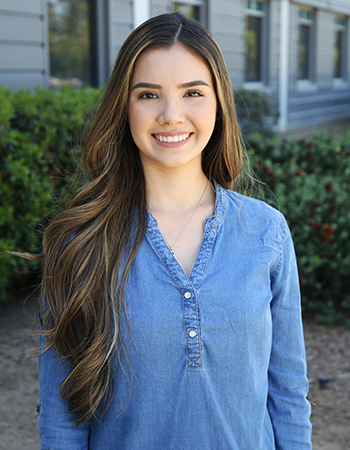 Livier Camarena Sanchez came to Stanislaus State feeling a little lost. "Being a first-generation college student and being the oldest in my family, I had no one to guide me and inform me about school-related things," Camarena Sanchez said.
So she reached out, made connections and soon found herself in the thick of undergraduate life. "It is critical to have people who believe in you, care about your success and support you," she said. "There is not one professor in the biology or chemistry departments that I have encountered who has not had a positive impact on me."
Camarena Sanchez leaves Stan State with a bachelor's in biology, minor in chemistry and a long resume of academic honors, research achievements, work experience and volunteer activities.
A recipient of the California State University Trustees' Award for Outstanding Achievement, Camarena Sanchez is also a Mary Stuart Rogers Scholar. At the Honors Program Capstone Conference, she presented her research on the relationship between airborne proteins in the Central Valley and allergies. She is a bioanalytical chemistry and molecular genetics research assistant working on optimizing the surgical protocol for nephrectomy procedures in rats.
She has worked since 2016 as a student assistant for Safety & Risk Management, at Doctors Medical Center as an emergency department scribe and will be completing a third summer as an intern with Kaiser Permanente.
Her volunteer efforts include making care packages for the homeless with the Pre-Health Society of Stan State as well as participating in the Donnelly Park Clean Up event and Science Day, being a youth soccer coach, a counselor at Foothill Horizons Outdoor School of Education and a parent-teacher conference translator.
Her next step will be toward the medical profession.
"I plan to pursue a career in women's health," Camarena Sanchez said. "I want to serve underrepresented communities here in the Central Valley with an emphasis in preventive care."
---
#StanGrad File
Name
Livier Camarena Sanchez
Degree/Credential
Bachelor of Science in Biological Sciences, minor in Chemistry
What can you tell us about your student and life experiences at Stan State that could serve as an inspiration to current and future students?
"Education is a journey, it is not a straight path. You will go through experiences you didn't plan to go through. Things may not go exactly as planned, and that is okay. Those experiences are what shape you and allow you to grow. Allow yourself to take part in things that are outside of your comfort zone, have fun and be yourself."
What advice would you give to current and future students?
"Don't go through your undergraduate years only going to class and back home. There are so many opportunities here for you to grow academically and personally. Ask questions and reach out to faculty and staff. Making connections is very important for your future career, and it also makes it very enjoyable to be at school. Study a lot and be consistent with your study methods. Remember, those late nights and early mornings spent studying won't be forever. What is forever is the knowledge you will gain and the dedicated and persistent person you will become."
Which faculty or staff member had the greatest impact on you, and why?
"Starting freshman year, Dr. Youngblom guided me with my classes and with extracurricular activities. He taught me that dedication and perseverance is key! He taught me that through education anything you set your mind to is possible; as long as you are willing to put in the work, you will get there. He believed in me. I have been Dr. Sardella's student in several classes. He created an environment in which it was okay to ask questions. He broadened my understanding of so many things and helped me become a better student overall. Garrett Soriano was my PACE academic counselor and I truly am grateful to have met him. He helped me with so many things! I wouldn't know even half what I know now if it wasn't for all the questions he calmly answered."