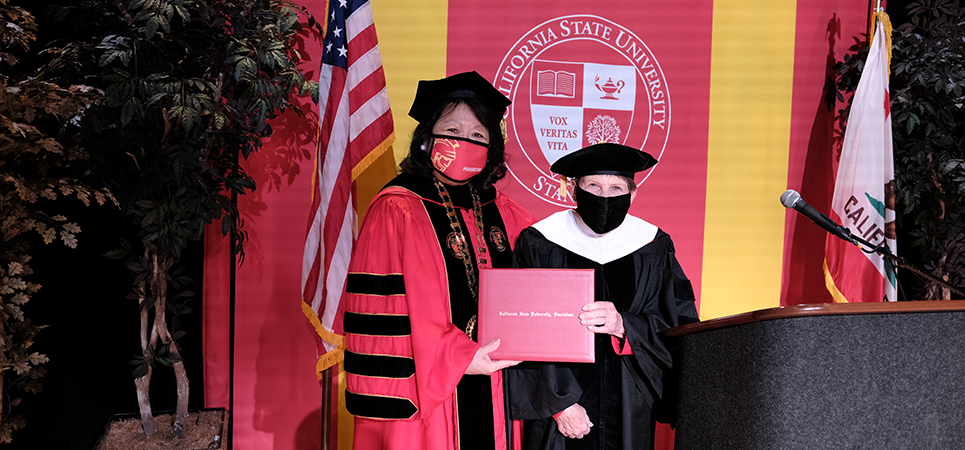 Stanislaus State awarded Central Valley community advocate, civic servant and retired educator Kenni Friedman an Honorary Doctorate of Humane Letters during the University's Commencement ceremony honoring Class of 2020 graduates.  
"She is a visionary and highly regarded community leader who has dedicated nearly three decades of meritorious service toward improving the region and the lives of its residents," said Stanislaus State President Ellen Junn said during the May 20 morning ceremony.  
"Through civic engagement, philanthropy and volunteerism, Ms. Friedman represents the humane values that are consistent with the California State University (CSU). She offers a holistic perspective on issues affecting access to education and understands the CSU's role in improving the social and economic conditions of its students, particularly those from the Central Valley." 
The Honorary Doctorate of Humane Letters is the highest honor conferred by Stanislaus State and the CSU Board of Trustees. To be considered, honorees must have achieved excellence in areas that embody the CSU's ideals and objectives, performed meritorious and outstanding service or their life's achievements and serve as an example of the CSU's aspirations. 
Friedman has a long history of service in the region. She was instrumental in establishing Stanislaus County's chapter of the Boys & Girls Club of America, founded the Great Valley chapter of the American Leadership Forum, served as president of the League of Women Voters of California and as a board member for the California Coalition for Fair School Finance. Friedman was elected and served on Modesto's City Council for a decade. 
During her acceptance speech, Friedman spoke of challenges she faced as an ambitious female college student during the 1960s. Although she earned top grades, she was not allowed to interview for jobs at several firms because they did not accept women applicants at the time.  
"I was told more than once that although I was at the top of my class, men needed the top grades in order to secure good jobs to support their families," Friedman said.  
And while an international firm did eventually hire her, she had to leave her position when she decided to start a family because childcare and family leave were not readily available. Despite the challenges, Friedman said she learned to look for meaningful ways to serve her community.  
"My pearl of wisdom to you is to match your passion with the mission of an organization that aligns with your values," she said. "Graduates, you represent the future, and you are well prepared for this new world. You know what needs to be done. I implore you to accept the challenge and teach the rest of us how to move in effective ways to navigate this new world. I am listening and so are others."