Note: This article is part of the StanGrad series highlighting Stanislaus State students who are part of the Class of 2018.  Read more StanGrad profiles.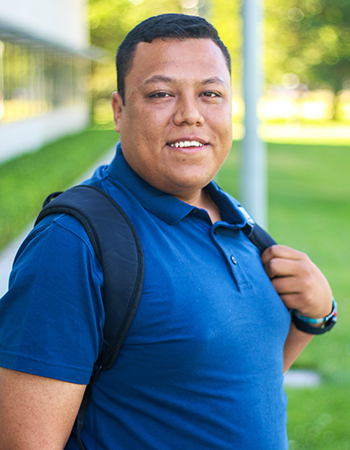 As he studies the past, Jesus Pimentel keeps his focus squarely on the future. A history major with a minor in Latin American studies, he has set his sights on becoming a high school teacher and helping students who speak English as a second language attain the skills they need to succeed in college and life beyond the classroom.
"ESL students are often thrown under the bus when it comes to college because they do not develop the necessary skills," he said. "I want to help such students. I want to show them it is possible to attend and graduate from a university."
Pimentel has a keen understanding of the challenges ESL students frequently face. He, too, has faced challenges as an ESL student, a Dreamer and the first person in his family to attend college. The keys to success, he has learned, are perseverance and a willingness to reach out for advice when needed. Once he is a teacher, he hopes to hand those keys to his students and show them their options beyond high school.
"I have learned that you must take action. Ultimately, you are responsible for your success," he said. "Therefore, do not be afraid to ask questions. College may seem intimidating, but you will learn that such fears can dissipate by asking for guidance."
A transfer student from San Joaquin Delta College in Stockton, Pimentel started his Stanislaus State education at the Stockton Center and eventually took his final classes in Turlock. Over time, his professors say he has impressed them with polished assignments and sophisticated historical interpretations.
History Professor Stacy Fahrenthold worked intensively with Pimentel in his capstone writing course. "Jesus' capstone paper was hands-down the best example of careful and considered historical inquiry in the Senior Seminar," she said. "In his willingness to draw from diverse historical archives, pair policy documents with personal papers, and make 'big arguments' that weigh directly on the issues of today, Jesus' project was without match."
Like most Dreamers, Pimentel feels the tension of the current political climate surrounding immigration issues. His work, however, has not suffered under the stress. Instead, Professor Marjorie Sánchez Walker notes, he channels his energies into his projects. She sees a bright future ahead for him: "He is an excellent student, an amiable young man and dedicated to becoming a teaching professional."
---
#StanGrad File
Degree/Credential
Bachelor of Arts in History
What memories stand out most from your time at Stanislaus State?
"Most memorable are the classes I took. The instructors are approachable, and they truly care about student success. Additionally, the professors seem genuinely interested in their subject areas and enjoy open discussion. One enjoyable experience was my Senior Seminar class. Professor Farenthold pushed my capabilities and helped me throughout the course."
Which faculty or staff member had the greatest impact on you, and why?
"Professor Sánchez Walker had the biggest impact on me. She encouraged me to do better academically. Additionally, Professor Sánchez Walker is always available to talk to. She is friendly and cares about her students. She was the first professor who actually asked me about my background and cared about my success. Furthermore, she challenges her students to think critically and question everything."
What advice would you give to current and future students?
"My advice is to push on. There will be instances in which you will want to give up. Do not get discouraged if you fail a test or a paper. Instead, build yourself to improve and show doubters that you can and will succeed! Always seek help when in doubt. Talk to your professors and take advantage of student resources such as tutoring and counseling. Lastly, do not be afraid of failure. It's much better to try and take a challenge head on than to contemplate about it later."