The Third-Year Student Traveled to Washington D.C. Last Month and Participated in Two Days of Activities that Included a Q&A Forum at the White House
While a senior in the International Baccalaureate Program at Modesto High School, Ruben Marquez Jimenez won a national Youth Award and a $1,500 scholarship from the Hispanic Heritage Foundation (HHF).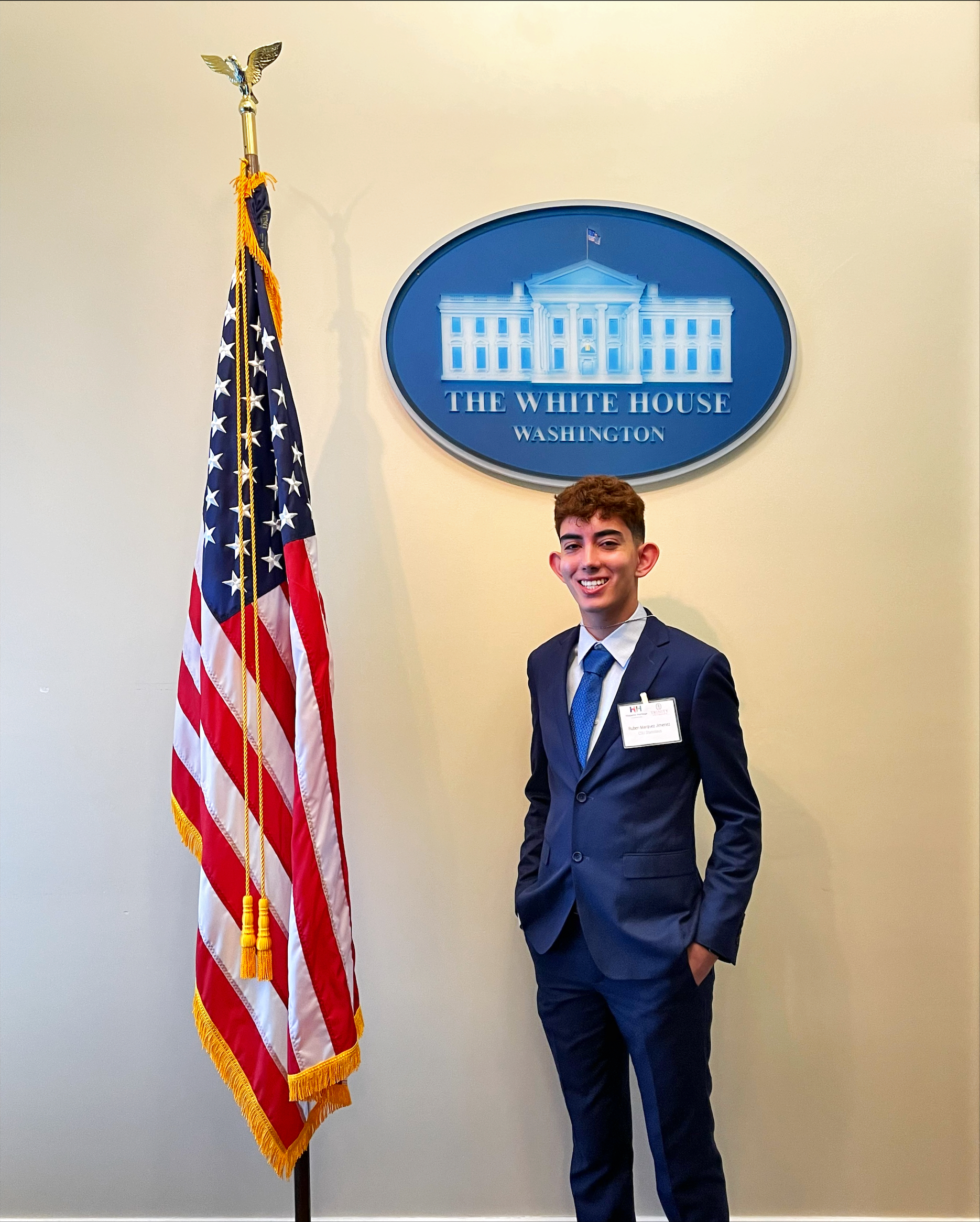 It was 2019, and the organization dedicated to promoting cultural pride and cultivating Hispanic leaders planned an awards ceremony, youth summit and annual conference for spring 2020 in Washington, D.C. 
Then the COVID-19 pandemic hit, causing the ceremony and all activities to be postponed. 
It took more than two years, but the third-year Stanislaus State student finally traveled to the nation's capital and received his award in late September during two days of activities that included a panel discussion and Q&A forum at the White House with top Biden administration officials, an awards ceremony, receptions and other HHF conference activities. 
Standing in the White House, thinking about its history, was a solemn moment for Jimenez, an undocumented immigrant who is president of Stanislaus State's Pre-Law Society and a double major in political science and Spanish with minors in history and Latin American studies. 
"I've looked on the internet and seen how many important people stood in the exact same spot we were in. That's a place where celebrities can't buy their way in; you have to do really meaningful work to be invited in," he said. "It felt really nice to know that the sacrifices my parents made 18 years ago allowed me to get to a place like that." 
When the panel discussion and Q&A forum began, Jimenez found himself in the position of being in the same room with several top administration officials, and he was not about to let the opportunity go to waste. When it was his turn to ask a question, he asked about President Biden's plans for the Deferred Action for Childhood Arrivals (DACA) program and accommodations for the undocumented community. Later, after the Q&A, he had a chance to mingle with White House advisors and other high-level officials, so he made a point of talking to them about immigration policy and the concerns of undocumented immigrants. 
"I just talked to a lot of people about these issues because they need to be addressed, especially since DACA is not safe now and a lot of people are relying on it," he said, referring to recent court rulings against the program. 
While in D.C., he also made connections with several people who talked to him about internships in the nation's capital where his immigration status would not exclude him, including one at the White House, and he is considering applying. 
A former participant in HHF's Youth Leadership Institute, Jimenez earned the Youth Award for his accomplishments at Modesto High School, including his work with longtime Modesto criminal-defense attorney Kirk McAllister to create a summer program that introduced students to careers in the legal system. Jimenez promoted and organized program participation among his fellow students, while McAllister used his extensive contacts to set up field trips that introduced students to the inner workings of local courts, police departments and a crime lab.  
"The students who participated were interested in becoming lawyers, cops or going into other fields in law enforcement," he said. "It was good for them to see the professions, and they told me later how much they appreciated it. Even people who wanted to go into medicine really appreciate it because they got to see the forensic side." 
Jimenez is on track to graduate with two bachelor's degrees in spring 2024, then he plans to continue his education at a law school in California.