Lisamarie Raimondo is one of 23 Scholars Selected to Receive the System's Highest Recognition of Student Achievement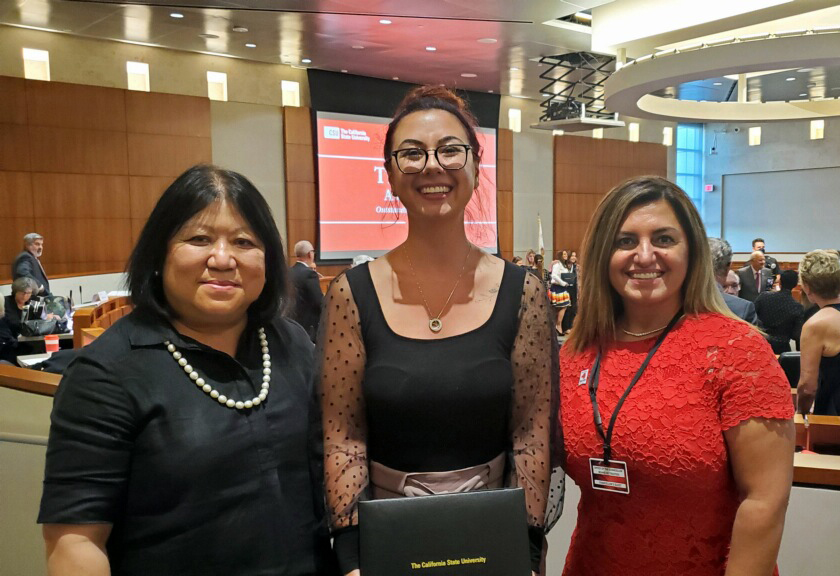 Second-year graduate student Lisamarie Raimondo is the Stanislaus State recipient of California State University's 2022 Trustees' Award for Outstanding Achievement, the CSU's highest recognition of student achievement. 
She is one of 23 students — one from each CSU campus — selected for the donor-funded scholarship awards, which are bestowed annually to students who demonstrate superior academic performance, personal accomplishments, community service and inspirational goals for the future. 
"These 23 remarkable scholars wonderfully exemplify the ideals of the California State University," said Chancellor Jolene Koester. "Their inspirational stories are connected by a common thread of intelligence, perseverance, resilience and the transformative power of higher education. Our communities, state and nation — indeed, our world — will long reap the benefits of their academic, professional and personal achievement." 
Raimondo has received a scholarship of $7,000 funded by an endowment from the William Randolph Hearst Foundation. She will be honored as a Hearst Scholar in a ceremony during the CSU Board of Trustees meeting Tuesday, Sept. 13. 
Raimondo came to Stan State as a graduate student in fall 2021 after earning a bachelor's degree in psychology with a criminal justice minor from California State University, Sacramento. She is pursuing a master's degree in social work and maintaining a cumulative GPA of 4.0.  
A community service volunteer since 2012, Raimondo has been an active and dedicated advocate for mental health, suicide prevention, the homeless and children in foster care for about six years. In 2018, she was recognized as Student Leader of the Year while an undergrad at Sacramento State. Since 2020, she has volunteered as a court-appointed special advocate for a foster youth, fulfilling a role that includes mentoring the youth and working with the court and the youth's team of attorneys, social workers, teachers and other professionals.  
 Having overcome a difficult childhood that included homelessness and the loss of family members, Raimondo wrote in her personal statement that she is inspired to help others by becoming a mental health therapist after she graduates. She wrote that she never expected to earn a bachelor's degree, much less a master's degree, "yet, here I am thriving in graduate school in a field that excites me and provides me an opportunity to change lives." 
"Today I am proud of the woman I've become, the challenges I've endured, and the resilience that keeps me standing tall," she wrote. "It is through these challenges that I gained a thirst for the adventures of life, living each day with intention and inner peace." 
In her nomination letter, Stan State President Ellen Junn called Raimondo an example of resilience and tenacity who is excelling academically and showing considerable potential in her area of study. 
"She hit the ground running at Stanislaus State, and we are excited to see her continue to grow in her academic career," Junn wrote.