Note: This article is part of the StanGrad series highlighting Stanislaus State students who are part of the Class of 2017. Read more StanGrad profiles.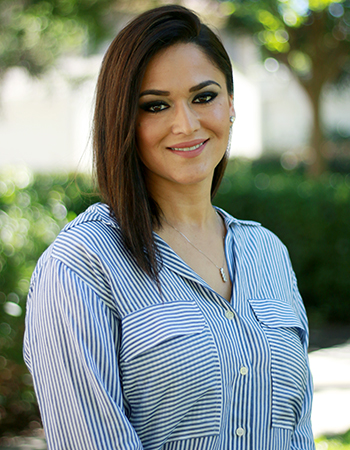 For the first eight years of Ghizal Ayubi's life, she lived in Kabul, Afghanistan, knowing an education was out of her reach.
"Until I came here, life in Afghanistan was all I knew," she said. "Respectively, it was and still is a place where education is not encouraged, especially amongst women, and it is a place that subordinates women."
It wasn't until Ayubi moved to the U.S. that she realized her life could have the same worth as a man's life; through education, she could make something of herself she never knew possible back home.
Today she hopes to use her experiences as a child and a woman, as well as the education she has obtained through Stan State's teacher credential program, to instill those beliefs in others, and to teach children that education is accessible to them and can better their lives the same way it has bettered her own.
"I went after something I knew in my heart of hearts I would never have the opportunity to do back home. A good, wholesome education," said Ayubi, who lives in Tracy and was able to take the majority of her classes at the Stanislaus State Stockton Center.
There were challenges along the way. A married mother of three, 38-year-old Ayubi said obtaining an education while balancing family life was difficult. So was assimilating to a life in a new country; she didn't know a single word of English when her family moved.
"I worked hard for it, I sacrificed for it and at times I cried for it," she said. "But in the end, I earned it. I followed through with a promise I made to myself as an 8-year-old girl with the odds stacked against her, and now I own that promise and no one can ever take that away from me."
Ayubi's belief about the ability education has to change someone's life drives her passion for teaching. Dedicated to being a lifelong learner and taking advantage of the opportunities she would not have been afforded at home, Ayubi wants the children in her classroom to feel empowered.
"Some of these children do have the odds stacked against them and I want to be an adult who helps them break their barriers, fulfill their promises and realize their self-worth," she said.
---
#StanGrad File
Hometown
Kabul, Afghanistan
Degree/Credential
Multiple Subject Teaching Credential
What memories stand out most from your time at Stanislaus State?
"I would have to say all the support that I have been offered and all the good friends I have met who are on the same journey as me. From day one, it didn't matter our background, color, race, religion or age, we all came together like a little family of aspiring teachers and we've stuck together ever since."
Which faculty or staff member had the greatest impact on you, and why?
"If I had to choose one staff member, it would have to be Dr. Christopher Roe. He has a humbling nature about him that makes you want to listen to what he has to say. He is the epitome of the kind of teacher I would hope to be one day."
What advice would you give to current and future students?
"Getting an education has been a powerful tool to change my world and set an example for my own children and my future students that we can do anything we set our minds to no matter where we come from or who we are. So my ultimate advice is this: Do it because you can. Do it because you have the opportunity to. Do it because it will bring meaning to your life and your self-worth."