The University Joins Colleges Across the Country to Recognize and Celebrate the Contributions of Student Workers
Five Stanislaus State student employees were selected as Star Student employees in observance of National Student Employee Appreciation Week.
This year's honorees, recognized for providing invaluable service with "enthusiasm, dedication and initiative," are Caitlin Schwartz who works in the Career and Professional Development Center; Laura Tellez Peña in Student Affairs; Josue Perez Ruiz in Financial Aid; Sandra Luna in the Office of International Education and Sarah Sutphin in Athletics.
Caitlin Schwartz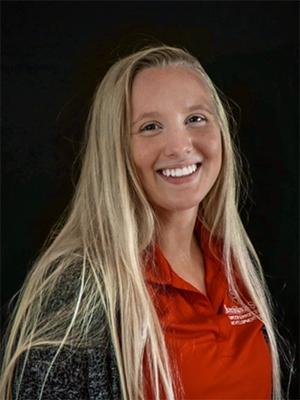 A biology major who plans to graduate with a bachelor's degree in fall 2021, Caitlin Schwartz has worked in the Career and Professional Development Center since October 2017. She was nominated by Rebecca Stephens, the Center's employer and student engagement analyst.
"Caitlin has been the student face of our center ever since she started working here," Stephens said. "Her knowledge and understanding of our services are stellar, and students and staff always comment on how her smile makes them feel happy when they walk through our doors. Caitlin ensures that everyone feels welcome, seen and accepted in our Center."
Schwartz said she enjoys working at the center because of her passion for helping others and efforts to always be the best at whatever she does.
"It's been a valuable and rewarding experience for me to have the opportunity to help promote the professional development of my peers while also developing myself professionally and creatively."
Laura Tellez Peña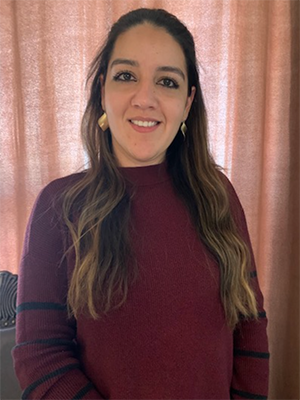 Looking back to 2019, Undocumented Students Services Coordinator Polet Hernandez Perez recalls feeling honored to offer Laura Tellez Peña a student assistant position in the program. Since then, Tellez Peña's performance on the job has proven Hernandez's initial feelings were on the mark.
"I've witnessed firsthand her high-level work ethic and professionalism when interacting with students,
colleagues and the community," Hernandez said. "She is proactive, approachable and always willing to listen and help our undocumented students. She has the wonderful ability to lead and inspire undocumented students to reach their full potential."
On track to earn a multiple subject credential with a bilingual authorization in May, Tellez Peña enjoys working in the Undocumented Students Services program because she is deeply committed to education and wants to eliminate the obstacles undocumented students encounter when continuing their education and striving for their goals.
"One of my favorite quotes is by Nelson Mandela: "Education is the most powerful weapon
which you can use to change the world.'Of all the things that can be taken away from you, education is not one of them," she said. "You can be left with nothing at all, but your knowledge is something that will always be part of you."
Josue Perez Ruiz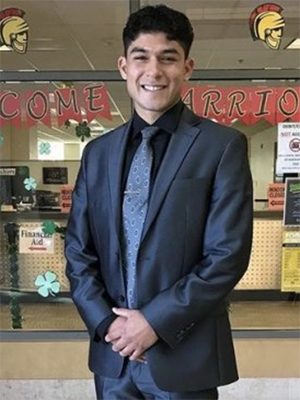 As the lead peer mentor of the Financial Wellness program, which he also helped create, Josue Perez Ruiz has seen how his work and the work of others in the Financial Aid and Scholarship Office can have a dramatic effect on the lives of individual students.
For example, he recounted a day when a student needed assistance just before the office was scheduled to close. He watched as his supervisor took time to help the student on the spot instead of asking them to come back another day. It filled Perez Ruiz with admiration for his supervisor and a new understanding of the importance of the office he works in.
"I realized then how much we, as employees of the University, can positively impact the lives of students if we just make the extra effort. A little effort goes a long way," said Perez Ruiz, who is on track to earn a bachelor's degree in business administration with a concentration in operations management in spring 2022.
His supervisor, Financial Aid Advisor and Financial Wellness Coordinator Landy Gonzalez-Hernandez, nominated Perez Ruiz for his hard work on the Financial Wellness Program, which includes posting on social media, making presentations, contributing to workshops and helping to write a training manual. Gonzalez-Hernandez said she appreciates not only Perez Ruiz's efforts on the job but also the upbeat, can-do attitude he brings to the office.
"Josue brings ideas to the table as to how to improve the Financial Wellness program and is always ready to help," Gonzalez-Hernandez said. "He is reliable, kind and always has a positive attitude."
Sandra Luna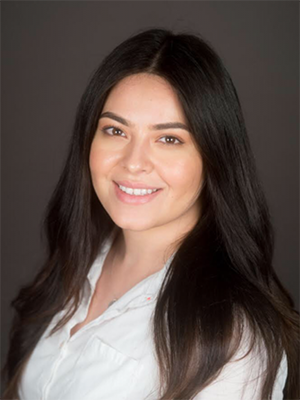 While working as the student assistant to staff in the Study Abroad office, Sandra Luna found it necessary to fire up her creative instincts when the COVID-19 pandemic required the office to transition to virtual services.
"Going from in-person to online has not been easy. I had to be more creative in my approaches to encouraging students to want to study abroad," she said. "Despite the challenges, eventually I got the hang of things. I think this shake-up has taught me to expect the unexpected."
Her supervisor, Study Abroad Director Brittany Fentress, can attest to Luna's creativity.
"Sandra is mature, responsible and genuinely cares about her work," Fentress said. "She is passionate about study abroad and is constantly coming up with new and innovative ways for us to reach students."
Luna holds a bachelor's degree in psychology and is pursuing a master's degree in public administration. She expects to graduate in spring 2022.
While her graduation is still a year away, Fentress is already feeling sad about the day Luna leaves the program to pursue her next steps in life.
"She is a vital member of our team, and we will have a large hole when she graduates and leaves us," Fentress said. "I couldn't ask for a better student assistant. She cares about her work and only gives top-quality, positive energy."
Sarah Sutphin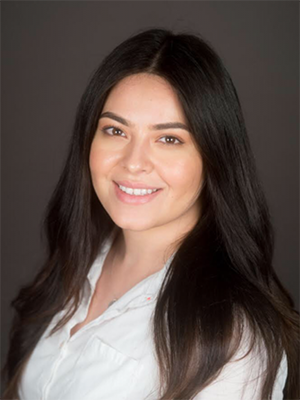 When she looks at student assistant Sarah Sutphin, Athletics Academic Advisor Amanda Flores sees a blossoming professional with a bright future in athletic academic advising.
"She is learning and growing into a young professional and following her passion to continue her work at the graduate level," Flores said. "She has a skill for working with others that I have only seen in a few other professionals her age. Her instinct of how to help a student, guide them toward graduation, or even with a simple assignment, is amazing."
Sutphin is graduating in May with a Bachelor of Arts in Liberal Studies. She plans to return to Stan State in the fall to pursue a multiple subject teaching credential and she plans to study online for a master's degree in athletic academic advising through Kansas State University.
A former athlete, Sutphin seized the opportunity to become a student assistant in Athletics because she wanted to maintain a connection to the world of athletics. She initially worked on the game day staff and was eventually offered a position in academic advising. That is where she found her stride.
"I found the balance of incorporating education and athletics that I had longed for," she said. "My position as a student employee has allowed me to juggle being a full-time student, commuter and dedicated worker. As a student employee, I was able to work with employers who care about my academics just as much as my work experience."