Note: This article is part of the StanGrad series highlighting Stanislaus State students who are part of the Class of 2017. Read more StanGrad profiles.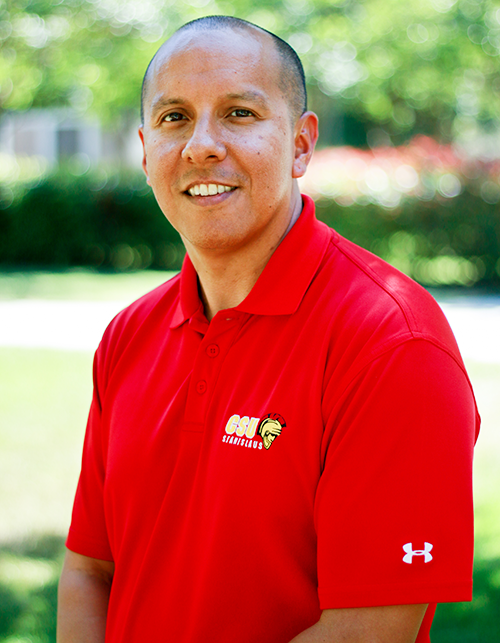 Derek Alvarado originally attended Stanislaus State in the 1990s for his bachelor's degree, and he recently came back to the University to receive his master's in counselor education. His experiences as a graduate student and undergraduate student are night and day.
When working toward his bachelor's, Alvarado has fond memories of hours spent studying at the library or socially in the quad. This time around, balancing a professional life with a demanding school schedule was more work and less play.
"In a program that requires its students to come to school two to three times per week for three to six hours each evening, there is not much time left over in the night to complete assignments and prepare for work the next morning," he said.
Despite the grueling schedule, Alvarado made the most of his graduate studies at Stan State. While some graduate students sit back and let their classmates do the talking, Alvarado takes an active role in the classroom.
"He always sits in the front of every class and contributes tremendously," said Dr. Suzanne Whitehead, a professor in the counselor education program. "Derek is not afraid to take risks, not afraid to be incorrect and not afraid to take some chances in order to grow as much as he can. He is well respected by his peers and fellow professors alike, is always there to help another student and goes above and beyond during his field placement assignments."
Upon graduation, Alvarado plans to put his degree to good use, advocating for students of all ages, ethnicities and those with physical and/or cognitive disabilities.
"I plan to use my degrees and work and life experiences to help students further their academic, personal and career goals," Derek said.
With more time on his hands, he's looking forward to becoming a more active community member, a friendly neighbor and dedicating more time to his non-profit organization Stanislaus Tutoring and Mentoring Program. Ultimately, both personally and professional, Alvarado wants to see his neighborhood prosper, by helping local youth, neighborhoods and local businesses find success."
---
#StanGrad File
Degree/Credential
Master's in Counselor Education
What memories stand out most from your time at Stanislaus State?
"As an undergraduate student in the 90s, I recall countless hours in the library reading, studying and preparing for finals. During free time, I remember congregating in the quad area to meet with friends and participate in any school or club events. As a graduate student many years later, things have changed drastically in terms of leisure and study time on campus. Career responsibilities during the day and student obligations at night take over my day off and on campus. As a result, I pass many hours in the classroom from evening to night. These long hours highlight my time at Stanislaus State."
Which faculty or staff member had the greatest impact on you, and why?
"Two wonderful women in the financial aid and cashier departments had the greatest impact on my academic career as a graduate student. Mary Jane Cullum and Marilyn Alvarado both maintained communication with me regarding finances and registration deadlines that were helpful in ensuring a smooth and efficient academic plan. In fact, there wasn't a time in which I missed an academic deadline or wasn't updated on important semester information that related closely to my educational plan​."
What advice would you give to current and future students?
"For current or future students entering the master's Counselor Education Program at Stan State, I'd advise them to participate as much as possible in each class so as to offer insight to their fellow classmates. In my opinion, most master's level programs are comprised of students with various levels of life and professional experience. The more they share these experiences with their classmates, the more interesting the topics will become during class."