​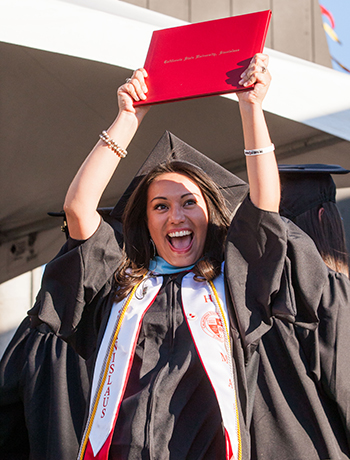 The best way to show pride and spread the word about the student experience at CSU Stanislaus is to talk about it.
That was the message delivered by President Joseph F. Sheley to the 2,517 students receiving degrees Thursday and Friday during commencement ceremonies at the University Amphitheater.
"Tell people — don't wait for them to ask — about the difference that your Stan State experience has made in your life and that your degree will make, in good times or bad, and not just in financial terms," Sheley said. "Tell them too that, without more college graduates, our communities — this region — will become increasingly less competitive."
View graduate profiles, photo albums and more
The morning ceremony on May 28 honored students from the College of Business Administration and the College of Science.
Student speaker Elita McFadden asked her fellow graduates to consider and appreciate how the power of fate brought all of them together to share the cap and gown experience.
"If anything or anyone else happened in our lives, we wouldn't be who or where we are today," McFadden said. "This moment felt so distant when registering for classes seemed like we were competing in The Hunger Games, when rushing to class after just finishing that paper you procrastinated on, and especially after seeing how long you could survive on just Top Ramen and a few dollars."
That evening's ceremony honored the 449 students eligible for graduate degrees — including doctoral and master's degrees, as well as teaching credentials.
Student speaker Miranda Lutzow, who earned a master's in public administration, called on her peers to recognize all those who supported them on their journey and to repay them by paying it forward. Her own journey thus far has included growing up in a home where neither parent was a high school graduate, being homeless for periods of time and becoming a single mother at 17.
"I'm not able to pay back all those people, but I will be able to pay it forward through my commitment to public service," Lutzow said. "It's clear our region is in need of leaders who are prepared to address challenges, but I'm encouraged as I look out on this crowd of problem-solvers. We now have the knowledge required to successfully make a real difference in the Central Valley."
The following morning, students representing the College of the Arts, Humanities and Social Sciences, and the College of Education, Kinesiology and Social Work received diplomas.
Communication students Erika Anderson and Angelina Moles stood together to address the graduates, reminding them of the limitless doors opened by their degrees.
"We began this journey as individuals, but we stand united because of the challenges we took on and the successes we celebrate today," they said. "You are strong-willed and educated individuals and together we will make the world a better place."
In a tradition now in its third year, Sheley honored Golden Grads, who graduated from the University 50 years earlier. Three members of the Class of 1965 took part in Friday's ceremonies: Sharon Neubaum Arpoika, Lenard Rhodes and Diana Messamer.
Several awards were presented during the commencement ceremonies:
Heather Coughlin, associate professor of mathematics, was honored as the Outstanding Professor for 2015.
Michael Raphael Khoshaba, a business administration major, was awarded the J. Burton Vasche Award, presented to the graduate who displays the highest standards of leadership, service and scholarship throughout his or her college years.
Corey Smith, a psychology major, earned the Geiger-Metzger Award, presented to the graduating student with the highest undergraduate grade-point average in courses completed at CSU Stanislaus.