Campus Events Highlight César Chavez's Legacy of Respect for Human Dignity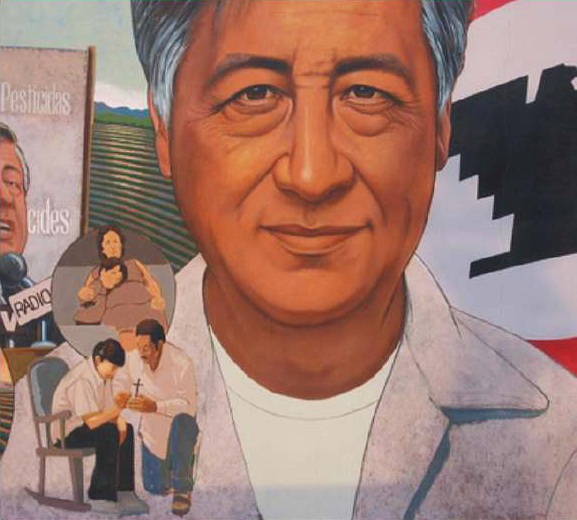 The 20th Annual César Chavez Memorial Celebration at CSU Stanislaus on April 1 featured the late human rights activist's youngest son, Paul F. Chavez, president and chair of the César Chavez Foundation, as keynote speaker. 
The daytime activities included a morning display in the Quad featuring an altar, César Chavez photos and quotes. An afternoon screening of the documentary "Cesar's Last Fast" preceded a forum with Paul F. Chavez in Room 102 of Bizzini Hall. 
The highlight of the evening program in the Main Dining Hall was the keynote address by Paul F. Chavez. Entertainment was provided by Balet Folklorico Los Falcones, Balet Los Luceros de Osborn and DJ Exquisite Sounds and Lighting. The campus César E. Chavez Celebration Committee presented a donated painting of César Chavez to the University Library. Also that evening, faculty member Daniel Edwards showcased his sculpture of César Chavez and the winners of the poster and essay contests received their awards. 
Since 2002, the César Chavez poster and essay contests have encouraged students from elementary school through college to consider the contributions and the value of his work. Students submit posters and essays that highlight the values of nonviolence, tolerance, sacrifice and service to others. Chavez inspired fellow farm workers to press for fair pay and humane working conditions through nonviolent means. 
Among the essay contest entries, one read, "…using violence will almost never take us to achieve our goals. César's personal core values will be really important to me for the rest of my life." 
Brett Forray, one of the contest judges, remarked on a unique aspect of the winning poster created by a fourth-grader. 
"I was struck by how patterns on the worker's clothes mimic the plants being harvested in the field to connect the man with the land. This was a sophisticated concept from such a young artist," Forray noted. 
César Chavez Day has been observed as a state holiday since March 31, 1995. The University has organized a celebration for the past two decades. 
"It's important to remember César's passion for social justice, and for helping people gain the rights and respect that every human being deserves," said organizing committee member and coordinator of the Early Opportunity Program, Carolina Alfaro. 
She cited her favorite quote from César Chavez: "Real education should consist of drawing the goodness and the best out of our students. What better books can there be than the book of humanity?" 
"What he said speaks volumes," Alfaro said. "We can be educated, but if we don't work with our hearts, we don't really learn about humanity."