Taylor Doo's Students Create Potential Additions to Author Amy Wu's Website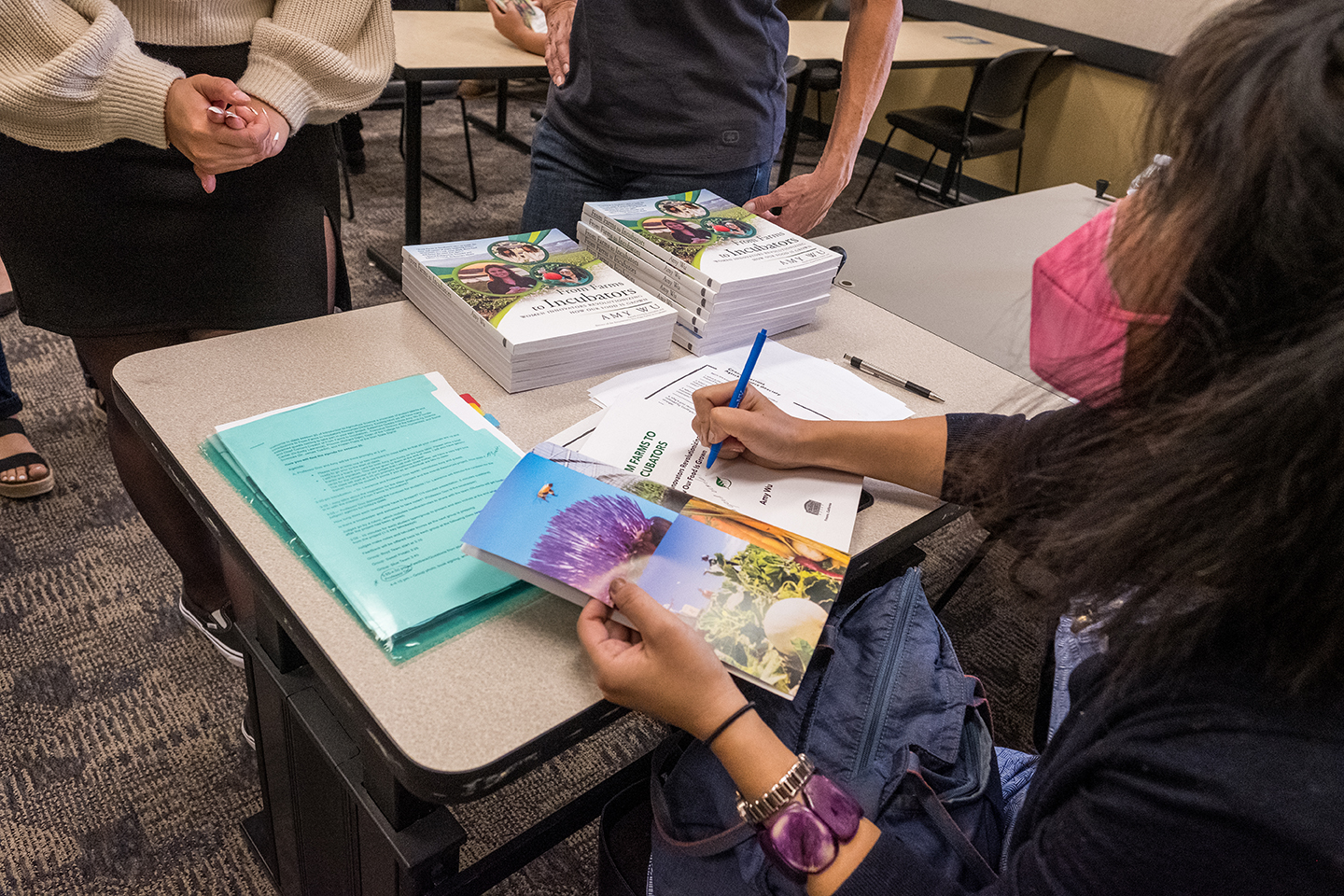 Ames Berdino is a Stanislaus State sociology major not likely to end up working in agriculture, but he gained universal lessons in Professor Taylor Doo's spring Introduction to Agriculture Science course. 
He mastered Airtable, an information-organizing program, collaborated with a group within the class and discovered the realm of agriculture businesses and specifically, the number of women in the field. 
All of that was possible because of a partnership with author Amy Wu and her project "From Farms to Incubators," which uses storytelling to celebrate women in agriculture and agrifood tech. 
The initiative started in 2016 when Wu was a reporter at The Salinas Californian and earned a grant from the International Center for Journalists to make a short documentary on women innovators in ag tech with a focus on women of color. That grant evolved into an art exhibition, written portraits and most recently a book, "From Farms to Incubators: Women Innovators Revolutionizing How Our Food is Grown," which profiles nearly 30 women ag entrepreneurs published by Linden Publishing. 
Wu also made it a cause, creating the From Farms to Incubators website, which includes a directory of more than 800 women ag leaders. She travels the country, presenting her documentary and speaking about women in the vast ag industry.
One of her stops was at Stan State in November 2021, at the invitation of Emily Lawrence, executive director of the National Ag Science Center and Ag Science Center at Stanislaus State. 
Students in Doo's initial Intro to Agriculture Science course last fall attended and were so excited about the possibilities — adding internships and mentorships and job openings to the page and creating a mobile app  — that they spoke for hours after Wu's talk ended. 
The next day, Doo sat down with Wu and Lawrence to discuss possibilities to collaborate. Wu was inspired by the students' enthusiasm and plans for the project evolved quickly. Her website had an Airtable directory of women leaders (the joint effort of a number of women leaders in ag tech), but Wu wanted a separate resources directory to be presented on Airtable, too. 
Doo's spring semester class, divided into three teams, was tasked with creating an Airtable to present those resources. 
"The Intro to Agriculture Science course delves into all pockets of agriculture, giving a shallow perspective on a breadth of knowledge," said Doo, whose mother's family farms in the region. "My goal was that as they were researching the different companies and businesses and different CEOs of the directory, they could see all the opportunities open to them." 
That is something that stood out, according to some students, including the members of the winning group, Berdino, Kristen Alves (business and agriculture), Stephanie Stewart (ag economics), Yasmin Vasquez (ag economics) and Emily Gonzalez (sustainable agriculture). 
The group's Airtable featured mission statements and the profit/non-profit status of companies. It included local agriculture businesses, and the team created a survey for company executives to answer, which could help a student or job applicant determine if their interests aligned with those of a particular company. 
"We created our own categories based on the type of expertise of the company listed," said Vasquez. "We narrowed it down to be easier for students to look at a category they'd prefer." 
That student perspective was especially important to Wu. 
"The focus on young people was extraordinarily helpful," Wu said. "That is something I hadn't thought about when I was envisioning the resource directory. I was not thinking of targeting students. This should definitely be for youth, young people, college students." 
In addition to wanting to add information on internships and job openings on From Farms to Incubators, Wu wants to see the creation of a mobile app to make the information more easily accessible to young people. 
It may be a project for Doo's future classes. 
Those who participated in this phase of the project found the experience rewarding. 
"I was aware there were quite a few women getting into ag," Stewart said. "In high school I was in Future Farmers of America, and it seemed like a majority of members were women. Still, I was surprised to learn how many women ag entrepreneurs there are and that they are starting their own businesses. 
"It is inspiring. All these women have the motivation, gumption to start their own business. I don't know if that's my route, but maybe down the road it will be." 
Starting a business isn't the only role for women. 
"Our agriscience teacher talks a lot about the different fields of agriculture and possible fields we could go into," Gonzalez said. "This project gave me a small glimpse of opportunities out there for us." 
Wu will pay tribute to the students on her blog, and with some tweaking, may incorporate their Airtable onto her website. 
The bonding, networking, deeper understanding of the ag industry and mastering a new technology posed by the project all align with Doo's objectives. 
"Everything, taken together, is going to make this directory better and help you as individuals to tackle the challenges ahead," Doo said.