Stan State Sociology Professor Says She Sees Herself in Students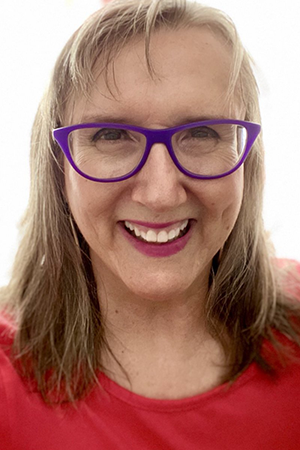 She's been nominated for other faculty awards in the past, but for Stanislaus State Sociology Professor Ann Strahm to be honored for Outstanding Service in Faculty Governance seems most appropriate.
"It means a lot, because it means I am doing something effective and that is really good for all of the citizens of our University: students, faculty, staff, administration," said Strahm, who is completing her 14th year at Stanislaus State. "I'm participating in ways that are meaningful, that work toward the goal of making sure we are a top-tier educational institution. I think part of that is involving all of the voices in the University, which is what I try to do."
Strahm is concluding six years as a Stan State representative to the Academic Senate of the California State University, is chair-elect of the University Educational Policies Committee (UEPC) and vice president of the Stanislaus chapter of the California Faculty Association, a group she has long served. She also serves as chair of the Department of Sociology and Gerontology.
"My workplace and student educational spaces are intertwined," Strahm said. "You cannot have a good educational space if you don't have a good workplace and vice versa. For me, I feel really strongly about making sure faculty and staff are treated with dignity, and that decisions at all levels ensure that dignity and well-being. Also, I feel it's my duty to stand up for students in a way that's sometimes pro-active, to bring forward new ideas and new ways of helping our students succeed."
She points to fighting back on a proposal to charge excessive fees for students with a high number of units, who continued to take classes without obtaining a degree.
 "I will always fight for a student's ability to get a college education, but not just slog through and survive it," Strahm said. "I want our students to thrive. I want their success to be something they remember with fondness and gratitude and with pride in themselves."
She relates to Stan State's largely Latinx, first-generation population more than one might expect.
Strahm, the product of a working-class single mother, recalled a high school counselor in Eastern Oregon who advised her to take a typing class because she was "never going to make anything of herself."
Strahm did take that typing class, and it did prove helpful in a secretarial job in Los Angeles at a record company. Denied promotions because of her lack of a college degree, she moved back to Oregon, moved back in with her mom and began at community college at 27.
"My mom wanted me to be a nurse," Strahm said.
It was a two-year program and she'd have a career when completed, her mom reasoned, but Strahm didn't take to nursing. She considered becoming a lawyer.
"Then I took a sociology class," Strahm said.
She'd found her calling.
Although she nearly quit a few days into her first semester as a transfer student to the enormous University of Oregon, she stayed, earning her advanced degrees.
A friend in her Ph.D. program had applied for a Stan State teaching position but accepted another position before her scheduled interview in Turlock. She recommended Strahm for the job.
"I remember flying into Sacramento and seeing all the fields and thinking 'Oh my God, I'm flying home,'" she said. "My uncle's a first-generation Mexican American. Members of his extended family were farmworkers."
It wasn't just the natural environment that charmed Strahm.
"It was the casual friendliness of the people, the students who were excited to listen to my presentation and had all kinds of questions about it and this beautiful little gem of a campus. I thought this was a place I could retire from. I hope that happens."
Strahm aims to help students as she was helped by people in her educational pursuits. One way to do that is through governance.  
"I feel our students have a better opportunity to succeed when we are doing good work on their behalf," Strahm said. "That also means working on behalf of faculty and staff as well. I try to make sure I'm listening to as many voices as I can and bringing those voices forward, even if they're not at the table.
"Sometimes I just throw temper tantrums," she laughed.
She's driven by what she thinks is important and of value to the community.
She helped get the Food Pantry established and with colleague Steven Filling, she persuaded Stan State's California Faculty Association chapter to launch the Basic Needs Initiative that continues to support students.
Strahm opposed priority registration for athletes, not because she is anti-sports or fails to understand their value as University ambassadors. It's that she sees other ambassadors who don't get priority registration: such as mothers with children, students who work 60 hours a week and take care of siblings or students caring for aging parents.
Sometimes she wins the argument. Sometimes she doesn't.
"We should have collaborative conversations and disagreements, as long as we're doing it with principles and for the purpose of making sure Stanislaus State citizens, everyone on the campus, has the best opportunity for success," Strahm said.