Note: This article is part of the StanGrad series highlighting Stanislaus State students who are part of the Class of 2017. Read more StanGrad profiles.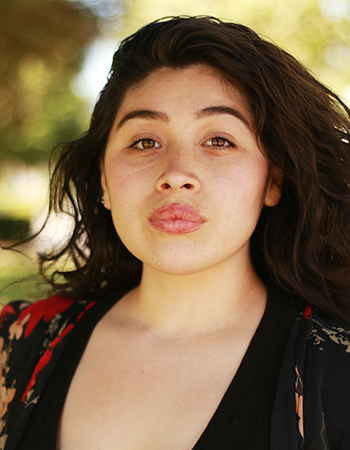 At Stanislaus State, Angie Melgarejo found a second family. A first-generation college graduate, Melgarejo had to seek help from members of her campus community — a practice she pushes every student to employ — in order to find success.
"There are resources everywhere, so don't be afraid to ask for help," Melgarejo said. "We are a community here at Stan State. There are people here who are dedicated to helping you finish and meet your goals."
Melgarejo describes her undergraduate studies as an uphill battle. Without anyone to show her the way, Melgarejo had to figure college out on her own, often while working three jobs, and once while recovering from a horrific car accident that almost set her back. Despite the challenges thrown at her, Melgarejo took it in stride.
"I have come to understand that there are many obstacles in life that can try to hold you back," she said. "But if you fight, nothing can hold you down."
"Angie is quite passionate about helping others. She has experienced some personal challenges in her own life, like having to assume some chief responsibilities for her family and surviving a major car accident which kept her out of the classroom for months last year," said Psychology Professor Kelly Cotter. "Angie has grown from these experiences and has been inspired by them. I am constantly impressed by her passion for life, especially in the face of her competing responsibilities and some unusual life stressors."
While working toward her bachelor's in psychology, Melgarejo volunteered for San Joaquin Behavioral Health, where she has been offered a job post-graduation. Not yet ready to leave her Stan State family behind, however, she plans to return to campus in the fall to begin her graduate studies in education with a focus on counseling.
"I know there are a lot of people who need help and someone to be their voice because they are being stereotyped or have a prejudice against them for one reason or another," she said. "I know that I cannot change the world, but that is not my goal. I want to help those who seek help and be there for the ones who have lost their way."
---
#StanGrad File
Degree/Credential
Bachelor of Arts in Psychology
What memories stand out most from your time at Stanislaus State?
"There are so many great memories I have had the opportunity to create here at Stan State, but the one that stands out the most to me was attending the study abroad orientation in spring of 2015. I made the decision to study abroad and before I knew it, I was on a plane to San Sebastian, Spain."
Which faculty or staff member had the greatest impact on you, and why?
"All of my professors have influenced me in one way or another, but the two who have been with me from the beginning of my journey here at Stanislaus State were Mrs. Zona Zaragoza and Dr. Kelly Cotter. These two amazing women have impacted my life greatly, challenging me at every turn; I thank them for believing in me."
What advice would you give to current and future students?
"Motivation helps you take the first steps toward achieving your goal, but dedication takes you to the finish line. I say this from experience; I've lost my motivation from time to time, and the only things that got me up in the morning after working three jobs and going to school full time were God and dedication."