Note: This article is part of the StanGrad series highlighting Stanislaus State students who are part of the Class of 2019. Read more StanGrad profiles.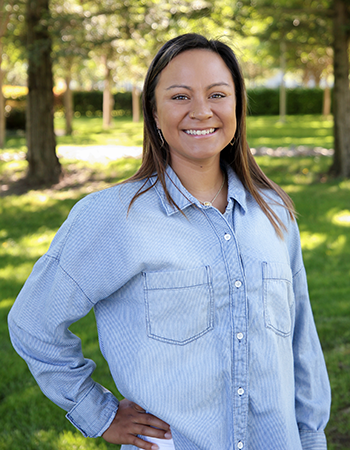 Athlete Alexus Martinez took a swing at opportunity and connected with a solid hit at Stanislaus State.
The first-generation student from Austin, Texas, came to Stan State with the goal of excelling as a student-athlete on the Warrior softball team. She graduates with a bachelor's degree in communication studies, carrying a 3.7 GPA, and will return in the fall as assistant coach in softball, having set the all-time Warrior record for career hits.
"Alexus has been the captain of our softball team for four years, a three-time second-team all-conference player, as well as a mentor to her underclassmen," said softball head coach Jessica Ventoza.
Martinez also was a classroom volunteer at a local elementary school, worked at the Student Recreation Complex and gave softball lessons. She plans to play professional softball in Europe this summer.
"She has worked extremely hard to be the best she can be in the classroom and on the field," Ventoza said.
Martinez said she wanted to make the most of her time at the University. "I traveled so far from home, being from Texas. I was looking for an opportunity and experience of a lifetime, and Stan State has been just that," she said. "I have developed friendships that will last a lifetime. I have grown into a stronger person."
---
#StanGrad File
Degree/Credential
Bachelor of Arts in Communication Studies
What advice would you give to current and future students?
"It's okay to not know where you're going after college. Everything happens for a reason and everything will fall into place  accordingly. Just trust God and trust the process."
How do you plan to use your Stan State degree to advance or improve life in our region?
"I plan on using my degree to coach softball and grow the game by inspiring and growing others. I'm excited to use my degree in a way that allows me to  interact with people  on a daily basis."
What can you tell us about your student and life experiences at Stan State that could serve as an inspiration to current and future students?
"As a first-generation college graduate, putting myself out there and taking chances has gotten me in the position I am now."