Note: This article is part of the StanGrad series highlighting Stanislaus State students who are part of the Class of 2018. Read more StanGrad profiles.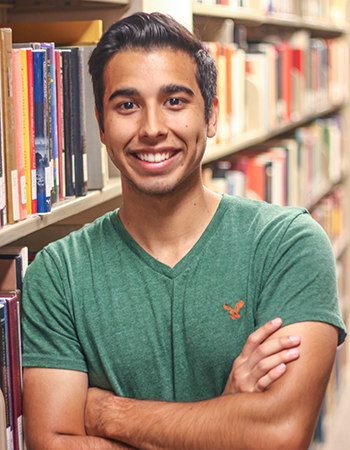 Stan State has earned national attention for the way it improves the lives of its students, and Alejandro Martinez is a shining example of that quality.
Graduating in the lower half of his class at Rodriguez High School in Fairfield, Martinez was told by an advisor that his best chance to succeed in life was to follow his older brother into the Marines. But Martinez, despite his lacking high school grades, wanted to pursue his college education. He wanted to be the first in his family to earn a college degree.
Martinez was chosen to be Stan State's representative to the Panetta Institute's Congressional Internship Program in 2016, and was accepted to study law at multiple law schools, choosing UC Davis.
"Fast forward four years later and countless nights studying, I am graduating in the top of my class," Martinez said. "I was able to intern for Congressman Jim Costa in Washington, and I will be attending UC Davis School of Law this fall."
Stephen Routh, professor of political science at Stan State, spoke glowingly of Martinez. "I am most, most proud of him to have done so consistently well academically at Stan State," Routh said. "His is truly a compelling story of success for a first-generation college student."
This success story is far from over.
"After I graduate law school I will use my degree to fight for the rights of domestic violence victims," Martinez said. "My mom worked as an advocate for domestic violence victims and I have volunteered at women's shelters my entire life. I have seen the splintered justice system re-victimizing these women by forcing them to lose custody because they sought refuge at a shelter. To me, this is unjust and I want to do everything in my power to help these women."
---
#StanGrad File
Degree/Credential
Bachelor of Arts in Political Science
What memories stand out most from your time at Stanislaus State?
"I lived in the dorms my freshman year and Stan State provided us with free activities every weekend. This allowed me and my friends to do something fun and adventurous every weekend, such as travel to San Francisco and Santa Cruz, play paintball, watch movies, attend poetry slams and ride roller coasters."
Which faculty or staff member had the greatest impact on you, and why?
"When a person asks me whether I like Stan State or not, I always tell them about Professor Stephen Routh and all that he has done for me. Professor Routh is a phenomenal professor that was able to make analysis of substantive due process sound interesting. Not only is he a great professor, but he has always been supportive and helped me with any problem I had, whether it was understanding the rationale of a legal precedent or deciding if law school is right for me. I am truly grateful for all that he has done for me."