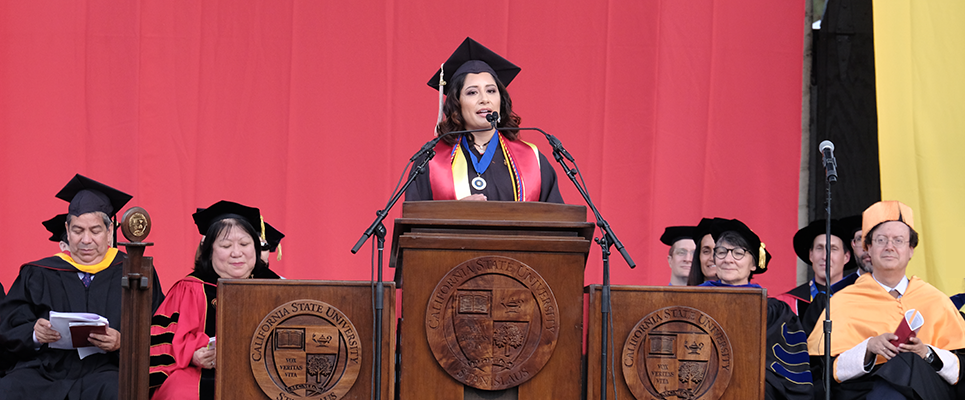 Linda Hayden is a first-generation college graduate who strives to inspire her 16-year-old daughter Katie and others to have the grit to take advantage of opportunities and not let fear of the unknown hinder their success. 
"Opportunities come in all forms and shapes and we just need to find the courage to follow them, wherever they may lead us," said Hayden, who was one of the student speakers during Stan State's 2019 commencement ceremonies. "As graduates, we celebrate an important milestone in our lives as we embark on a new journey of exploration."
Hayden, who grew up in Tijuana, Mexico, had a challenging childhood, experiencing homelessness as her family struggled financially to stay afloat. Uncertainty created resiliency in Hayden as she navigated through her teenage years and relocated to the United States.
Through her determination, she is the only child of five to have received a high school diploma, which motivated her to attain a degree. She credits her triumph to family and faculty, who supported her through three years at San Joaquin Delta College and three additional years completing her bachelor's degree in business administration with a concentration in accounting at the Stanislaus State Stockton Campus.
Hayden recognizes Dr. Christopher Bradshaw and Duane Brooks, professors of management operations and marketing, and Kenneth Tam, professor of accounting and finance, for their patience, mentorship and creative approach to teaching. She said that their passion for the classroom has helped her develop valuable leadership skills and networking connections.
Bradshaw praised Hayden as one of the most impressive students he's seen in his 14 years of teaching and admires her writing and sense of humor.
"She used her humor to defuse stressful situations with teammates and to help frame challenges in a more positive light – while remaining realistic and focused on the task at hand," Bradshaw said.
Tam shares a similar perspective on Hayden.
Tam agreed. "She always had a positive, 'can-do' attitude," he said. "Hayden excelled in my class, even though she had to work full-time, went to school full-time and was a full-time parent. I don't know where she found the time to do all three of those jobs exceptionally well."
Professor Brooks added: "… she has a wealth of experience at this point in her life and is truly an amazing student who is going to accomplish great things."
Hayden's insistence on seeing the glass half-full is how she managed to complete her degree. She is in the process of pursuing a job at a local CPA firm.
"As you move forward in life, remember that both – goals and success are very personally defined and should not be measured or compared with your peers, friends, family or society," she said. "Your goals can constantly be redefined along the way. The only way to fail is by giving up."