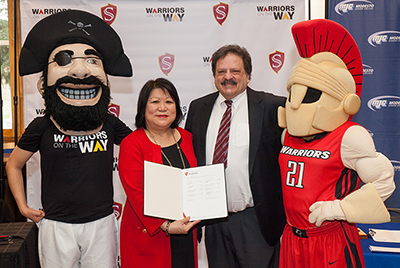 As Stanislaus County's two public institutions of higher learning, Stanislaus State and Modesto Junior College have been partners — both formal and informal — many times over the last six decades.  
In a ceremony on Tuesday, March 5, on the MJC campus, that partnership took a bold step forward with the signing of a Memorandum of Understanding (MOU) to create a clear path for MJC students to earn their undergraduate degree at Stan State. 
The MOU promotes MJC's associate degrees for transfer (ADTs) through the "Warriors on the Way" (WOW) program and symbolizes a renewal of the institutions' commitment to work together to smooth the transfer process for MJC students. 
"Modesto Junior College students already make up the largest number of Stan State's transfer population, including 234 who made the move from MJC to Stan State last fall," said Stan State President Ellen Junn. "That population is growing and we anticipate further significant growth with this MOU. The ease with which Pirates become Warriors represents an important pathway to higher education in Stanislaus County and throughout the region, and this agreement will make that pathway even easier to follow." 
A major part of this agreement calls for MJC to designate a space in the college's Transfer Center to house Stan State staff, while Stan State is agreeing to provide an academic advisor to be available at MJC up to 40 hours per week. Future plans as stated in the MOU include encouraging conversations on curriculum between the faculties of the two institutions to ensure articulation of relevant courses. 
"Many of our students, especially first-generation college students, want to achieve a four-year degree but face roadblocks, including simply finding out how to go about doing it," said MJC President James Houpis. "Stanislaus State committing an advisor to be here all the time — not just for a college day visit, but all the time — is an important step in helping our students gain the knowledge they need to move forward." 
The agreement with MJC is a part of Stan State's continuing mission to forge formal relationships with the community colleges in the University's primary six-county region. Last year, an MOU created a pathway in which students at San Joaquin Delta College would be able to complete four-year degrees in selected fields of study on Stan State's Stockton Campus, eliminating the need for relocation or lengthy commute to the Turlock campus. 
These MOUs with community colleges are part of Stan State's core mission to providing access to higher education in the region. 
"Only 18 percent of our Central Valley students go on to earn a college degree," Junn said. "That compares to around 32 percent earning at least a bachelor's degree in California and 34.2 percent nationally. This means Stan State must continue our steadfast commitment to playing a pivotal role in improving the educational attainment of our region, and we are confident that this agreement will help foster a better-educated workforce for our region."