Note: This article is part of the StanGrad series highlighting Stanislaus State students who are part of the Class of 2019. Read more StanGrad profiles
[1]

.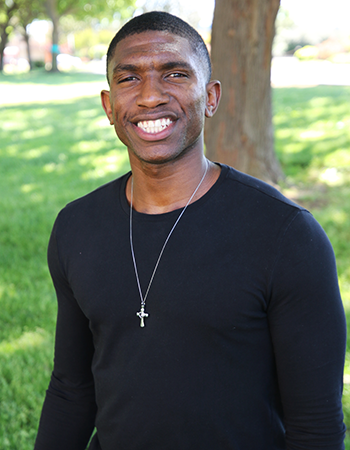 Men's basketball team captain Rolaun Dunham leaves Stanislaus State with a degree in kinesiology, plans for a career in physical therapy or nursing and a dream to promote health and wellness throughout the Central Valley.
"As a young black man, I want to stand as a beacon of hope for people of color from underprivileged backgrounds who may think their dreams are far-fetched because of their current circumstances," Dunham said.
"Growing up, I did not see anyone who worked in the medical field that looked like me, so I never even had a thought of pursuing it until I got into college," he said. "You have to have some inspiration for everything you do because it will push you forward, even if you feel like giving up."
Dunham credits the discipline and camaraderie of sports with giving him life skills and support to persevere through college and beyond. He holds a 3.6 GPA as a McNair Scholar and University honors program participant. His research with Chemistry Professor Koni Stone was displayed at a regional convention.
Coach Paul Trevor describes Dunham as a natural leader and "amazing human being;" a positive presence respected by his peers and dedicated to helping others.
---
#StanGrad File
Degree/Credential
Bachelor of Arts in Kinesiology with a concentration in exercise science
What memories stand out most from your time at Stanislaus State?
"The memories that most stand out for me are the times with my teammates and family. Being a part of the men's basketball program here taught me how to be a leader and how to cope through trials and tribulations. From all the early workouts and practices to the travel for games, I was given a framework to succeed in life outside of school and athletics. I was given another family who all wanted to accomplish something collectively. There is no better feeling."
Which faculty or staff member had the greatest impact on you, and why?
"Dr. Koni Stone was my faculty adviser and chemistry professor. She introduced me to opportunities that I would have never known about and I commend her for being down-to-earth and understanding with her students. I will take our conversations about life with me as I move forward."
What advice would you give to current and future students?
"Growing up I was always told 'a closed mouth doesn't get fed,' and it couldn't be truer as a college student. You must always seek out opportunities to better yourself. Enjoy your time with your classmates and make as many connections and relationships as you possibly can. Also, take responsibility for your life and do not let a bump in the road keep you from accomplishing your goals."