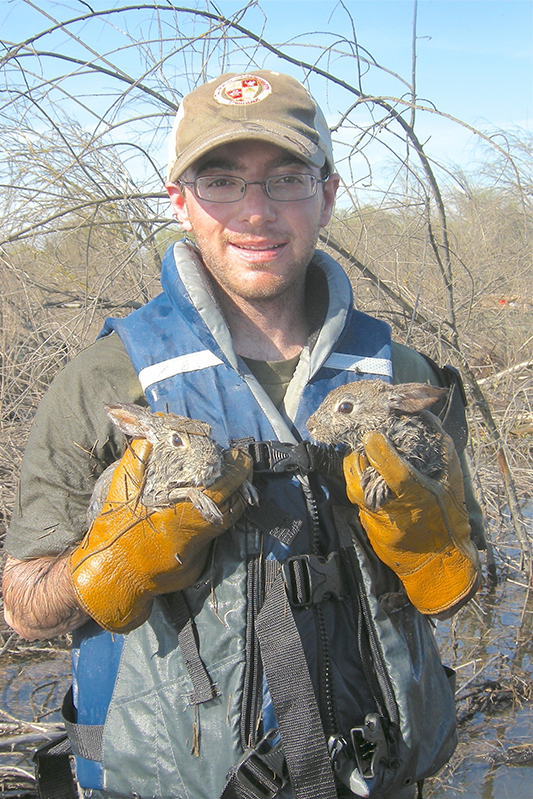 Photo taken by Patrick Kelly at the San Joaquin River National Wildlife Refuge on 1 April 2011 when Tristan, Patrick, and others were rescuing riparian brush rabbits from flooded habitat.
Our conference logo was created by Tristan Edgarian using photos (see below) of black-tailed jackrabbit, riparian brush rabbit, and collared pika provided by Moose Peterson.
Tristan is a biologist who is passionate about wildlife preservation, habitat conservation, and environmental education. He is also an acclaimed artist who uses classical line art to inspire fellow nature lovers.  He has a love for small mammals, particularly rodents and lagomorphs. As a staff biologist with the Stanislaus State, Endangered Species Recovery Program for more than 8 years, he has conducted field research on riparian brush rabbits, riparian woodrats, giant kangaroo rats, and San Joaquin kit fox from the California Delta, south through the San Joaquin Valley to the Carrizo Plain and the Mojave Desert.  Currently, he is the lead Small Mammal Field Technician for the National Ecological Observatory Network's California domain. Tristan has also worked for more than a decade on sensitive species projects throughout California for the U.S. Geological Survey, the University of California Berkeley - Museum of Vertebrate Zoology, the National Park Service, and for Amec Foster Wheeler.
Tristan's illustrations have been published by the Los Angeles Zoo in their docent newsletter for the past 15 years. In December 2015, he was awarded first prize in a contest held by the Foundation for the Preservation of the Santa Susanna Mountains to create a fundraising design for Los Angeles area wildland parks. From September 2014 to September 2015, his scientific illustrations and prepared museum specimens were on public display in downtown Vallejo, California as part of the Vallejo Art Windows project. In 2008, his work was featured in an art show hosted by the UC Berkeley, Museum of Vertebrate Zoology: "Drawing the Lines: A Century of Art and Scientific Illustration at the MVZ."
You may view more of his nature-inspired artwork on his website. Tristan Edgarian's website.