Blackboard Updates for 2019
Preview of My Grades
To view only the Grade Center columns the students see, turn on Preview of My Grades.
Go to the Grade Center
Hover over Manage and select Smart Views
Mark the Star icon in the Add As Favorite column
Click OK
In the Course Management > Control Panel,
Click Grade Center
Click Preview of My Grades
Only the columns visible to students on their My Grades page will display.
Click Full Grade Center to return to standard view.
Record Feedback
Record personalized feedback for Grade Center items, up to 5 minute, video or audio-only (requires Firefox or Chrome).
 Give feedback in Assignments, Tests, Graded Discussions, Graded Wikis, Graded Blogs, Graded Journals, Manually Graded Items.
Students click icons of recordings to start streaming the playback on computers or mobile devices.
Grade Center Update
Grade Center columns wrap text to display full column name.  
View as many columns as the size of your browser window will allow.  
Enter a full-screen mode to display maximum information in the Grade Center.
Accessibility
Course Themes have been updated to meet accessibility standards, and are available for use.
Menu Buttons do not meet accessibility standards and have been deactivated.  Although the selection remains visible, the buttons will not appear.
Cloud Storage Integration
Copy files from your cloud storage when authoring Content Items or creating Assignments.
Students can submit assignments from their cloud storage.
Bb makes a copy of the file, they aren't linked.   Changes on the cloud storage file do not apply to the attached file.
Supported cloud storage:  Box, Dropbox, Google Drive, OneDrive
Clear Multiple Choice Selections
Students can clear a multiple-choice selection to avoid penalties when the initial selection would penalize the student with negative points.
Blackboard Instructor App Grading
With the Blackboard Instructor app, you can view, annotate, and grade submissions, then publish the grades to students on iOS and Android devices.
Optimize your courses on Bb on your computer for mobile use.
Note:  Instructors do not see their courses on the Blackboard app for students.
Updates in 2018
Accessibility
The new Bb Learn Theme follows WCAG 2.0 principles and accessibility guidelines for structure, color contrast, and navigation. Fully visible keyboard focus is directly built into this theme as well as best practices for the definition of buttons and menus used for navigation. ARIA  (Accessible Rich Internet Applications Suite) landmarks have been added to the course menu and the content area to define the page structure and assist users with screen readers in navigating page elements.
To enhance accessibility and consistency across courses, Course Themes are not supported in our current Bb version.
Course Availability (Student Access)
Instructors see the course availability status on a content page with the Lock Icon.
Course is Available to students when icon is in Unlocked position.

Course is Unavailable to students when icon in is in Locked position.

Note:  TheTerm Availability setting overrides the lock icon.
Use the Control Panel > Customization > Properties to change Term Availability to Yes or No, then click the icon to lock or unlock the course.
When you manually change the availability setting, use the Lock Icon to make the course Unavailable to students (Locked) when finished.
Drag and Drop Expanded
Upload files using the Browse My Computer button, the Browse Content Collection button, or the Drag-and-Drop area.
Content and Communication Pages
Drag and Drop is now included in the Content Editor (Insert Item), Content Collection (Upload Files & Upload Zip Package), Blogs, (Create Entry) and Journals (Create Entry).
If you do not see a progress indicator when you click Submit, wait for the next page to load.
When you drag and drop a folder in a content or communication area, the system loads all the individual files, not the folder.
To keep all items in a folder, first create the folder on Bb, then drag and drop your folder there.
Content Collection Folder
In the Content Collection, when you upload a .zip file (Upload/Upload Zip Package), Bb will unzip the contents inside a folder it creates.
Mac users need to remove extra files with names starting with a period after uploading, or use a clean archive tool to zip the package.
Discussion Board - Replies to Me
Participants see a count of new replies to their posts.  Click to view those new posts.
Grade Center
Delete Multiple Columns
Instructors can delete multiple columns on the Grade Center Manage > Column Organization page.  
Manual and calculated columns are removed completely.  
Graded item columns are cleared of attempts and grades, but the column remains in the Grade Center.
NOTE:  Deletion cannot be undone. Download a backup copy of the Grade Center before deleting columns.
Missing Coursework Reminders
Send email reminders directly from Grade Center columns to students and group members who missed work.
Multiple Attempt Assessment Settings
When set to calculate using the first or last attempt, a filter will show or hide non-counted attempts.
Student Assignment Submission Receipts
Bb sends an email notification for each assignment attempt with submission information, including attached file details.  
Students can see the receipts on the My Grades page - Click the Submitted tab, scroll to the bottom, click the number next to Submission Receipts.
Receipts remain even if an attempt or assignment is deleted.
Student sees new receipts with different numbers for assignments with multiple attempts.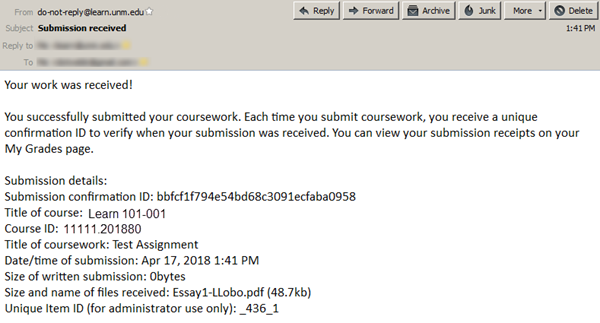 Chemistry Notation Support
The math editor in the Content Editor is updated to a newer version of WIRIS, with a chemistry notation tool, including an embedded periodic table of elements.
In a Content Editor, click the Math Editor icon (ƒx)
Click the Greek Letters tab (α Ω)
Click the bottom right corner of the Chemical Symbols to expand the pane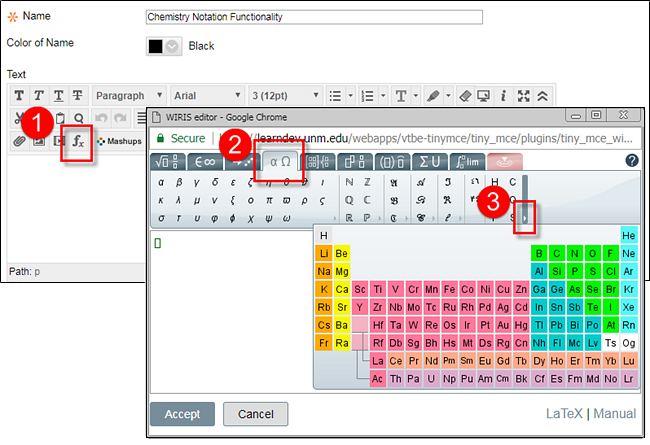 Blogs and Journals
Blogs and Journals are optimized for mobile device use.  
Posts and comments composed with responsive content will render on smaller devices.
Options for filtering posts or navigating groups or users will appear below currently viewed posts.
Bb 9/19