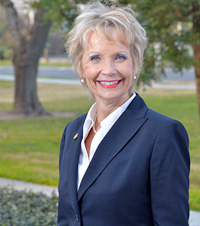 Shirley Pok, CFRE (Certified Fundraising Executive), is a recognized leader in fund development, with more than 31 years in the fundraising profession. Ms. Pok is the Vice President for University Advancement at California State University, Stanislaus, a 228-acre campus located in the northern San Joaquin Valley city of Turlock.
Prior to her appointment to Stanislaus State in April 2013, Pok managed a comprehensive development program at Emanuel Medical Center, a 415-bed medical campus located in Turlock, Calif. Reaching out to the medical center's internal and external communities, the program generated private support through annual, major and planned gifts. Over her 12-year course of service at Emanuel, the development program raised $22 million under her leadership. In addition to her responsibilities as chief development officer, she provided senior leadership for the organization's 800-member volunteer services program.
Pok's career as a fundraising professional began at Fresno State University's Bulldog Foundation, where she was instrumental in raising millions of scholarship dollars for student-athletes. Her experience with volunteer recruitment and success with the "Team Concept" approach to fundraising led her to Stanislaus State in 1998, where she established the athletic fund development program before accepting her position at Emanuel Medical Center in 2000.
Ms. Pok earned her bachelor's degree in Management and Organizational Development at Fresno Pacific University. She earned her status as a Certified Fund Raising Executive in 2008.