Ferrari Gift Supports the Connection Between Turlock and Stanislaus State
by Lori Gilbert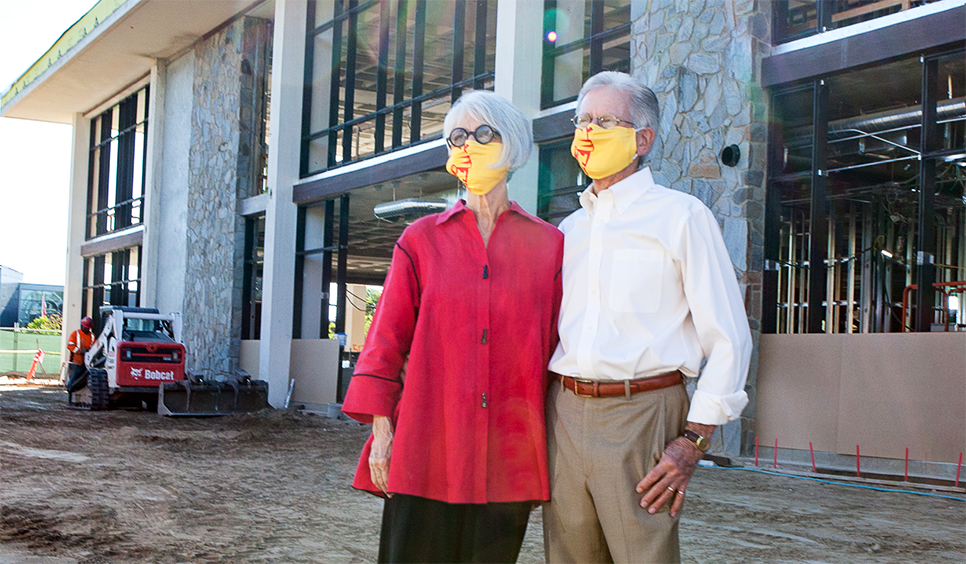 Jeani Ferrari fully embraced Turlock and all it offered when she moved from Modesto 54 years ago after marrying John Ferrari, a second-generation farmer.
She reveled in its beautiful landscape, both natural and man-made by agriculture, generous people willing to roll up their sleeves to help or contribute to a worthy cause, and the presence of a university, where she could pursue her artistic talents before drawing gave way to motherhood.
What she and John are now working toward is a stronger connection between the two entities they love: Turlock and Stanislaus State.
The couple has donated $250,000 to the renovated J. Burton Vacshé Library Building, and while part of it will go toward a two-story agriculture-themed mural, a nod to the couple's commitment to farmland preservation and the region's natural resources, part of the gift is aimed at strengthening that bond.
"I can just imagine the University Library with programming and beautiful murals," Jeani Ferrari said. "I believe there will be such a connecting point, getting the community to the University and getting the University back to the community."
Jeani Ferrari, one of the driving forces behind the creation of the Carnegie Arts Center and an active member of its board of directors, envisions thematic programming of events at Stan State's Vasché Library, the Carnegie Arts Center and the Turlock Library. Centered on the sustainability of vital agricultural land and the bounty this region offers, such programming might include an art show at the Carnegie, a children's program at Turlock Library and a lecture at the Vasché Library.
Like the Vasché Library, the Turlock Library is under renovation, and while Jeani Ferrari has served on the steering committee of the University's Library renovation, John Ferrari has worked with Friends of the Turlock Library as it remakes itself.
"The fact we were both working on library projects touched our hearts, and we knew that this was important," Jeani Ferrari said. "Otherwise, we wouldn't have realized how very important these libraries were to our community."
The Turlock Library always held a special place in the hearts of the Ferraris.
As young parents, they read to their three children from the time they were born, and then started taking them to the library.
"We took the kids to Library Night one night a week and it was something the kids looked forward to. The family loved it," she said.
That the University Library can create lasting memories for students and community members is an idea that came to the Ferraris more recently.
Jeani dived into worthy causes: volunteering in her eldest son Justin's second-grade classroom and continuing to volunteer with her three childrens' classes for 18 years; serving on the PTA; campaigning to establish a GATE program in Turlock Unified School District; organizing and leading the Downtown Farmers Market and continuing to serve on the nonprofit board; and the Farmland Working Group, in which she and fellow board members attend city and county government meetings to advocate for the preservation of farmland. Most recently, she and John co-chaired the campaign to complete Turlock Gospel Mission's Rescue Shelter.
When former Stan State President Joe Sheley and his wife, Bernadette Halbrook, moved into a house on the street where the Ferrari's live, she and the neighbors welcomed them, introducing themselves with a gift basket.
"I think about the importance of connecting; I think people need to be connected to the community organizations and institutions where they live. When they are, they'll be excited about the possibilities."
— Jeani Ferrari
That friendship led to them being introduced to two of Stan State's most devoted supporters and work on the behalf of students.
"We were inspired by Dorothy and Bill Bizzini. Dorothy's commitment to the University was amazing. It just poured from her," Jeani said. "It was apparent to John and me that this was a pretty good place, and these were pretty good people."
That connection brought her back to the University where she'd started when she first arrived in Turlock.
Their commitment continued to grow, and when Ellen Junn arrived as president, the Ferraris already were engaged with Stan State. Junn held a series of forums to get to know and hear from the campus and Turlock communities, and Jeani attended.
"There was something about driving to campus and going to this event and hearing other people talk about the school and expressing some of the same ideas I did," she said. "That was another connecting point, just like being neighbors was a connecting point."
Discussion about the University included the fact there were opportunities to be more strongly connected with the community — opportunities that were being missed.
"I was asked to be on the Library Renovation Committee, and I was very much interested in that," Jeani said. "Everything makes connections, and everything has an impact no matter how subtle it is. Being on the Library committee made a difference for me."
In the conversations held by the Library Renovation Committee, the celebration of regional agriculture came about organically, Jeani said. It was a theme that spoke to her heart.
"I think it was just something that was valued," she said. "There was also a sense of respecting and honoring the natural landscape. So, as the design moved along, I think people realized those walls and the spaces would reflect the bigger environment around us, and that would be agriculture."
They will reflect all that is dear to the Ferraris: the natural and agricultural landscapes of this fertile, unique region in an artistic display in a library.
Jeani Ferrari hopes those elements draw in all segments of the community.
"There's always a starting point and there are always possibilities," she said. "I think about the importance of connecting; I think people need to be connected to the community organizations and institutions where they live. When they are, they'll be excited about the possibilities."