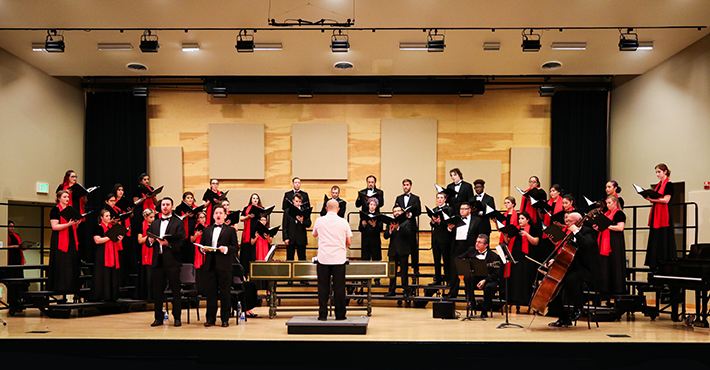 by Brian VanderBeek
If not for a misplaced piece of mail, Owen McIntosh most likely would be a civil engineer, happily toiling in his chosen vocation.
Instead, he's a widely renowned vocal artist, applying his chosen vocation for the happiness of audiences around the world.
The 2006 Stan State graduate already has amassed an impressive career resume, both as an operatic soloist and as a chamber vocalist with classical ensembles around the world — notably for the last 10 years with the Boston-based chamber vocal music ensemble Blue Heron. In August, Blue Heron won the world's most prestigious classical music award from the British magazine Gramophone in the category of early music for its recording of a 16th century piece written by an anonymous composer that had gone unsung and unheard for centuries. It was the first time in the award's 41-year history that a Gramophone Classical Music award has gone to a non-European group.
And all this success can be traced back to not receiving his mail.
"I was all set to go to UC Davis to become a civil engineer," McIntosh said. "That's what my dad's degree was in and he went to UC Davis. I was valedictorian at my high school (Etna Union High School, Siskiyou County) earned nine varsity sports letters and was on student council. I was set."
He was so confident of his path and his choice that UC Davis was the only college to which he applied. But for some reason, he never received a letter sent by UC Davis requesting his SAT scores. He had missed the opportunity to complete that application requirement.
"I had put all my eggs in one basket because I was sure I was going to get into UC Davis," he said. "I was crushed and I immediately moved out of the house and started attending Shasta College. It was a clean break, a fresh start, because everything I'd worked for in my life up to that point was gone."
McIntosh always was a singer around the house, so while at Shasta College he joined a heavy metal band made up of his high school soccer teammates. One day, while perusing the college catalog in search of an elective, he noticed an offering for a basic voice class.
"I'd never taken a singing class, and it was in that class — taught by Elizabeth Waterbury — that I was first told I had a great voice," he said. "She asked if I'd ever consider singing classical music, and up to that point opera to me was the music my dad would put on the radio to get his four boys to stop screaming in the back of the car.
"She told me about the program at Shasta and how you could actually major in music, which I'd never heard. I was beholden only to myself at that point, so I decided to become a music major."
In his second year at Shasta, McIntosh participated in a master class on Central American choral music presented by Daniel Afonso, the director of vocal and choral studies at Stan State.
"I've always been an ambassador for everything I love, so now I'm an ambassador for chamber music and I'm out there telling people that there are avenues for singers other than opera."
- Owen McIntosh
"I talked with him at the master class," McIntosh said. "I had applied to Oberlin and was wait-listed, and remembered that conversation I had with Daniel Afonso. I came to Turlock and took a lesson with Joseph Wiggett (Stan State professor of voice) and decided to transfer here."
McIntosh came to Stan State as a fine singer, but under the guidance of Wiggett and Afonso, he found and developed his voice.
"When I came here, Joe Wiggett reset my whole vocal mechanism — turned my voice inside-out. I went from singing really heavily and pressed, to really tiny and small, just so I could feel how everything worked.
"Daniel exposed me to so much incredible chamber music. He planted seeds, which I didn't realize at the time. He saw me as a chamber musician, an early-music singer, for my imagination, for my ability to tell a story and for being a sophisticated musician. All of those traits really serve chamber music."
McIntosh met his future wife at Stan State — fellow music major Lindsay Hollingshead, an oboist. They moved together to Boston, where McIntosh completed his master's degree at New England Conservatory. Lindsay earned a master's degree in modern oboe at Boston University, then was accepted into Julliard for a historical performance master's degree. It forced a move to New York City, which ultimately led to the formation of their ensemble — New Vintage Baroque — as well as countless other engagements with prominent vocal ensembles, including the Grammy-nominated choir of Trinity Wall Street, TENET, ARTEK, the Sebastians, Holy Trinity Bach Vespers and the American Classical Orchestra.
McIntosh returned to Turlock in October to perform with the Stanislaus State Concert Chorale and Chamber Singers, directed by Afonso, and in January Owen and Lindsay became first-time parents.
The sky remains the limit for McIntosh's vocal career, but he also knows that beyond singing there's a greater calling.
"I've always been an ambassador for everything I love, so now I'm an ambassador for chamber music and I'm out there telling people that there are avenues for singers other than opera," he said. "With so many colleagues working in this genre, I'm convinced there's going to be a tipping point where this music will spill into every college."
Yes, McIntosh is enthused about spreading the gospel of chamber music. Perhaps not by letter.