Stockton Reaping the Benefits of Stan State Stockton Campus Master's Recipient
by Lori Gilbert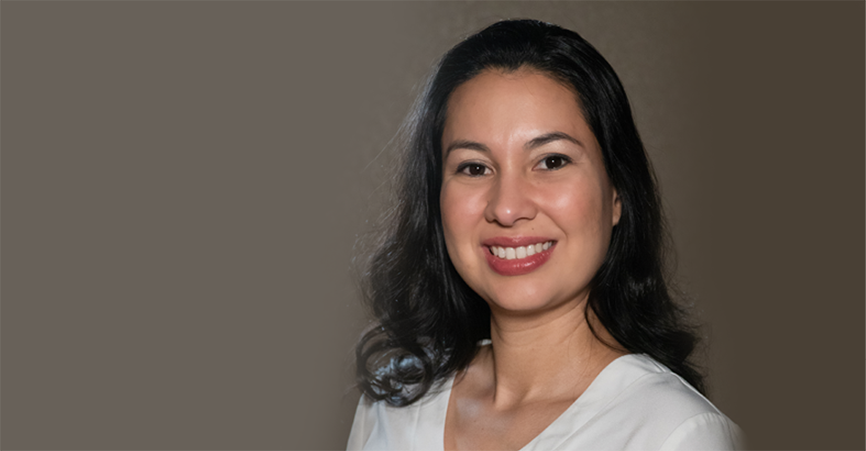 Technically, Candelaria Vargas completed her master's degree in public administration in seven years, because after completing her course work at the Stanislaus State Stockton Campus, she took time off to have the first of her two daughters and didn't take and pass her comprehensive exams until 2018.
What's extraordinary about Vargas' determination to complete the program is that it's illustrative of her life story.
Vargas is a fighter, a survivor, a self-starter and a woman determined to make a difference.
A graduate of University of the Pacific, where in 2010 she earned a bachelor's degree in Spanish with a double concentration in literature and pedagogy and a minor in international relations, Vargas fits the Stan State profile. She's a first-generation college graduate, the daughter of parents who, early in their lives, worked with their migrant parents in agriculture fields up and down the Central Valley. She and her brother are the first in the family to not only graduate college, but never work in the fields, fulfilling her grandparents' dream.
She graduated first in her class from Bakersfield's Golden Valley High School, and Pacific offered the best financial package.
Entering college was only one step of Vargas' improbable journey to becoming a wife, mother, member of the Stockton Unified School District Board of Trustees and campaign director for Daily Kos, a job she does from her Stockton home.
"My younger brother and I were taken from our family when I was 9 and he was 7," Vargas said. "My father abused our mother so severely that she had a mental health breakdown and was institutionalized. Our father was addicted to meth and alcohol. He also had untreated severe trauma from his youth.
"We were in foster care for about two years. Our mother worked very hard to get better and prove to the courts that she could care for us. We were reunited. Unfortunately, our father didn't want to leave her or us alone. He found a way to continue the abuse. She, despite the trauma, continued to be our beacon of encouragement and hope."
Vargas' mother, Diane, urged her daughter to get an education so that she could be independent.
"I did well in school. It was a way for me to be free, to not be at home, to be in a space that was safe. At home, I would do everything right and nothing was ever good enough for my dad. When I did exactly as he said or better, he still abused us. When I was at school, if I did everything right or beyond, I'd be rewarded. It was another world and it made sense."
At Pacific, Vargas studied Spanish literature, wanting to be better versed in one of the two languages she was raised speaking. She spent a semester abroad in Lima, Peru. She worked three jobs to help support herself and began giving back to others as a resident assistant and with Latino Outreach.
College graduation should have been the happiest day of her young life, but it wasn't. As she walked with the Class of 2010, her mother lay dying of pancreatic cancer. She died a few weeks later.
​"My mom couldn't be there. I didn't want to be there," Vargas said.
Three months later she married Max Vargas, and even that was bittersweet without her mom.
Vargas embarked on a career in nonprofits, working for, among others, El Concilio and the California Democratic Party. She then began working for Daily Kos, a two-pronged organization with an editorial component, and an organizing agent. She rallies supporters of various progressive causes, circulating petitions and appealing to policymakers.
In 2018, Vargas ran for and won a seat on the Stockton Unified School District Board of Directors. She had two reasons for entering the race
"I'm a parent of two small children who will eventually attend our public schools, and secondly, public education was my way out of poverty and abuse," she said. "I wanted to use my experiences to support our public education system to ensure that all of our children have access to quality education no matter where they live or their circumstances."
It was in her role as a school board member, as well as her professional and volunteer work in Stockton that prompted Stan State Stockton Campus Dean Faimous Harrison to invite Vargas to speak at an event on campus in January 2020.
"Candelaria was a presenter, because she's civically engaged in the community, in an elected role and has a breadth of experiences with nonprofits," Harrison said. "Candelaria wears a lot of hats. Her drive is to support the community. And, she's one of our graduates."
Something in which Vargas takes pride.
She raves about the professors in the MPA program, particularly April Hejka-Ekins, who taught the introductory public administration course and ethics. That program, like her other life experiences, inform her work, her volunteerism and her focus.
"That opportunities exist for all young people is really important to me, and something that helps is public education," Vargas said. "We didn't have any other option than to go to our public school. I went to Pacific because they offered me the best financial package.
"Then, I went to our local public University. That's important. It needs to be stressed how valuable our local education systems are. We need to support them."
"They're what support young people, prepare them, steer them out of messed up situations in some cases. I'm thankful for the people in those systems, people who work in public education. This is the field I have chosen to support because I feel very strongly about making opportunities for young people to succeed and have positive outcomes."