By Bradley Whitaker
The Good Deed of an Alumnus Goes Viral at the World Cup
With his young daughter Addisyn by his side, Stanislaus State alumnus Abel Vera wheeled his way over to participate in one of many interviews he's given since his return from the World Cup in Russia. Vera put on the wheel locks to his black wheelchair, which stood out with its distinctive, neon pink spokes.
"My daughter wanted me to get a wheelchair that was completely pink," said Vera. "I said no way, so we compromised on the spokes."
Nineteen years ago, a motor vehicle accident left Vera — a former Stan State soccer player — paralyzed from the waist down. He remains an avid soccer fan and is committed to coaching soccer and helping kids and adults who have gone through similar situations, leading outreach efforts and working as a behavior specialist at Coalinga State Hospital.
"There are a lot of people in my situation and I want to tell them that there's hope," he said. "There's nothing you can't do. It might make us a little bit slower to change shoes, but you know what? There's nothing you can't do."
"I often tell people that a good deed does not have a nationality I'm a firm believer in that."
As the varsity soccer coach at Coalinga High School, Vera takes great pride in combining his love of soccer with helping those in need through the outreach group "What Pushes You" he co-founded with his friend Marco Lopez. During the 2014 World Cup, both visited the favelas in Rio de Janeiro, Brazil, some of the most impoverished neighborhoods in the world, to donate shirts, shoes and whatever else they had on them. Four years later, Vera and Lopez decided on a different outreach strategy for the World Cup in Russia.
"I was moving and relocating to Fresno when I saw a bunch of my wheelchairs parked that I was going to throw away," said Vera. "I was like, 'You know what? This worked in past experiences when my friends needed help. I'm going to try to refurbish a wheelchair and take it with us.'"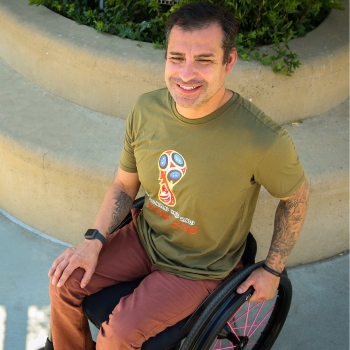 Vera and Lopez quickly reached their $400 goal through their "What Pushes You" GoFundMe page to support refurbishments such as painting, wheel replacements and to help with shipping costs. They originally planned on finding an orphanage or hospital to donate the wheelchair, but after arriving in Russia, they unexpectedly found a perfect recipient.
"We had only been in Russia for a couple of days," Vera said. "Then, from a distance, from the corner of my eye, I noticed a young man on a wheelchair. I noticed his wheels didn't have any tires, or at least one of them was gone. The frame was almost falling apart, he had a broken flip plate and his front two wheels had no spacers, making it shake. And he had a flat tire."
Lopez ran over to start a conversation with the young man.
"His first reaction was, 'Who's this crazy American?'" Vera said. "There was obviously a language barrier, and we were trying to tell him that we had a wheelchair to give him. We tried sign language and Marco took out his phone, showed him pictures that we took and we signed, 'From us, to you.' That gave it away."
Once the young man, Petra, realized what was happening, his expression went from confusion to astonishment.
"He couldn't believe that these two crazy Americans were just like, 'We want to give you this,'" said Vera. "After everything you hear in the media about America and Russia, that was pretty shocking to him."
They arranged a time to meet at a later date. Little did they know they were about to become part of an international news story.
The day arrived and it was miserably hot under the Moscow sun. Vera and Lopez gave Petra the wheelchair and that should have been the end of the story. However, the heat was taking a toll on Vera, who had to lie down in the shade to deal with dehydration. If Lopez hadn't left to search for water at that time, few would have ever known this story.
"A Russian man came over who saw me struggling in the heat and asked if I needed help," Vera said. "I told him I was okay. He said, 'Are you sure? Are you sure?' He left, but then he came back again to make sure I was okay, and to ask what brought us to Moscow. I told him, 'We're here for the World Cup and to do some outreach.' And then he asked, 'What kind of outreach?' "
"One thing I believe as a soccer coach, and in my outreach, is that if I can change one person's life then I've done my job."
Vera explained how he had traveled to Russia from America; how he had given away a wheelchair to a young man named Petra. It just so happened the man Vera was talking to was Vasiliy Vasilyev, an employee for TV Rain, Russia's only independent television channel.
"A viral video was not our intention," Vera said. After he took a few phone calls from Vasilyev's producer, they set up an interview and everything took off from there.
The story went viral on social media, as various media outlets picked up the story in Russia and internationally. A video featuring Vera and Petra, from the popular Russian show 'TOK,' received more than 350,000 views on Facebook alone. Upon returning to the states, Vera was contacted by CBS News, the Fresno Bee and many more American news media outlets.
"I often tell people that a good deed does not have a nationality," Vera said. "I'm a firm believer in that."
Vera, who attended Stanislaus State on a scholarship, and played goalkeeper for the now-defunct professional league Stanislaus County Cruisers, thinks highly of his experience as a former student-athlete, believing that it helped and motivated him to get where he is today.
"I was at Stanislaus State for three years before my accident happened and I always say those were the three best years of my life," he said. "If it hadn't been for my education, I wouldn't be doing what I'm doing now: traveling, meeting new people, doing outreach and touching people's lives."
Vera is planning local outreach with organizations such as Valley Children's Hospital in Madera and the Fresno Kiwanis Club before his next big project at the 2020 Euro Cup. Looking further ahead, Vera plans to travel to Qatar for the 2022 World Cup and wants to do outreach in the United States, Mexico and Canada when the World Cup comes to North America in 2026.
"One thing I believe as a soccer coach, and in my outreach, is that if I can change one person's life then I've done my job," Vera said. "That's why I do it."