By Tatiana Olivera
Meet three incoming students who share how Stan State is going to help them fulfill their purpose
Isaiah Ringis: Composing His Future at Stan State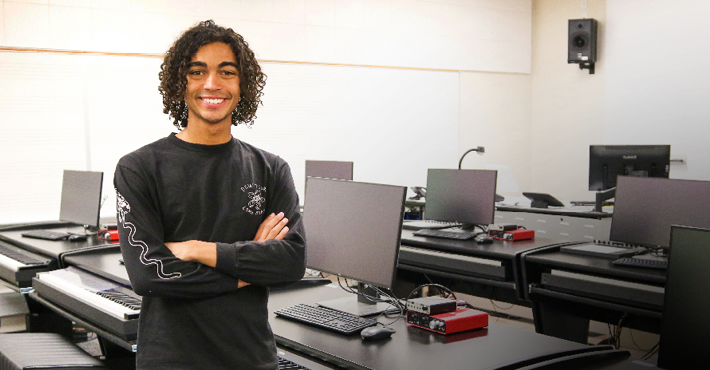 Isaiah Ringis, a freshman from Long Beach, wanted to attend a California State University campus that allowed him to study both music technology and composition.
That combination meant Stanislaus State was the perfect choice. More than that, as the lone CSU campus to offer a concentration in music technology, Stan State was his only choice.
"This was the only place that had both," Ringis said. "From what I've seen already, the programs are really great."
Born in Trinidad and Tobago, Ringis immigrated to Long Beach when he was three years old. He attended public school and took violin lessons for six years, beginning in kindergarten. That is, until he accidentally broke his violin. He stopped attending lessons for a month while he waited for his violin to be fixed, and when he got it back, he realized he no longer remembered how to play.
"Being a Warrior means being a part of this family, this is like a community. I'm excited to be a part of that community and work with all sorts of people."
- Isaiah Ringis
Ringis' mother didn't know this, so she signed him up for band in junior high school. So, Ringis took advantage of his time in band and learned how to play the oboe. Taking the class also helped him discover a passion for music composition when he was tasked with writing a song and performing it for his final exam.
"We weren't evaluated on the merits of the composition. We were graded for doing the project and having fun with it," Ringis said.
Now a Stan State student, Ringis is ready to hone his skills as a musician and composer. Before classes started, he checked out an oboe from Stan State's music tech department. His eyes lit up when he saw the music tech lab, a sparkling white room with whiteboard walls and sleek black desks propping up monitors and musical keyboards. He spotted the piano in the corner of the room and began playing a melody from memory. Then he picked up a dry erase pen and filled a musical staff on the wall with notes, composing a melody on the spot.
Stan State quickly has become a new home for Ringis, one that is more than 300 miles away from his home in Long Beach. His three suitemates already know him as "the music guy." Ringis brought a small selection from his vinyl collection at home along with his turntable, keyboard and speakers. He chose to live in on-campus student housing because he wanted to connect with other students.
"Stan State is a community. It's like a small city on campus. I'm excited to be a part of that community and to work with all sorts of people," Ringis said.
Most of all, Ringis is excited that Stan State will provide him with the opportunity to develop his passion. He wants to either be a music producer, compiling music for albums by writing it or organizing tracks, or a film scorer, composing music for TV, film, video games and other media.
"I just really want to write and create things that I can share with people, and that's why I'm here," Ringis said.
Teresa Mejia: A Mother and Child Advocate at Stan State

"To me, being a Warrior means leaving a legacy for my children."
- Teresa Mejia
For transfer student Teresa Mejia, coming to a four-year university is not only a privilege, but a symbol of reformation and a stepping stone to a better life, one in which helping others is a top priority.
"My mom, a single parent of ten children, immigrated to the United States from Mexico to rescue us from a life of abuse and poverty," Mejia said. "I am inspired by her to live a better life and to leave a legacy of diligence, compassion, love and respect."
But life wasn't always great, even in America. Mejia dropped out of high school to be with her high school sweetheart, only to realize later on that she was in a toxic and abusive relationship. History was repeating itself.
"I went through some very low points in my life. I made a lot of bad choices," Mejia said.
It was only after she met her husband and had her first child that she decided to re-evaluate her life and make a change.
"I decided I'd better educate myself and go back to school. I wasn't satisfied with being a high school dropout," Mejia said.
Mejia received her high school diploma after taking adult classes and decided she wanted to pursue a higher education. She attended MJC for four years, during which time she had two more children. At Stan State, she is pursuing a degree in criminal justice with the goal of becoming a child advocate attorney.
"Growing up, my mom didn't really understand the language in America, let alone the laws. Having witnessed her difficulties made me want to help others," Mejia said. "I think God gives everyone at least one talent; I believe mine is reading comprehension and explaining difficult concepts to others in a very dignified manner. So that's why I decided to become a lawyer."
Mejia chose Stan State because of its resources and its proximity to her home in Modesto.
Compassion is at the root of her decisions. Her experiences have taught her to practice selflessness and to be aware of what others might be going through. "Because I suffered all this, I can help people and say, 'Let's come out of it together. I know how hard it is.' That's what I mean by being compassionate," she said. "I want to get to a position where I can help children. I believe that protecting children's innocence and assuring them a healthy upbringing, aligned with a holistic approach, can have a great impact. I want to do my part to treat children with dignity and help prevent abuse from happening."
Jacqueline Castellanos: Finding Her Future in Helping Others at Stan State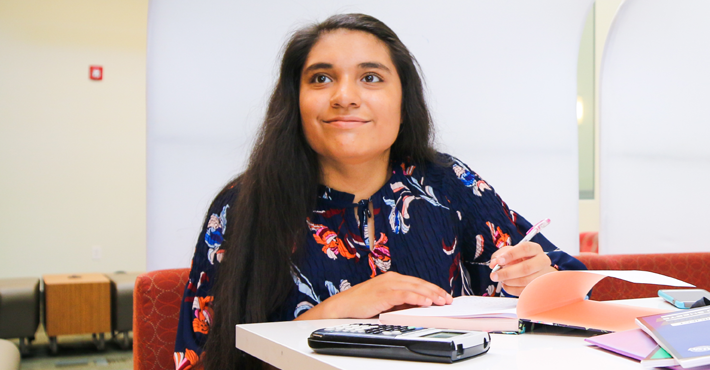 Helping others has always been a priority for Jacqueline Castellanos, a pre-nursing major at Stan State. Growing up in a foster home, Castellanos found joy in taking care of her younger siblings.
"When I was little, I was basically taking care of my brothers and sisters, so I've always had that mentality of helping others," Castellanos said. "I always put others before myself. That's why I chose a nursing career. I'm always going to put my patients first."
Her older foster sister also helped her decide to choose a career in the medical field.
"My older sister is currently in medical school," Castellanos said. "She told me about her experiences helping people, and what stood out to me the most was when she helped children with cancer. So I'd really love to be a pediatric nurse practitioner."
"Coming from a foster home and being a role model, I want my little brother and sister to see that they can achieve anything."
- Jaqueline Castellanos
She also wouldn't mindworking in an emergency room because she's interested in saving people's lives.
In fact, Castellanos helped save lives before coming to Stan State. She was a member of the Kelseyville Community Organization for Rescue and Public Service (K-CORPS). K-CORPS is an organization comprised of high school students in their junior and senior years and is deployed by the Lake County sheriff's office. Students are trained to conduct evidence and missing person searches as well as traffic control.
K-CORPS and is one of only two organizations of its kind in the U.S. Twelve high school students are chosen to enter the program each year, starting their junior year. The students are on call 24/7, 365 days a year for the two years they are in the program.
"You go out and search for people who are missing by using the skills you're taught, like tracking, technical roping and CPR," Castellanos said. "I got many hours of community service just by helping out with the Sheriff's Department, making sure people are safe."
Castellanos says she would love to start a similar program at Stan State. She envisions students helping the University Police Department and training others using the skills she learned in K-CORPS.
"It would not only be a service to the students, but also to the community." Castellanos said.