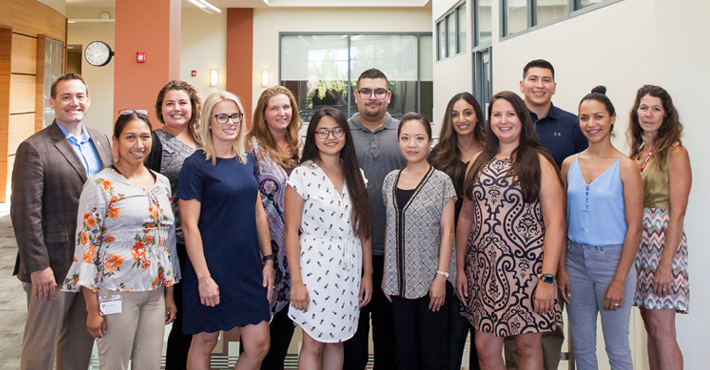 ​By Gina Oltman
Stanislaus Community Foundation Scholarship Students Begin Upgrading Their Nursing Degrees
The first group of registered nurses upskilling from associate degrees to bachelor's degrees with scholarships from the Stanislaus Community Foundation's Health Careers Fund have begun entering Stanislaus State's online RN-BSN program.
Four students graduated from Modesto Junior College in May, passed the national exam to become registered nurses and started Stan State's 12-month program in late August to earn a Bachelor of Science in Nursing. Another eight MJC nursing students are on track to enter the Stan State program in spring 2020.
All 12 of the scholarship recipients are or soon will be working nurses, making the online program especially attractive because it allows them to study on their own schedules between shifts that frequently last up to 12 hours.
For busy scholarship recipients like Michelle Childree, a mother of four teenagers who was inspired to become a nurse after she gave birth to triplets, the ability to study online is essential.
"I've worked really hard going to school, working, raising a family and commuting four hours a day to accomplish what I have so far," said Childree. "And I'm still working at it, thankfully, due to the convenience of Stan State's online program."
The scholarships of $10,000 each were awarded from Stanislaus Community Foundation's Health Careers Fund, which was established in 2017 with a $2 million gift that emanated from the sale of the Delta Blood Bank to the American Red Cross. The goal of the fund is to grow Stanislaus County's healthcare workforce, address the region's shortage of healthcare professionals and improve health outcomes for area residents.
Each scholarship requires the recipient to commit to working locally for at least three years after earning a bachelor's degree. According to Debra Tavernier, director of Stan State's School of Nursing, this requirement presents no problems. "Most of our students don't want to leave this area because they are already established here with their work and family," she said.
Tavernier added that helping registered nurses earn bachelor's degrees is beneficial to the community. It improves the overall quality of care in the region's hospitals and other healthcare facilities because nurses broaden their knowledge and sharpen their critical thinking skills while studying for their bachelor's.
She noted that studies published by the Institute of Medicine, an affiliate of the National Academies of Science, and the highly regarded public health journal Medical Care showed that increasing the percentage of bachelor's prepared nurses in hospitals greatly decreases mortality rates.
This academic year's cohort of 12 students is the first of two groups that will move directly from MJC into Stan State's online and traditional BSN programs over a two-year period. In all, $240,000 in scholarships from the Health Careers Fund will go to upskilling RNs.
Scholarship recipient Megan Reese, a mother of three, noted that the financial help will enable her to work fewer overtime shifts as a labor and delivery nurse while pursuing her bachelor's degree and raising her children.
Reese plans to give back to the Stanislaus community by volunteering with providers of obstetric services to underserved patients in the area. Meanwhile, Childree said she plans to serve the community by obtaining a wound care certification and applying those skills in a hospital or home health setting.
The Health Careers Fund is also the source of a $60,000 grant to Stan State to fund two years for a health careers navigator position. The navigator reaches out to local high school and community college students to educate them about the many career opportunities in healthcare and generate interest in healthcare professions.
"We're directing students to the healthcare possibilities they might consider for their careers," Tavernier said. "That includes nursing, but not just nursing. For some students, a different healthcare profession, such as respiratory therapy, might be a better fit for them."