By Gina Oltman
Graduate Research Leads Stan State Students to Find Their Passions
Germán Silva, a 2019 Stan State graduate, found research he participated in while earning his bachelor's degree to be a pivotal experience.
Once the geography major started using GIS technology to monitor the long-term health of California's coastal salt marshes, he was hooked.
The recent recipient of a prestigious National Science Foundation fellowship, Silva is studying at UC Santa Barbara in a combined master's-doctoral program he plans to complete in five years. At Stan State, he found that conducting research in the field taught him to better apply the techniques and skills he'd learned in the classroom while enhancing his critical-thinking and problem-solving skills.
"It is one thing to learn in the classroom, and it is completely something else to take what you have learned and apply it, then write an article on what you have found," Silva said. "Once I started presenting my work at conferences and communicating more about the importance of this type of research for the environment, I realized that I was absolutely in love with researching wetlands and haven't looked back since."
Silva plans to follow his passion into a career of coastal management.
"In California, only a small percentage of our historical coastal wetlands still exist and now that there are efforts being made to restore and maintain wetlands, there is a need to know how they respond to our changing environment. I hope to expand that conversation."
Silva's experience is not unusual for students who embark on research projects. As they plunge themselves into their subject matter, they frequently find their passion and begin clarifying their career goals.
"When a student learns how to do research, they become empowered," said Alison McNally, an assistant professor of geography and McNair Scholars Program mentor. "They begin to realize that what they are learning and applying can actually answer questions or solve problems. They truly beam when they present their research at a professional or academic conference."
McNally also finds that research helps students ascertain the topics in which they are most interested, and it can motivate them to continue their education in pursuit of post-baccalaureate degrees.
"The research process certainly contributes to students deciding what to pursue," she said. "Often, they have no idea what possibilities will be available upon graduation, and because they spend so much time on their research projects, their world of options really opens up."
Stan State encourages and supports student research activities with an array of grants and other resources. The University has 30 grants and other sources of internal funding to support the research activities of close to 250 students, with many more students conducting unfunded research through their capstone classes, graduate programs and the University Honors Program, according to Joyce Bell, director of the Office of Research and Sponsored Programs.
Roughly 500 students a year from Stan State pursue post-baccalaureate degrees or credentials, according to the National Student Clearinghouse Student Tracker. The preparation and experience they get from participating in research projects can propel them forward in their careers.
Alyssa Dye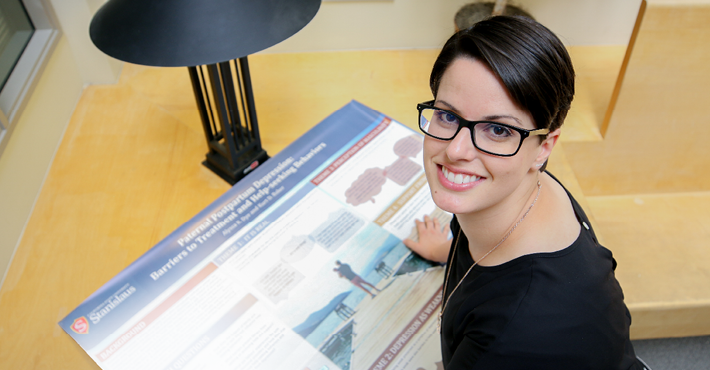 "I know I have much to learn, but research has given me a thirst for knowledge."
- Alyssa Dye
While pursuing a master's degree in psychology at Stanislaus State, Alyssa Dye delved into a few research projects. She studied the factors that affect whether new fathers with depression seek help, the effects of childhood trauma on college students and perceptions of foster children.
As she worked through her projects, she also learned something about herself.
"I learned that I love research," said Dye, who began a doctorate program at the University of Kansas this fall. "I love discovering more about humankind and how we can improve lives. I love the process of research, especially qualitative research, and learning about others' experiences on an individual level."
She believes everyone has a unique story to tell, and she enjoys helping people share their experiences in order to help others. In fact, she plans to make it her life's work.
Dye has a crystal-clear vision of her future contributions to society. She plans to work as a counseling psychologist and a California State University faculty member while continuing research in the area she feels passionate about – perinatal mental health.
"The faculty and staff at Stan State were incredible in providing support and encouragement to pursue my research, particularly my advisor, Dr. Kurt Baker," she said.
In the future, she hopes to mentor other students as she was mentored at Stan State.
"I know I have much to learn, but research has given me a thirst for knowledge."