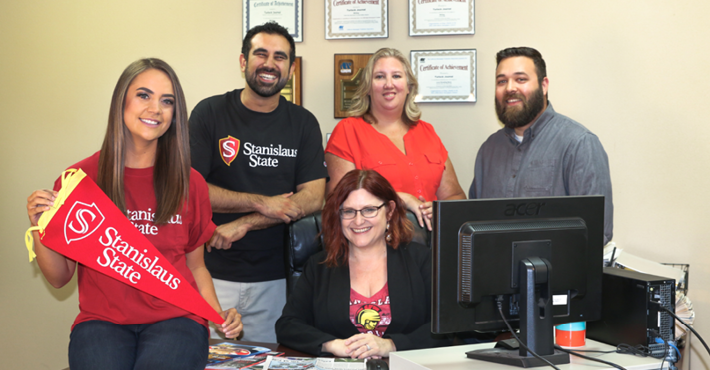 By Brian VanderBeek
The entire award-winning Turlock Journal editorial staff has Warrior roots
The first editions of the Turlock Journal rolled off the press in 1904, which means it predated the town's incorporation by four years and the establishment of the 15th campus of the California State University system by 56 years.
The newspaper has been a witness to nearly every large Stanislaus State happening —commencements, inaugurations and other events. And any time the editors or writers at the newspaper want to see a Stan State alumni reunion, all they have to do is call a staff meeting.
It wasn't planned, but on the other hand it's hardly coincidental that the entire five-person editorial staff of the Turlock Journal is made up of Stan State graduates since a major part of the University's mission is to prepare the regional workforce.
With five staffers, typical of a twice-weekly publication dedicated to community journalism, the Journal — as the city's chronicler of record — has served as the impartial observer of the perspective of the relationship between the city and University. Yes, they remain impartial even as they beam proudly when talking about their common alma mater.
"Stanislaus State was a great learning environment for me and as you look around our newsroom you can see that it's produced a lot of outstanding journalists," said Frankie Tovar ('11, Communications). "Coming from Stanislaus all gave us the ability to think forward, and we all share that."
Tovar is the digital content manager for the Journal, which recently won three California Newspaper Publishers' Association statewide awards for excellence. The newspaper has a circulation a little less than 5,000 for its primary twice-weekly product and also produces a weekly free shopper, a local news video magazine and also publishes 209 Magazine, which distributes throughout Stanislaus County with six issues annually. The staff is small, but mighty, and committed to its intensely local coverage.
The editorial staff is led by editor Kristina Hacker ('07, Organizational Communications) and in addition to Tovar features writers Sabra Stafford ('05, English), Eddie Ruiz ('14, Communications Studies) and Angelina Martin ('16, Communications Studies). All five either wrote for the campus newspaper, The Signal, or worked at the campus radio station, KCSS, and credit that experience for igniting the spark to be journalists.
Some of that spark was created while working with Shannon Stevens, assistant professor in communications studies and Signal advisor.
"In my journalism classes and at the Signal we talk all the time about the importance of a strong local press, and having our graduates carry that message forward with the quality work they do is the ultimate in 'giving back' to the community," Stevens said. "My current Journalism students are lucky, too, that our alums are willing to come to campus and talk about their lives in the field, making that link between coursework and career visible in important ways."
"Stanislaus State was a great learning environment for me and as you look around our newsroom you can see that it's produced a lot of outstanding journalists."
- Frankie Tovar ('11)
Hacker, who has worked at the Journal since 2005 and became the paper's editor during her final semester at Stan State, is one of those who can credit the Signal for her start as a journalist.
"I got into journalism at Stan State after starting off as a biology major," said Hacker. "I took organic chemistry and wondered what I was doing. I always liked writing and the Signal class is what got me into being a newspaper reporter. If you want the opportunity to work for the student newspaper and find out what journalism is all about, Stanislaus provides that."
Stafford, whose primary beat is crime and courts, caught the journalism bug earlier than most of her co-workers. She wrote for student newspapers at Modesto High and Modesto Junior College before enrolling at Stan State.
"My experience as Signal editor really helped me," she said. "I was a little older than the other students and I understood that the Signal was all about allowing students test the waters of journalism. Even though I was the editor of the Signal, I wasn't completely sold on the idea of going into journalism. I knew I wanted to write, and about a month after I graduated a job opened up here."
Martin played softball at Stan State as a freshman, and not only got hooked on journalism during her time at the Signal but became convinced that she wanted to cover her hometown of Turlock for her hometown newspaper.
"I wouldn't be a journalist, period, if it weren't for the Signal, so I wouldn't be a journalist if it weren't for Stan State," said Martin, whose Journal beat includes coverage of Stan State. "Growing up, I always read the Journal and got excited when I was in the paper. It was special to me, so given my knowledge of the town I always thought I could give back in that way after graduation. The Journal means a lot to the people of this town and I wanted to be a part of that."
Ruiz, a first-generation college graduate, admitted that he knew very little about Turlock before arriving at Stan State from his hometown of Salinas, but quickly came to love the town.
"I wanted to go to college in a good town, and Turlock is terrific," said Ruiz, the Journal's sports editor, who worked at KCSS with Tovar. "I've been fortunate — blessed — by having gone to Stan State. I took the first step by deciding to go to school there, but they took care of everything else as long as I did my part. I could have gone to another college, but I see now that Stan State was my best path. It's worked out perfectly."