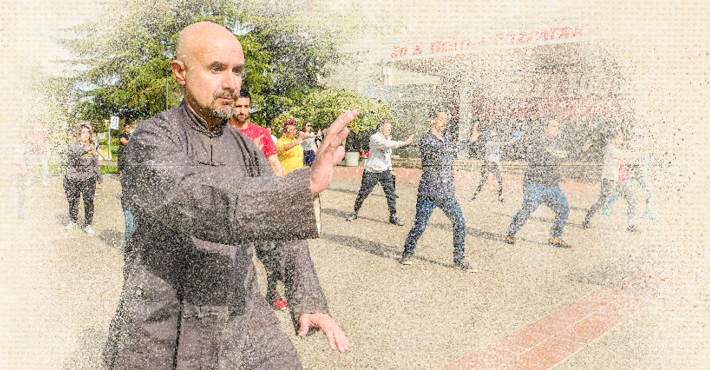 ​
By Nan Austin
The slow-motion martial art of T'ai Chi has joined the fitness options at Stanislaus State, where students say the discipline fights stress and improves academic concentration.
"Rather than just going through motions, T'ai Chi teaches me to put effort into things, no matter the time it takes, or how insignificant it seems on the surface," said Alec Austin, who took T'ai Chi spring semester at Stan State.
"I begin my days much more relaxed and more aware of my surroundings. I've noticed that my concentration and my focus in my classes have improved," said Viridiana Baca. Baca took T'ai Chi as a kinesiology elective, hoping to find a better life balance while carrying a heavy course schedule.
Austin Jiang noticed his posture and breathing improved after each class. He knew of T'ai Chi from watching senior citizens moving in unison in San Francisco parks. "The most unexpected part of taking this class was how young our crowd was," he said.
The elegant symmetry of a class moving in unison makes it look deceptively simple.
"I did not expect the motions to be so difficult to learn due to seeing elderly people doing it with ease. But they must have trained for years to become so smooth," said Juan Salas. The class taught him patience, he added, "The slow and well-executed motions soothe the mind as everything around you melts away and it is just you."
Students often come to the class thinking T'ai Chi is for the old, but it began centuries ago as a martial art for self-defense in rural China, said instructor Naser Ataee. Ataee, owner of T'ai Chi Ch'uan Academy, filled in this spring for his former student Chuck Wagley, who returns for the fall semester.
"Moving slowly, the mind directs the body and with practice the mind and body become one," Ataee said. "When speed is needed, the moves are much faster. The mind leads."
That martial art muscle appealed to Vianca Briones. "T'ai Chi isn't just an art form, it's also a life teaching experience that you can utilize in everything that you do," Briones said. Watching the moves of martial artists like Jet Li, she added, "I realized how powerful T'ai Chi really is."
"It is an internal martial art. Strength comes from the inside," Ataee said. "In China they say one who practices T'ai Chi on a regular basis may develop a kind of strength that is like a steel bar wrapped in cotton."
A student recovering from a car accident and a dancer derailed by injuries valued T'ai Chi as a low-impact workout. Others said the balance and stretching improved their traditional workouts and sports.
"This has a lot of positive effects in flexibility and strength. But mostly it's about de-stressing."
- Naser Ataee
Holland Sargis chose T'ai Chi as an early workout without getting "sweaty, hot and gross" for later classes. "I do truly believe it has helped me relax and de-stress. I overall have been doing a lot better in my other classes as well," Sargis said.
T'ai Chi's slow, deliberate moves offer mental and social benefits as well as physical exercise.
"This has a lot of positive effects in flexibility and strength," Ataee said. "But mostly it's about de-stressing. This is an activity performed very quietly. You have 30 people shifting forward and shifting back. Nobody is talking. I think it creates harmony between people. Nobody's judging. Everybody's in unison. We all have different speeds in life, but everybody's got to give a little in order to stay together."