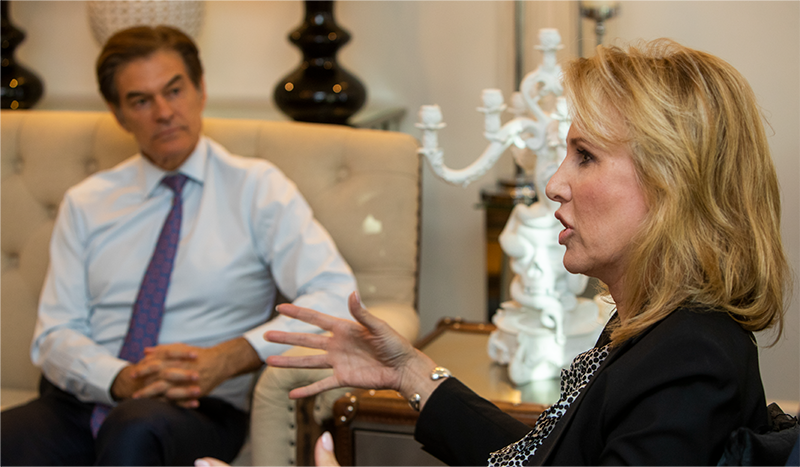 By Lori Gilbert
Stan State alumna Pam Kehaly conquered early challenges to reach the top of her field.
A job lead from a friend led Stan State graduate Pam Kehaly into the health insurance business, two years after she earned her business administration degree in 1983.
That claims supervisor position at Blue Cross launched a career that enabled Kehaly to apply her business skills. It also allowed her to pursue her greater passion of helping people. Kehaly recently combined that passion with inspiration from her mother — who raised her as a single parent — when she established a scholarship fund at Stan State to support students in the School of Nursing or College of Business Administration who were raised in a single-parent household.
As president and CEO of Blue Cross Blue Shield of Arizona since November 2017, she is dedicated to providing quality health care to everyone in the state. It's a role she accepted after spending seven years as president and general manager of Anthem Blue Cross of California.
Such a mission — seeing to the well-being of so many — can't help but spill over into her personal life.
The motto she passed on to her two grown sons, Trevor and Ryan, is borrowed from Nickelback: "Each day's a gift and not a given right."
"I encourage them to appreciate each day and live it to its fullest," Kehaly said. "We have a finite number of days on this earth, and each day is precious and should not be squandered or wasted."
To that end, she makes the most of her time away from work. She counts Sunday family dinners with her husband, Bill Kehaly — a technology entrepreneur she met at Stan State — her sons and daughter-in-law "the highlight of each week" because it's "most fulfilling to spend time with family."
Kehaly balances family life with a rich and challenging career. She was recognized as one of 2018's Most Influential Women and Most Admired Leaders by AZ Business Magazine and the Phoenix Business Journal, respectively, and is highly sought by agencies for positions on their boards of directors.
She also serves on the advisory board of the Schaeffer Center for Health Policy and Economics at the University of Southern California and is a member of the board of directors for Arizona Multiple Sclerosis Foundation, Greater Phoenix Leadership, UNS Energy, T-Gen and HealthCorps.
Here's a look at how Kehaly, who started working as a 12-year-old cleaning houses and selling carpet cleaner at flea markets, rose to the top of her field.
Q & A with Pam Kehaly
Q: Your mom was an inspiration for you. How did she accomplish what she did, and how did that influence you?
A: My mother had to raise young children as a single parent. In order to manage, she held down two jobs but always made the time to create a healthy, loving environment for us. She worked her way up from a mailroom clerk to senior vice president at the Pacific Coast Stock Exchange in Los Angeles. Her drive and determination were things I saw every day, and that greatly influenced my own approach to my life and career.
Q: Why did you decide to attend Stan State? How did your Stan State education prepare you to launch your career?
A: I researched all schools in California that were within a two-hour drive. Stan State had a number of attractive features for me. The most important was size. I did not want to go to a school with enormous classes where it would be easy for any individual student to get lost amongst the crowd. The smaller classes at Stan State meant relationships and individual attention from teachers, which kept me engaged and interested in learning.
Q: What memories of Stan State stand out to you — professors who inspired you, friends you made, places you liked to go in Turlock and the surrounding area?
A: There are so many great memories of my time at Stan State — it is hard to pick just a few. The most significant and memorable was meeting my husband, Bill Kehaly, who was running for class president at the time. The Turkey Trot races were, of course, legendary. School time was also memorable from lunches on campus to marketing classes with
my favorite teacher.
Q: After graduating from college, you worked in retail before making the jump to health insurance. What was it that convinced you to make the change, and what was it that held your interest to pursue your career in this field?
A: While going to school, I worked part time in retail. The company offered me a full-time manager role when I graduated, which I accepted. I did not feel I was using my education, nor was I making a positive difference in people's lives. So, I shifted to the health field. I found this to be a space where I could have a meaningful impact, and I could use more of
what I learned at Stan State.
Q: Was there any connection you found between what you learned during your time at Stan State and finding success in pursuing your passion?
A: Learning from Stan State in the areas of finance, business and marketing have been extraordinarily helpful in my career advancement. Accounting classes helped me run P&Ls (profit and loss statements), marketing classes helped me develop successful products and programs, and business administration helped me make good business decisions.
Q: What inspired you to recently reconnect with Stan State and make a generous donation?
A: One of the great things about Stan State is that it is not over when you graduate. It stays a part of your life, not only in your education and memories, but also through ongoing connections, like this magazine, individual outreach and local events. Stan State has given me so much in my life — I want to give back to
enable others to have the same learning and development opportunities I was given.
Q: You've developed or overseen innovative health care initiatives throughout your career. Which are you most proud of and why?
A: Mobilize AZ is a program I started almost two years ago to address the health issues in Arizona that are ranked lower than the national average. Mobilize AZ's areas of focus are opioid overdose deaths, mental health and diabetes. Blue Cross Blue Shield of Arizona is supporting programs to improve the health of all Arizonans, particularly in these three areas.
Q: Many of your volunteer activities have revolved around health care — breast cancer, March of Dimes and multiple sclerosis — to name a few. Is this an extension of your work, or is there a more personal connection to some of these causes?
A: Health is the most important aspect of life. It is so easy to take health for granted until you or a loved one lose it. And at some point in every person's life, they will face that fact. People I care about have battled or are battling serious disease, which drives me to find solutions. For me, it is personal.
---
COVID-19 is exacting a terrible toll on the health and well-being of all. This is a time when standing united will makes us stronger and more resilient. Martin Luther King said, 'We may have all come in different ships, but we're in the same boat now.' We are indeed in the same boat, so, let's row together. Let's all do the right things — like social distancing and frequent hand washing. But, lets also help one another — be kind, compassionate and helpful to those that need it. If we all do our part, we will emerge victorious.
- Pam Kehaly, CEO, Blue Cross® Blue Shield® of Arizona