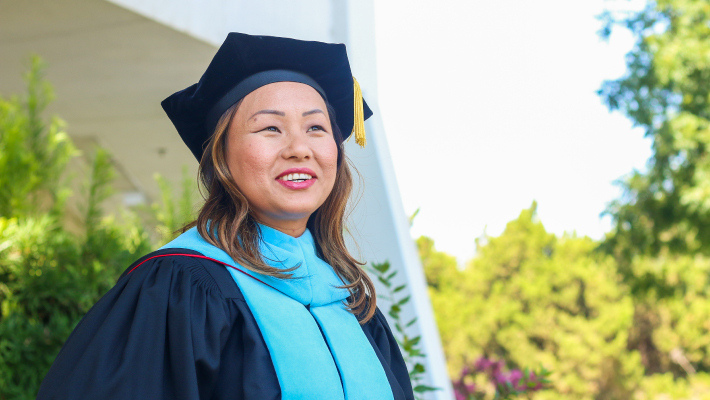 By Gina Oltman
Nothing about Soua Lee's early childhood foreshadowed her life today. She holds a doctorate from Stan State, shares a beautiful home with her husband and four children, earns a good income at a job she enjoys and is eyeing career advancement.
But 37 years ago, and nearly 8,000 miles away, Lee was born into an entirely different scenario, one of poverty and hardship. It took perseverance, faith in the power of education and years of encouragement from family, educators and fellow students to overcome the circumstances of her childhood and achieve the life she dreamed of.
Her story can be traced to the mountains of Laos, where years before her birth her parents were among the thousands of Hmong people fighting communism in what is often called the Secret War of Laos during the Vietnam war in the mid-1970s. To escape persecution and likely execution, Lee's family fled into the jungle and then made the difficult trek into Thailand. In 1979, they crossed the Mekong River and settled in the massive Ban Vinai refugee camp. Lee was born there two years later.
"Life is fluid and people change. Your dream job might not stay your dream job forever, and then you can make a change. Believe in yourself."

For the next eight years, Ban Vinai was the Lee family's home. Sanitation and living conditions were poor in the overcrowded camp. The Thai people wanted the camp closed, and a refugee resettlement process started.
Sponsored by a church group in Nebraska, the Lee family immigrated to Omaha. The family lived there for a few months, then moved to Fresno where some relatives had settled. Without being fluent in English, they found it difficult to find good jobs in America. "My family really struggled financially for so long," she said. "My parents worked factory jobs and other production jobs, but the work was not steady. Pay and working conditions were poor, and they had no benefits."
A shaman and cultural musician in Laos, Lee's father regularly talked about the importance of education and pointed out examples of well-educated people achieving success to Lee and her five brothers. "His hopes and dreams were for his children to have good educational opportunities," said Lee. "He was so proud of educational accomplishments. He was my inspiration."
On weekends, Lee helped with cooking and cleaning. During harvest season, she joined her mother working 12-hour days picking crops. "I had to learn English quickly because my family needed me to translate," she said.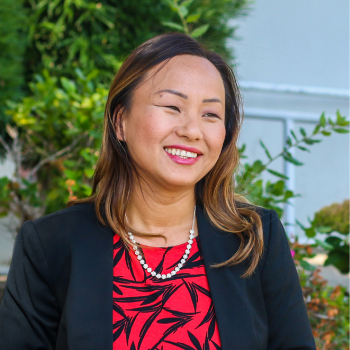 The family moved to the Minneapolis-St. Paul area when she was a teen. Lee earned a Bachelor of Arts in Psychology from Concordia University and a Master of Arts in Social Work from the University of Minnesota. She also married and had three children. In 2012, her husband retired from his career in the U.S. Army and the couple decided to move to California, where they had both lived before, for the warmer weather and a sense of home.
It was while working as a counselor and faculty member at Modesto Junior College that she decided to pursue her doctorate at Stan State. She started the program in 2015, but life threw her a curve — pregnancy. "When I found out, I just thought, 'I can't do this,' and I decided to quit," she said. Her fellow students, however, started a campaign to get her back into class.
"My classmates texted me, 'Come one last time, you might change your mind.' Then my professors contacted me and told me about other students who had been in the same situation," she said. "Everyone just kept saying that I shouldn't quit."
She finally decided everyone was right. She caught up on the course work she missed and continued with the doctoral program. She successfully defended her dissertation in March and received her Ed.D. in May with a 4.0 GPA.
"After I defended my dissertation successfully, I called my father and said, 'Now people can call me doctor. I completed my studies successfully,' and he just started crying," she said. Shortly before her hooding ceremony, however, her father lost his battle against a longtime illness. "He couldn't come to my ceremony because he passed away, but he knew I achieved my doctorate."
With her final degree in hand, Lee has her eye on the future. She would like to move up the career ladder of higher education leadership. For now, she is continuing in her work at Merced College, helping students plan their futures.
"Sometimes, they think I have a crystal ball or a test that will tell them what to do," she said. But a career plan is never perfect or final. Lee encourages students to view their first job as an extension of their education, a place where they will learn job and people skills.
"Life is fluid and people change. Your dream job might not stay your dream job forever, and then you can make a change," she said. "Believe in yourself."