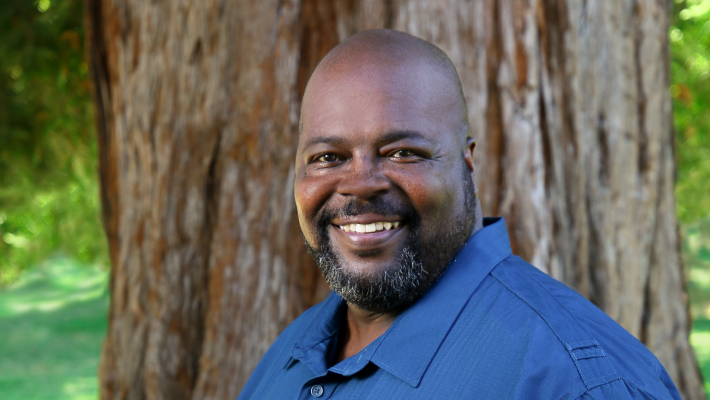 By Nan Austin
Sedrick Mitchell found his dream job building community connections with state parks. A 1983 Stan State graduate in political science, Mitchell interned for state Sen. Patrick Johnston and went on to work with the California Legislature. He left his post as senior consultant to the Senate Appropriations Committee to take the leadership role with California State Parks in 1999.
His appointment as deputy director of external affairs began with Gov. Gray Davis and continued through Gov. Arnold Schwarzenegger and Gov. Jerry Brown. It has been a good fit, Mitchell said, as his family grew up hiking, climbing and camping in the spaces he now works to help all families enjoy.
"We are really the stewards of history and of nature, as one of the most diverse and largest park systems in the world," Mitchell said. "The biodiversity of California is incredible. You can go from desert to snowy mountains to the beach in the same day. It's just a remarkable place to be."
Beyond sheer beauty and wonder, parks can be places of personal transformation, noted the longtime Boy Scout leader. Mitchell spent a week in August working with Outdoor Youth Connection, a camp program for underprivileged teens he founded as a collaboration of California State Parks and the nonprofit Pacific Leadership Institute.
"If you can have the opportunity to live a life where you're making a difference and be a part of something bigger than yourself, changing peoples' lives, you can have a life well-lived," he said. "It's not about how much money we make it's not about how many projects we do. It's really about social justice, which is a value I gained while I was at Stan State."
"That feeling you're part of something greater than yourself stays with you. It's what gives you the confidence and courage to keep stepping forward."
A young Mitchell stepped onto the Stan State campus at a time when he recalls professors' first lectures started with handing out their home phone numbers. His coaches on the baseball and soccer teams, the faculty in his major and fellow Warriors became his second family.
"Being a first-generation college student, I really didn't know what to expect. I just knew that I should be there," he said.
A network of support and a sense of being valued helped him through, Mitchell said, "That feeling you're part of something greater than yourself stays with you. It's what gives you the confidence and courage to keep stepping forward."
It was while competing for a Sacramento internship against students from larger, better-known schools, that he realized his education at Stan State was top tier. "We were actually better prepared than others because we weren't just a number. At Stan State, we were individuals and we were challenged," he said. "The professors never let you slide by. They took the time to understand your ability and then expected you to reach that."
Throughout his career, Mitchell has called on his Stan State mentors for advice. And he was recently named the first recipient of the First-Generation Alumnus of the Year Award in recognition of his contributions to the community as a Stan State graduate. He stressed what a University education offers goes well beyond grades and degrees.
"The most important thing I learned at Stan State was the power of what I could become — the vision of what I could do if I kept believing in myself and believing that all things are possible," he said. "It's not about discovering yourself, it's about discovering the person you can become."