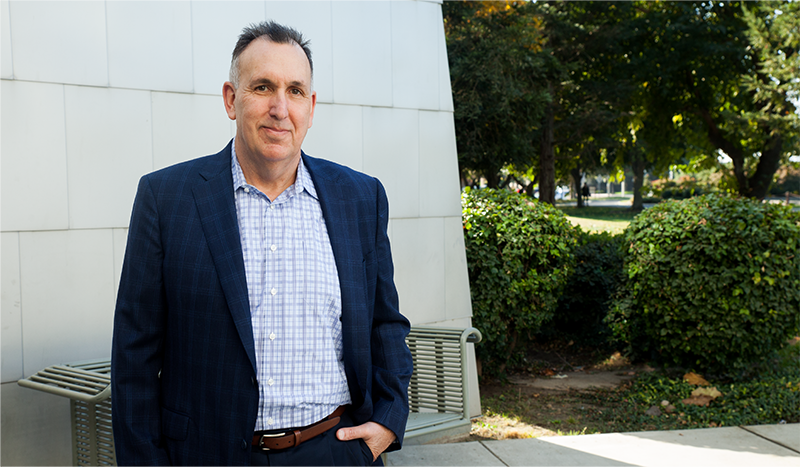 By Brian VanderBeek
Stan State graduate Steve Gordon vows to streamline and modernize California's DMV
Steve Gordon didn't wake up one morning suddenly intending to become the director of the California Department of Motor Vehicles. The opportunity almost literally fell into his morning coffee.
Gordon, a Stanislaus State graduate ('83, business administration/accounting) and veteran Silicon Valley tech executive and entrepreneur, was sitting at his table on March 28, 2019, swapping sections of the San Jose Mercury News with his wife Debi, when a particular story caught her eye.
The headline was at once challenging and foreboding: "Hate the California DMV? Here's your chance to run it."
"She looked up at me, handed me the paper and said that I ought to consider applying for that job because it looks like it would fit," Gordon said.
She was serious, and so was the article's subject. Gov. Gavin Newsom was making a very public effort to find the DMV's next director, and that person would be the third person in a four-month span to be at the helm of, well, as the article said, "the beleaguered state department."
Gordon, a Modesto native and Beyer High graduate, was 59 at the time and considering retiring after compiling an impressive business resume that included more than 30 years in private sector IT, including 18 with Cisco Systems.
He applied for the job. And he waited, not knowing if his application would warrant as much as a nod from Sacramento. Two months later his phone rang.
"I didn't know many people in the 916 area code, so I was wondering who it was," Gordon said. "It was the undersecretary for appointments for the Governor's Office, and she had this wonderful personality — so that was the first person I talked to."
"Once I got here, I saw the beautiful campus, the professors were fantastic and you know, it was the perfect environment for me and it just worked. It was a great experience for me."
- Steve Gordon
They set a date a few weeks out for Gordon to come to Sacramento for an interview, and that was his cue to dive-in. He did an informal survey of close friends and former co-workers to get their opinions about the DMV as a service, and said the response was much more positive than he expected. Not only did his friends see the potential in the modernization of the department, but they offered ideas and shared a willingness to help.
"Without exception, the people that I've reached out to have all stepped up," Gordon said. "They've been on phone calls, they've shared data and have been helping us think through things, which has been fantastic."
While waiting for the interview date, Gordon also visited the front lines. On at least two occasions, he'd grab his morning coffee to-go and show up at one of the DMV field offices in the San Jose area, just to see for himself how long people had to wait in line to access DMV services.
According to a Sacramento Bee story, he arrived at 6 a.m. at one field office that didn't open until two hours later and saw a person who had camped-out in a lawn chair, just to beat the anticipated crowd. What he had heard about people planning their entire day around a visit to the DMV was true, and he'd read enough about the department to know that his experience in transforming enterprises gave him the particular set of skills the DMV might need most.
"I apparently passed the first interview, but I wasn't so sure about it at the time," Gordon said. "And then there were more interviews and another wait, but all of this has worked out. It's worked out well."
Gordon recieved another call from the 916 — this time to schedule a meeting with Gov. Newsom.
"When I met the governor, we got to discuss what was important to him, and I told him what was important to me, and I think he was happy with what he heard. I know I was happy with what I heard.
"That talk was important because I needed to know that his goals were aligned with where I wanted the organization to go, and that these weren't goals that would be changing a couple months later. And here we are."
Newsom introduced Gordon as DMV Director on July 23, 2019. That morning, the state DMV offices were feeling a familiar source of stress. Its computer system, based on decades-old technology, crashed.
"Just an hour ago, an entire computer system was down," Newsom said during the press conference. "I love it. On the day of the press conference. You'll probably need to write that down. It's just too perfect."
If nothing else, it underscored Gordon's first order of business, especially as the department was rushing to prepare for the anticipated crush around the Oct. 1, 2020, federal enforcement date for Real ID.
"We will not modernize the DMV overnight," Gordon said at the press conference. "This is really going to allow us to be able to make those changes to the infrastructure, make those changes to the system and really υ
improve the ability to deliver the services that all Californians expect."
It would be easy to assign a level of luck to Gordon's path to the top DMV position, but that would be wrong. Yes, his wife just happened to see the newspaper article, but once he decided to pursue the job, he went all out. In a way, that's similar to his Stan State story. The University found Gordon, and then Gordon found himself at the University.
A 1978 Beyer High graduate, Gordon was attending Modesto Junior College and waiting tables at a restaurant in Modesto. He really didn't know what his next step in life would be.
"Two of my fellow waiters — a husband and wife — were attending Stan State at the time and were constantly talking about how good it was," Gordon said. "I was getting near the end of the road at MJC and I needed somewhere to go. Stan State was close, so I could live in Turlock and commute to my job in Modesto.
"Once I got here, I saw the beautiful campus, the professors were fantastic and you know, it was the perfect environment for me and it just worked. It was a great experience for me."
Gordon had particular praise for several professors who taught him to look at things from new and interesting perspectives, as did economics professor Fred Kottke.
"He always had an 8 a.m. lecture, which is fantastic for me since I'm a morning person, but when students would fall asleep, he would toss erasers at them — probably something you couldn't do today," Gordon said. "I recall one time when it was really foggy that he called my house in Modesto and told me not to drive to school that day.
"I remember that to this day, because I thought that was really above and beyond for him to do that. And it really set a tone that, look, we need to make sure that people are safe."
Gordon also retained many of the lessons, both on and off the page, he learned from David Jenkins, professor of accounting.
"I use the stuff I learned in Dr. Jenkins's class frequently," Gordon said. "I was one of the rare accountants in my previous field, so when I dealt with my finance peers, I actually could talk to them."
That ability to communicate with the money-movers in the public and private sectors is an invaluable trait that Gordon securely connects to his days at Stan State.
"I never underestimate the power of being able to talk to the controllers and treasurers, because these are the powerful people in corporate America," Gordon said. "I found that if you can communicate with them in their terms, you get a different level of respect."
Nothing, however, may gain Gordon more respect than finding success in his current role. He not only understands the grand challenge he's taken on, but like the rest of us, can't wait to see how it all turns out.
"We follow a pretty regimented process, with steps that are mandated by laws, but what we can do is implement those steps in different ways to reduce the time it takes from start to finish — the cycle time," he said. "We're going to try to make as many changes in the DMV as humanly possible over the coming months to prepare for Real ID and start laying the foundation for the digital transformation that needs to happen.
"By next October, when we are able to get people through the process, it will be called a short-term success. Whether we have systems that are 30 years old, or we have processes that are equally old that are supported by those systems, well that's part of the modernization effort."
Tech upgrades and overall system modernization is understandably at the forefront of Gordon's vision for the DMV. But he's not leaving behind the human element that is so important to every transaction and DMV interaction. Much as he did when he was doing homework on the director's position, Gordon continues to visit DMV field offices. There are 171 scattered throughout the state, and he hopes to be able to visit each one. So, on Nov. 5, 2019, Gordon drove south on Highway 99 to the Monte Vista exit, drove past his alma mater and dropped-in on the Turlock DMV field office.
He entered, coffee in hand, without fanfare and made small talk with people waiting in line. A few of them did double-takes as they noticed the tall, friendly guy bore an uncanny resemblance to a man whose portrait hung on the office wall.
He may be tasked with upgrading and streamlining the processes of the DMV, but he'll never lose sight that service always will be a people-first endeavor.
"It's important to break down those kinds of barriers, because we're all residents of California," he said. "We're all neighbors and friends and we work together. And to me, that's one of the most important parts of everything we're doing.
"It's just a breakdown of the communication barriers so people can feel that I'm a human being and maybe think of the DMV in that way. Look! There's a human being behind the DMV."
​