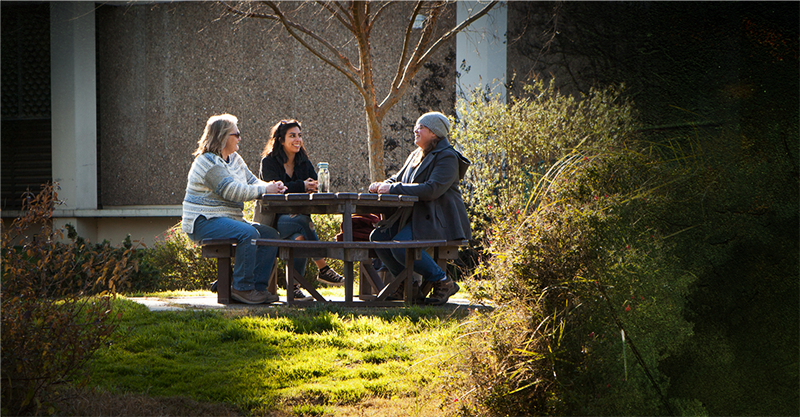 By Lori Gilbert, Linda Mumma Solorio and Tatiana Olivera
Young people across the globe are more aware of global warming and sustainability issues than any generation before them, and Stan State students are demonstrating daily their own commitment to saving the planet.
Olmstead's New Role at Heart of Campus Sustainability Efforts
In her new role as Stanislaus State's sustainability coordinator, Wendy Olmstead has made it her mission to educate the campus community that sustainability is not just about recycling.
"All life is interconnected, which requires us to conduct ourselves through the lens of economic, environmental and social sustainability," she explained.
While growing up in Kirkland Lake in Northern Ontario, Canada, Olmstead adopted sustainability as a lifestyle.
"I was raised in a forest, so it's really easy for me to be passionate about the environment," she said. "I spent most of my time outdoors, so I really value nature."
Olmstead earned her bachelor's degree in agricultural studies at Stan State as well as two master's degrees — ecology and sustainability and public administration. For the last 12 years, she has worked as an administrative analyst, commercial operations manager and lecturer in political science and public administration. But she said she's always been passionate about sustainability.
"I actually pitched the idea of a sustainability coordinator seven years ago when I was finishing my ecology master's," she said.
She officially started her new role in September and said her first order of business is to conduct a Sustainability Tracking and Rating System (STARS) audit on campus.
Olmstead said all CSUs are mandated to do a STARS audit. The audit is expected to take about a year to complete and will entail examining every aspect of the campus — from procurement (such as what type of paper to use and what food to buy) to greenhouse gas emissions, energy use, food waste and academic programming.
"The audit encompasses four main categories," Olmstead explained. "Academics, engagement, operations and planning and administration."
While her office is involved with the audit, Stan State's Council for Sustainable Futures will focus on campus events.
"I also co-facilitate a faculty learning community, which means we're teaching faculty how to teach students about sustainability," Olmstead said.
Olmstead said students are already embracing sustainability on campus, bringing back a club called "Eco Warriors" to help spread awareness.
"Students are such great ambassadors," she said. "You just have to empower them and stand back. They have great ideas of what they want to do."
Olmstead believes the STARS audit will not only help identify Stan State's strengths and weaknesses, but will also shine a light on just how green the campus already is.
Students Breathe New Life into the Eco-Warriors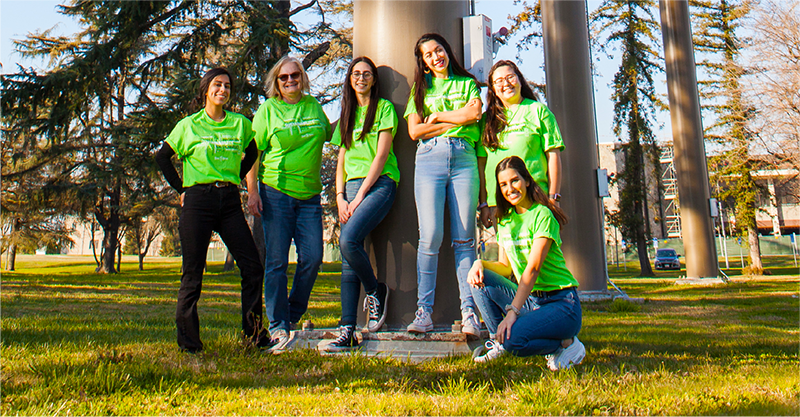 Associated Students, Inc. representatives Diana Avalos and Cynella Aghasi Lolham are so passionate about sustainability, they brought the campus club Eco-Warriors back into existence last fall after a nearly 10-year hiatus.
"I go to other CSUs and connect with other student leaders and I noticed other campuses have sustainability clubs and we were one of just a few that didn't have one," said Avalos, vice president of Eco-Warriors and a graduate student in public administration.
Avalos, from Modesto, earned her bachelor's degree in international relations at UC Davis and enrolled at Stan State in fall 2017 to work on her master's degree.
When she returned, she was surprised to see the disconnect between students and issues such as climate change, energy, air and water quality and in protecting the natural resources that surround the campus. The revelation prompted her to take action to raise awareness.
"We have prime agricultural land here that feeds roughly one-fourth of the United States, but students don't know where their food comes from or where their trash goes when they dispose of it. It's mind-blowing!" said Avalos.
She believes everyone should do their part to protect our food, farmland and natural resources.  "Sometimes it seems like we're at war with ag, but we (environmentalists and residents) need to work together with the industry to make the region more sustainable," she added.
Once sophomore Aghasi Lolham, from Turlock, was elected as the ASI Director of Sustainability, she and Avalos quickly got to work resurrecting the Eco-Warriors Club, building its membership and hosting a series of promotional events on campus.
"One of the first things we did was host a clothing swap on campus," said Aghasi Lolham. "Students were encouraged to bring a piece of clothing they no longer wanted or needed and exchange it for another used or gently-used item that we collected through donations."
Aghasi Lolham, who got involved in sustainability initiatives after taking an environmental science class at Pitman High, said the goal of the event was to slow down the amount of waste generated by the fast-fashion industry.
She said the clothing industry is the second-largest polluter in the United States and fast-fashion, υ which is described as inexpensive clothing rapidly produced by mass market retailers in response to the latest fashion trends, is a large contributor to the problem.
"Spreading awareness through that event was important," she said. "We got a lot of great feedback from students who want us to hold the event again."
In just one semester, Avalos and Aghasi Lolham grew the club's membership to include more than 15 students. The co-founders since have started the Instagram page ecowarriors_csustan, and plan to push-out messaging to educate and engage students in sustainability.
"We eventually want to do park cleanups, Earth Day activities, and partner with some of the other green clubs on campus to raise awareness of practical sustainability: little things students can incorporate into their daily lives," said Aghasi Lolham. "We have a lot planned."
Master's Candidate Starts Club Dedicated to Informing Campus About Climate Change
When he arrived at Stan State in 2017 to pursue a master's degree — 42 years after completing his Bachelor of Arts degree in humanities at Southern Oregon State College (now Southern Oregon University) — Ken Boettcher hoped to find the kind of activism he remembered as an undergrad student.
After all, the Medford-born and Ashland-raised Oregon farm boy had begun college in 1969 at the University of Oregon in the midst of student protests.
He decided to take a step toward inspiring students to positively use their voices for change by starting Climate Action Now!, a group dedicated to informing the campus about the climate crisis.
"Since Oct. 8, 2018, there've been four warnings from the International Panel on Climate Change (on behalf of the United Nations), about the different aspects of the global warming crisis," Boettcher said. "There's actually a fifth one that came out in December."
The Oct. 8, 2018 warning moved Boettcher to act.
He came up with the idea for the club, asked history professor Brandon Wolfe-Hunnicutt to serve as advisor and found 22 like-minded students to join.
"Our purpose on campus is to spread the science," Boettcher said.
The warnings, about rising global temperature, species extinction and the effects of climate change on land and on the oceans and ice caps all are summarized in literature Climate Action Now! has produced and shares at its table on the quad during Warrior Wednesdays.
He looks at the numbers — including the expected rise in air temperature from greenhouse gas emissions — and sees a need for action now. If not for himself then for his two grown children, his four grandchildren and others of their generations.
As a journalist who covered social issues for a Bay Area publication called The People, Boettcher knows how to communicate. He's pursuing a master's degree in environmental history with an eye toward writing about the subject.
In the meantime, he's using his skills to create informational literature for fellow students, including the designing of placards his organization will carry bearing the name: Climate Action Now! and the warning "Extinction is Forever."
Student Research Focuses on Preventing Plastic Pollution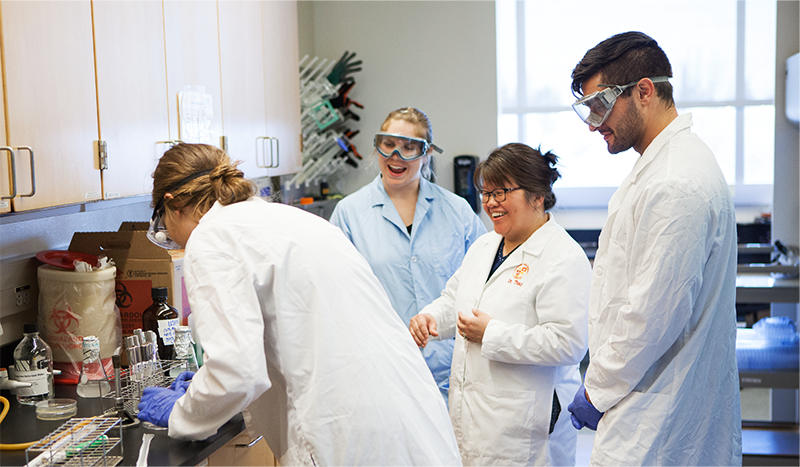 While engineers and scientists worldwide endeavor to clean up the estimated 150 million metric tons of plastic trash circulating in the world's oceans, a small team of Stanislaus State science students is working diligently in a microbiology lab with a focus on prevention.
In an effort led by Professor My Lo Thao, students Victoria Coffey, Miranda Marshall, Eliseo Garcia and Angel Avalos are experimenting with bacteria to identify species that quickly break down polyhydroxybutyrate, or PHB, a newly developed bio-derived plastic. In the plastics industry, PHB is being hailed by manufacturers as the product of the future because, under the right conditions, it is easily biodegradable.
"The trick with this PHB plastic is you must have the organism (bacteria) present to break it down," explained Thao. "If you don't have the organism present, the bioplastic can stay in the environment as long as petroleum-based plastics."
And as Thao's students are learning, not just any bacteria will do the trick. Some are quick and efficient at breaking down PHB into water and carbon dioxide, while others are quite slow. To separate the best from the rest, the students take bacteria from compost, wastewater and seawater, apply it to PHB in petri dishes, then wait for results. When a dish shows fast breakdown, the species of bacteria in it is analyzed for a DNA sequence and added to a list of successful bacteria.
So far, the project has a list of more than 10 bacteria species that can break down PHB rapidly.
"The exciting thing about this project is the potential," said Thao. "There is a lot of plastic accumulation in the environment and if this research can help solve the problem, that would be a great contribution."
Coffey agrees. A graduate student focused on seawater bacteria, she envisions a day when a safe bacteria spray can be applied to plastics in home trash and compost bins to get a jumpstart on breakdown before garbage pick-up day.
"That would prevent waste buildup and a lot of pollution issues could be solved," she said.
Started five years ago, the project is a collaboration with two professors at Chico State.  Thao has as many as 10 students working on it every semester.
For Garcia, a biology major planning to go to medical school, joining the project was initially viewed as a chance to get the research experience he needs to show on his graduate school applications. But now he sees it as a chance to help make a difference in the world while he learns about microbiology and lab techniques.
The Key to Sustainability
When remodeling of the lock shop at Stan State began last fall, maintenance manager Manesh Chand was confronted with five five-gallon buckets of old brass keys and locks that were broken or had been replaced.
The debris had been tossed into the plastic buckets for eight or more years and the buckets were taking up space, but Chand was worried about properly disposing of them, for security reasons.
"I called around to a lot of recycling places and there was a place in Modesto that said, 'you can bring them, we'll take the broken brass,'" Chand said. "But I wasn't convinced that they were going to destroy them in my presence."
Tim Overgaauw, director of facilities operations, had a better idea, one both cost-effective and environmentally friendly. He approached art professor Jake Weigel and asked if the teacher of sculpture could use the metal.
"Students pay course material fees to purchase some stuff, but getting yellow brass is different," Weigel said. "We haven't used yellow brass for casting. It's nice to be able to recycle or upcycle, especially the novelty of it coming from Stan State."
Weigel, who was a part of the teaching sustainability cohort in the fall and plans to resurrect the art department's visual art and ecology class during the 2020-21 school year, delighted in getting the brass keys and locks.
The material was melted in one day into 14 bricks weighing about 25 pounds each. The bricks will be melted again when a student project calls for the unique brass.
"We can get different patinas," Weigel said. "You can patina brass and bronze to accurate color variations, but there is something nice about that natural straw yellow, golden color that will lend itself to certain sculptures or certain designs, for sure."
Weigel and fellow sculpture teacher Dan Edwards eagerly embraced the gift, since they're both eager to repurpose materials for artistic purposes.
"We've got wood that we received from Capital Planning and Facilities Management that can be used in a carving class I teach," Weigel said.
"This is a super cool project in terms of what it can do for the environment," he said. "It can help decrease pollution, and I find that really exciting."
Bringing Sustainability into the Classroom
Looking at the environmental waste of the United States penitentiary system that operates on a 1950s model; making sustainability the topic of research projects for English and communications classes;  reworking established classes to focus on a greener future. These are just some of the actions taken by Stan State teachers who were part of the Teaching Sustainability faculty learning community during the fall 2019 semester.
"When we first started talking about sustainability with our Council for Sustainable Futures, we recognized one of the most important ways of transforming our campus culture and educating our students about sustainability would be to incorporate sustainability into the curriculum," said Wendy Olmstead, Stan State's sustainability coordinator.
"We thought the best way to do that would be to offer teaching sustainability faculty learning communities."
The first effort, in spring 2019, drew 13 faculty members and the fall session included 10, supported by grant funding.
Another learning community is active this semester.
"Some of the richest curriculum comes from people who didn't have any knowledge of sustainability," said Olmstead. "For me, the most heartwarming presentations come from people like Blake Randol, a faculty member in criminal justice, who say, 'I don't know what I'm going to do with this,' then they come up with something. It was incredible what he found in terms of green corrections.
"Then, we had a faculty member last spring in computer science who similarly thought, 'what am I going to do with this?' while talking about the different chemicals used in manufacturing computers and semiconductors. You also have faculty like (Julia Sankey, professor of paleobiology and geology), who are well-versed in climate change, and that's the obvious aspect of sustainability. It's amazing to me the ways they find to integrate this."
Betsy Eudey, professor of sociology and gender studies, is changing the women's development and lifestyle choices course to encompass women's lives and sustainable happiness. Likewise, art professor Jake Weigel is updating Art 3830, visual art and ecology, to place the emphasis on sustainability.
The mission of the faculty learning communities is to emphasize sustainability as its own reward in addition to an important factor in addressing climate change.
"Sustainability is one thing, climate change is a whole other issue, and there's a sense of urgency around that," Olmstead said. "Sustainability is not going to matter if climate change eradicates us."
University's Community Garden Inspires the Next Generation of Providers
Demsen McFaddin is a business major who helps his father grow almonds on family property in Turlock. But the entrepreneur in him dreams of using his business acumen to create a community garden.
"Probably a couple acres that could produce enough vegetables to feed under-resourced communities," McFaddin said. "I'd take it to a food truck to sell, but have a non-profit truck. That would be the business model, make money but have a non-profit component off the same garden."
The idea came to him when he became involved in the new community garden at Stan State, located north of the Agriculture Department's Sustainable Garden. Volunteers and two paid staff members began working on the garden last summer, having been inspired in part by lessons they learned while attending the University's first Indigenous
Peoples Day in 2018.
"I was thinking about food insecurity," said Antonio Anaya Tapia, an ethnic studies major with a minor in business. "We live in the Central Valley, one of the powerhouses of the world in producing and creating food. And yet we have food insecurities in so many communities in the Valley?"
Anaya Tapia started thinking about the Warrior Food Pantry, and the idea of providing fresh produce for students hit him.
Planning, approval, insurance and literal seed money from the CSU system that wanted campuses to create such gardens helped launch the project. Anaya Tapia said students are "using this as a space to learn how to create our own food, and how to use that for healing, to find out about foods and herbal medicines we can take with us
to any community."
Ethnic studies faculty member Cueponcaxochitl Sandoval Moreno invites students in her indigenous studies class and members of the Indigenous Students in Activism club to work in the garden, which consists of 17 large planter boxes that last fall produced carrots, squash and other vegetables.
"We're on native land," Sandoval Moreno said. "When you think of studying computer science or business or physics, it's important for us to have a common north, where we can establish this is native land. How are we going to develop, as a scholar, as a leader, as a graduate of this University and recognize this is native land? By working this land, we activate the molecules, the cells in our bodies in relationship to the land as we get our hands dirty.
"As we organize, we have a meeting place on our campus that we could affirm native presence, and that is a really important thing we can carry with us in our lives and in all the work we do to combat the continuous erasure of indigenous peoples."
The project, students say, leaves them hopeful, motivated, inspired and connected.
"It's what we've been longing for as humans," said Julissa Ruyz Ramirez, a political science and ethnic studies major. "From colonialism, we've been part of many spiritual things, but this ties us together."