'SCOREs' Stan State's First NIH Grant
by Donna Birch Trahan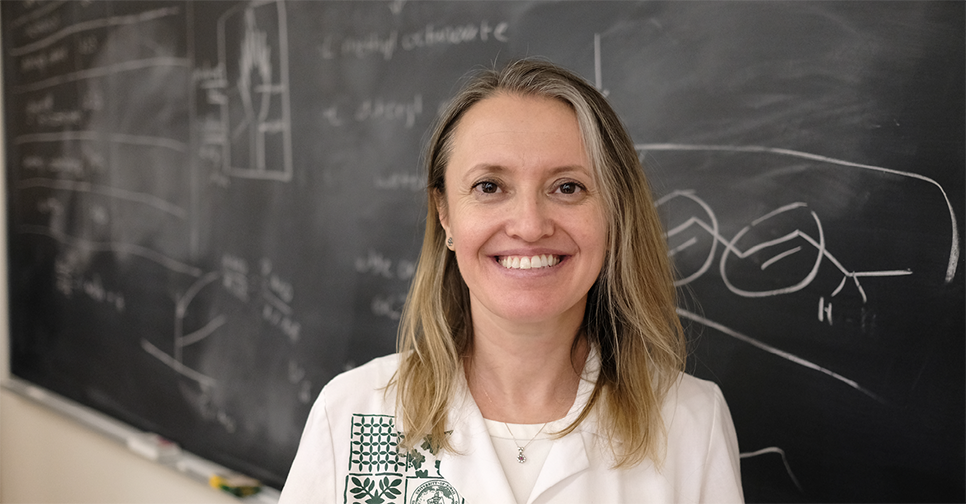 Biochemist Gönül Schara credits her parents for igniting her love of learning at a young age.
"I come from a family of teachers, and education and science were always a priority," she said. "They gave up everything they wanted for themselves so my sisters and I could continue our education."
As an assistant professor in the College of Science's Department of Chemistry since fall 2017, Schara has spent the past three years sharing her enthusiasm for learning and science with students.
"One of the other reasons I am attracted to the academic environment is the opportunity for personal interactions with students of diverse backgrounds and levels of knowledge," she said. "Teaching allows me to stimulate the students' interests in the subject and to get them interested in research."
And now, thanks to a federal grant she successfully sought, Schara will provide undergraduate students a rare opportunity to conduct university-level scientific investigations while taking Stanislaus State's research program to the next level.
In August 2020, the National Institutes of Health (NIH) awarded Schara a $408,000 four-year Support of Competitive Research (SCORE) grant for her proposal, "Characterizing and Engineering Toluene O-Xylene Monooxygenase (ToMO) for the Synthesis of Common Drug Metabolites."
The project will give students an opportunity to gain hands-on experience that will prepare them for future academic or industry careers.
"It's important for students to be exposed to research-grade instrumentation and projects from a very early point," Schara said. "This experience will increase the chances for our students to find research positions in industry, government or academic institutions."
Schara is the first Stanislaus State faculty member awarded a federal NIH grant. The NIH's SCORE program provides funding to under-resourced institutions with limited Research Project Grant (R01) funding that have a proven track record of training and graduating underrepresented students pursuing degrees in biomedical sciences.
With a student population that is 56 percent Hispanic, Stanislaus State is one of 133 public four-year universities nationwide designated as a Hispanic-Serving Institution (HSI). Hispanics constitute 16 percent of the U.S. workforce but make up only 6 percent of workers in STEM fields.
Stanislaus State has been actively involved in recruiting students from underserved populations into STEM studies, and Schara is aware of the challenges underrepresented students face.
"I have been personally committed to achieving equity for all my students and believe they are capable of making a difference and can succeed."
Students chosen for the project will learn a wealth of information and transferable skills: how to perform analysis, operate biochemistry equipment and write scientific documents. They will publish their results in a peer-reviewed journal and be listed as co-authors. They will present results at regional and national conferences. Schara also plans to incorporate research results into her undergraduate courses.
Schara is thrilled the project allows her to combine two things she is passionate about: teaching and enzymes. The SCORE grant will fund her lab group's research of the oxygenase enzyme's ability to produce high-value drug metabolites and use protein engineering to generate further improvements.
Enzymes are natural substances that help speed up chemical reactions. Metabolites are the "break-down" products of pharmaceutical drugs when ingested and can impact human health and disease. Scientists study the toxicology and pharmacokinetic effects of metabolites during pre-clinical and clinical studies, a crucial part of developing safe and effective medicines. Large amounts of metabolites are needed for investigative studies, but producing the quantities needed can be problematic and expensive.
That's where Schara's research comes in.
"Interest in the oxygenase enzyme for use in biotechnology applications is growing rapidly because it utilizes oxygen as an inexpensive, environmentally friendly substance to carry out substrate oxidations in contrast to commonly employed compounds that are more harmful," she explained.
Schara plans to seek additional external funding to broaden the potential of the oxygenase enzyme for drug development and pharmaceutical production. In the meantime, she will continue to share her knowledge and experience to help shape the next generation of scientific scholars in the Central Valley.
"Educating and influencing students is my passion," she said. "It's very fulfilling and rewarding, and I can't imagine doing anything else. I love my job."