The STEM Ambassador program is a substantial volunteer program for undergraduate students in STEM disciplines.  Internships are available if a student desires a robust program and to earn credit for participation.  This program provides Stan State students the opportunity to develop leadership and teamwork skills, and the ability to transfer intellectual learning from the classrooms to an audience.  Students lead classroom activities for the Junior Scientist and Solar Suitcase Program as well as take the lead for Science Saturday and Science Day activities. 
To apply as a STEM Ambassador, please complete the online application found at the following link.
Star STEM Ambassador Heather Friedberg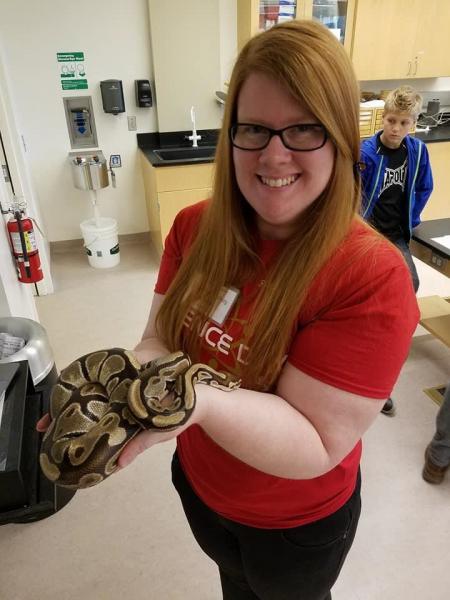 I joined the STEM Ambassador program the first semester it started. I immediately became an Ambassador for the STEM Ambassadors. This program has helped me improve as a future STEM educator. The program allowed me to explore an infinite number of labs and lessons that I can apply to Science in Our Community and to my future classroom; especially since Dr. Grobner never really told me "no". I worked with a diverse group of students and was able to fine-tune my lessons to their differences. This was more practice for me to adapt to the diverse community that Stanislaus County is. I have grown as a person and as a leader through this program. I owe a lot of my accomplishments to the team that has created the STEM Ambassador program. I was able to lead several Science Saturdays and create programs that have never existed until now. Being a STEM Ambassador just solidified my decision to be a STEM educator in more ways than one. I must say huge thanks to everyone who has helped me, for my future is now bright and fully possible because of it.
Star STEM Ambassador Aaron Carmack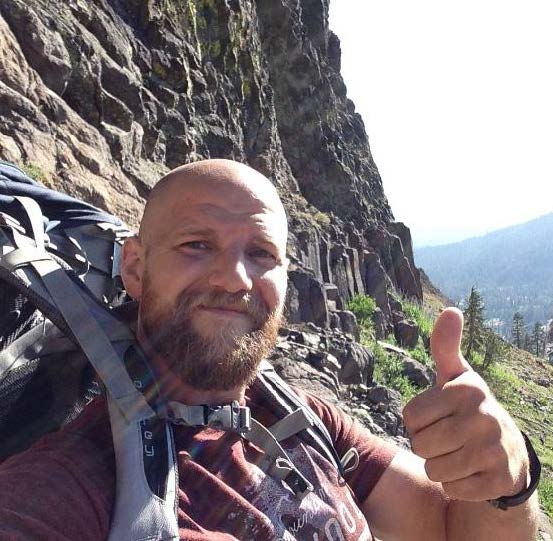 I love being a part of the STEM Ambassadors. As a young boy, I was very fascinated by science and would collect bones, rocks, and just about anything that I could find that I thought was interesting. I would then set them up in my own miniature natural history museum.  Unfortunately, I felt that I lacked the intelligence to become a scientist and chose not to pursue this profession.  Instead, I became a Marine and traveled the world as a Scout Snipper. In this role I often found myself deep in the wilderness, isolated from other people for days at a time. Once again, I found myself in awe by nature, as I observed the flora and fauna around me. I eventually returned to school to get my degree in biology. My goal is to get as many kids as I can be excited about science, and the STEM ambassador program has been a great opportunity for me to do this. I love that this program reaches out to all children and teaches them complicated scientific concepts in a simple, understandable, and most importantly memorable way. The energy and helpfulness of the faculty and staff for this program went far beyond what I had expected. Any ideas I or other STEM Ambassadors had for possible lessons, was always met with enthusiasm and support. Of all of the courses I have taken in my pursuit of becoming a biologist, I am most grateful for the STEM Ambassador program which gave me the confidence to stand in front of a group of students and share the amazing things I have learned.
Star STEM Ambassador Christian Pagala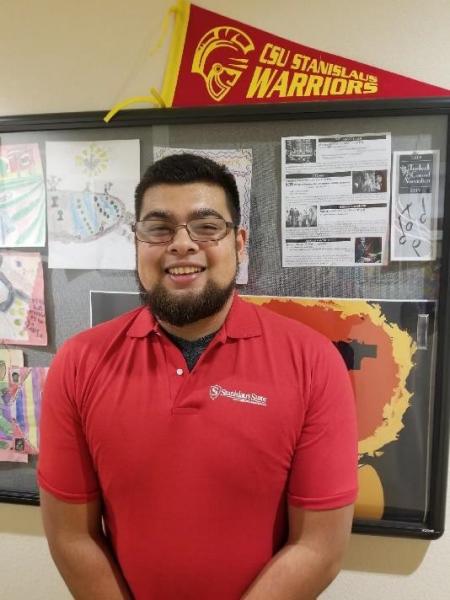 Science in Our Community creates an environment where I believe learning about science is fun. I see science as an interesting subject because of all that entails when studying different aspects of the world we live in. Science Day 2018 was my first experience working with Science in Our Community as a volunteer, and I immediately grew a fascination with the experience of the activities that were facilitated. Children of all ages were moving through the halls, conducting experiments, and performing activities that I have never experienced until I got to higher-level science in high school or college. To take part in a program that brings interest and access to students for a challenging subject, I feel fortunate to take part in administering these fun and worthwhile activities. Not just the experiments and the activities, but the people that volunteer and work in this program are dedicated and strive to bring the best experience possible to the forefront of every day of every semester. Working with such invoked individuals who treasure science and other STEM subjects fortifies my value in what I work to achieve as a teacher. I am currently working towards my bachelor's degree and the events that Science in Our Community host allows me to practice my knowledge of what I am learning, but also use and develop skills that will benefit me, not just as a teacher, but as a professional in their career. I assure all those who are undecided on what they want to do, or what career they would like to pursue to give this program a chance to motivate you.
STEM Ambassadors awarded Greatest Achievement award at the Stan State Student Leadership Awards Ceremony for 2018.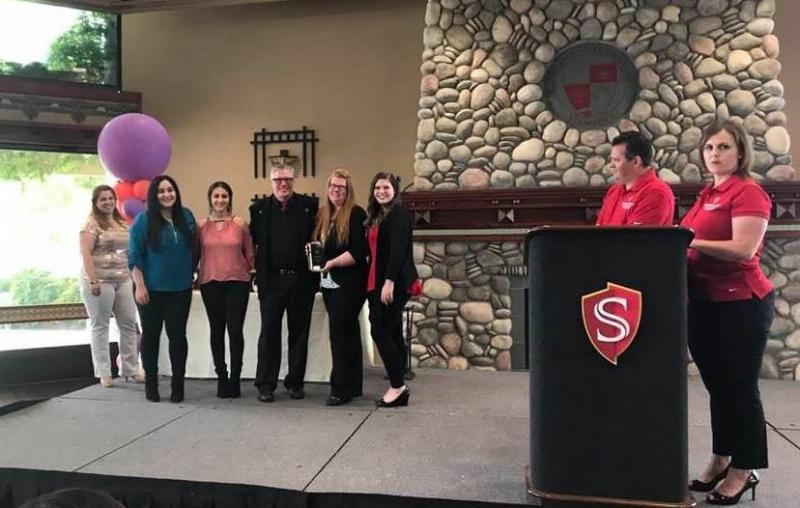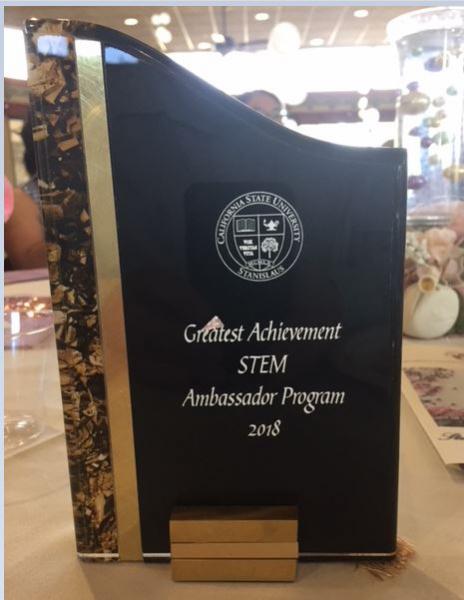 STEM Ambassador outreach at the New Student Orientation, Summer 2018