Be a part of Vines, the premiere evening of wine, brew & bites, benefiting Stanislaus State alumni programs, campus projects and student scholarships!
Download:
​Exhibitor Form.pdf [1]
Exhibitor Inquires
Monica Doll [2], (209) 667-3836
---
"After making connections with the exhibitors at Vines, I was delighted to have two of them provide services for at least eight professional and fundraising events that I hosted. The tasting experience at Vines gave me the confidence that I would get the service and quality I wanted for my own events. I proudly support the organizations that also support Stanislaus State, my alma mater, through Vines!"
Adrian Harrell, '98
"Participating in Vines was a great way to share our high quality, local fare with the community and introduce our restaurant to new patrons. The opportunity to partner with another exhibitor to present an exclusive food and wine pairing at Vines was a fun way to showcase our menu."
Table 26 Chef John Gardner
---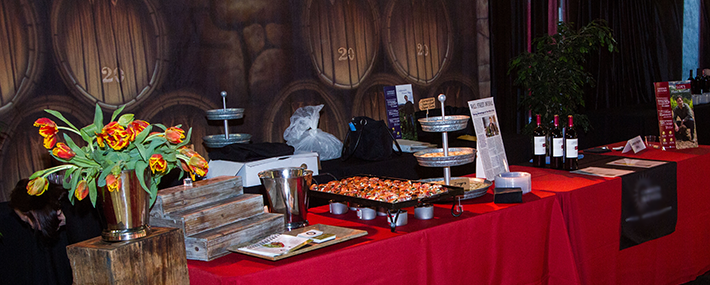 Vines 2019 Exhibitors
We would like to thank our exhibitors from Vines 2019!
Blaker Brewing
Dust Bowl Brewing Co.
Chartwells
Table 26
Center Street Grill
The Grand Cru
Galletto
Lola Bistro & Express
La Morenita
Vito's
Ten Pin
Yogurt Mill
Dewz
Toscana's
Hauck's Grill
Riboli Family Wines
Soulmates Wines
Spectra Vino
Berryhill Wines
E. & J. Gallo Winery
French Bar Winery