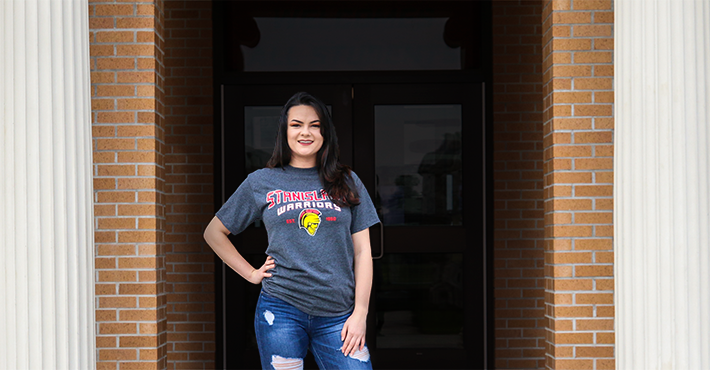 A former foster youth prepares for her bright future
By Gina Oltman
By the time Savannah Mendoza graduated from the eighth grade, she had spent six years in foster homes and experienced care that ranged from good to appalling. She had been separated, reunified and separated from her mother three times. She bounced between nine elementary schools.
She also had been introduced to the Promise Scholars program, which helps current and former foster youth succeed at Stanislaus State by providing an array of advising and support services. As soon as Mendoza learned about Promise Scholars, she made the life-changing decision that, without question, she would one day be a Warrior.
"I went to an eighth-grade grad night put on by Promise Scholars. It was all about going to college, how to get there, and telling us that just because we're foster kids doesn't mean we can't go to college." Mendoza said. "That's when I decided I wanted to go to Stan State."
Today, she is a third-year kinesiology major. She plans to graduate in May 2020, enter a nursing program and become a registered nurse.
Outgoing and naturally optimistic, Mendoza is confident of her future. She credits the Promise Scholars staff with putting together an academic and financial aid plan that will lead her to graduation in four years and keep her on track toward her goals.
At the grad night event years ago, she met Wanda Bonnell, the now-retired coordinator of Promise Scholars. As Mendoza progressed through Modesto High, she occasionally emailed questions to Bonnell who advised her on how to prepare for Stan State.
"She also helped me with my FAFSA and applying for scholarships and grants," Mendoza said. "Through it all, she helped me figure out how to get through Stan State not only without any loans, but with my whole four years paid, including housing and meals."
"I knew I wanted to be a Stan State Promise Scholar since my eighth-grade graduation."
- Savannah Mendoza
The financial aid arranged through Promise Scholars was crucial to Mendoza because, with no parental assistance, she had no other way of paying for college and housing. She entered the foster care system at the age of 7 because her mother had a drug addiction. The next several years of her life revolved around failed reunification attempts and moving from one foster home to another.
Despite the instability of life in foster care, Mendoza was a good student and graduated from high school with a 3.8 grade point average. She assumes she would have found her way to college, but perhaps without good advice or financial aid coordination if she didn't have Promise Scholars on her side.
"I probably would have tried to figure it out on my own, and I'd probably be thousands of dollars in debt by now," she said.
While financial aid has been imperative for Mendoza, she also appreciates Promise Scholars' help in other areas, such as academic advising and career planning.
For example, she says, Bonnell and other staff helped her sift through various career ideas before she settled on nursing. And when her car broke down, the staff found a solution to the problem.
Mendoza also appreciates the community-building events that bring together Promise Scholars students a few times a year.
"Those events are pretty cool because you meet other people who know what you are going through," she said. "You get a sense of camaraderie. It is like a family on campus."
Mendoza says she is happy to be an unofficial Promise Scholars ambassador, recommending the program to anyone who qualifies.
"It's important for students who qualify for the program to be informed about it when they are young," she said. "That's what happened with me, and I'm glad it did."