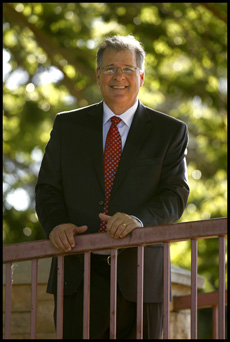 James T. Strong became Provost and Vice President for Academic Affairs in May 2010. Dr. Strong came to Stanislaus State from California State University Dominguez Hills, where he served as Dean of the College of Business Administration and Public Policy for seven years. He is also a professor of marketing with a wide variety of academic accomplishments.
Prior to joining the CSU system, Dr. Strong served as associate dean of the College of Business Administration at The University of Akron for five years and was also a faculty member at The University of Akron for fourteen years. Prior to joining The University of Akron, he was an assistant professor of marketing at Rowen State University in Glassboro, NJ for three years. Dr. Strong spent nine years in marketing, sales and sales management prior to entering academe.
Dr. Strong has a Ph.D. in Business Administration with a concentration in marketing and a minor in organizational behavior from Drexel University in Philadelphia, PA. He holds an M.B.A. from the University of Toledo and a B.A. in English from Lafayette College in Easton, PA. Dr. Strong currently lives in Turlock with his wife, Jane. They have two daughters and a son.