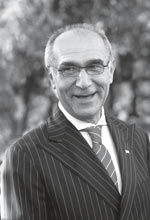 Hamid Shirvani
President
2005-2012
Dr. Hamid Shirvani served as the ninth President of Stanislaus State from July 2005 to June 2012. He spearheaded a number of innovative changes and improvements, and enrollment has grown significantly to nearly 9,000 students. Under his leadership, Stanislaus State gained national recognition from the highly acclaimed Princeton Review as one of 165 "Best Value Colleges" and one of the "Best 366 Colleges" in the United States, a ranking shared by only 10 percent of colleges and universities nationwide.
One of Shirvani'€™s early actions was a reorganization of the Stanislaus State academic program from three to six colleges in order to provide for greater efficiency and accountability. Additionally, a number of new graduate level programs are being added during his presidency, including a Doctor of Educational Leadership degree that will give Stanislaus State its first doctorate program in 2008; an Executive Masters of Business Administration degree; and master's degree programs in Ecology and Sustainability, Nursing, and Genetic Counseling.
An internationally known scholar of architecture and urban design and planning, with an extensive record of publications including three major books, Shirvani is also the recipient of many national and international awards and honors such as the Seikyo Culture Award of Japan in 1999 and the President of the Year award by the California State Student Association. He has been in higher education for more than 28 years, with 20 of those years in senior executive leadership and management posts across the United States. He has also served on the faculties of State University of New York at Syracuse and Pennsylvania State University. Shirvani holds a Ph.D. and M.A. from Princeton University, an M.L.A. from Harvard University, and a M.S. from Rensselaer Polytechnic Institute.