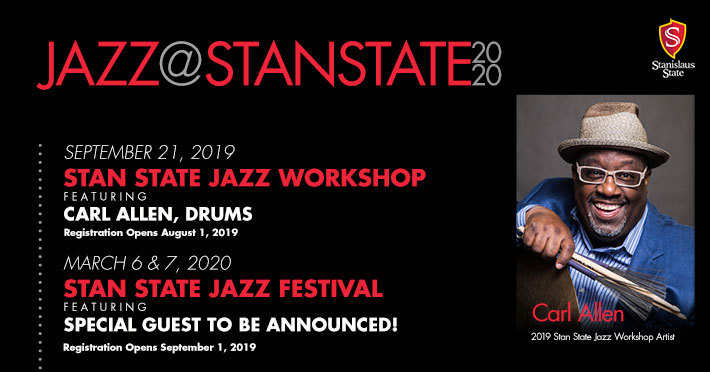 ---
2019 STAN STATE JAZZ FESTIVAL
Featuring ETIENNE CHARLES, Trumpet
Friday, March 8th & Saturday, March 9th
REGISTER NOW! [1]
---
Featuring Etienne Charles, Trumpet

Read about Etienne Charles [2]
Artist Youtube Videos
Etienne Charles & Kaiso - Kaiso (Live) [3]
ETIENNE CHARLES - SAN JOSE SUITE - Musicians [4]
---
Concerts
Friday, March 8, 2019
SCMEA High School Honor Jazz Band
CAPTIAL JAZZ PROJECT
Saturday, March 9, 2019
Stan State Student & Faculty Jazz Ensembles
Featuring ETIENNE CHARLES​
Adjudicators/Clinicians
David Beatty (Azusa Pacific University)
Kasey Knudsen (Sonoma State)
Steffen Kuehn (Pacific Mambo Orchestra)
Dr. Andy Nevala (Jacksonville State University, Alabama)
Dr. Matt Pivec (Butler University)
Marcus Shelby (SF Bay Area Artist)
Philosophy
The goal of the Stanislaus State Jazz Festival is to provide students and directors with a positive educational and musical experience in Jazz. Maximum interaction between students, directors, and guest clinicians will take place throughout the day, highlighted by various master classes from guest artists and clinicians.  The festival also includes several performances featuring festival clinicians, the Stan State Jazz Ensemble, and our guest artist Stefon Harris.
Festival Format
The festival is non-competitive. Clinicians will provide written and verbal feedback to the directors and students. Each band will receive a warm-up room for 25 minutes prior to their performance. Each band will be allowed approximately 25 minutes to perform (this includes setup and teardown), followed immediately by a 25 minute clinic.
Master Classes
Throughout each day, guest artists, as well as other area jazz educators, will give master classes that deal with specific improvisational topics.  A schedule of these master classses will be distrbuted a few weeks pirior to the festival.
Registration
Jazz Festival Registration Here! [1]
Release of Liability form. [5] All participants must sign and bring a completed release. Download, fill in all necessary fields and bring the completed release with you to the event.
About the Guest Artist
One of the most compelling and exciting young jazz artists ushering the genre into groundbreaking new territory is trumpeter/bandleader Etienne Charles, who, still in his 20s, has already recorded three impressive and well-received albums for his own Culture Shock Music imprint. His new album, Creole Soul, is a captivating journey of new jazz expression. It buoyantly taps into a myriad of styles rooted in his Afro-Caribbean background and plumbs the musical depths of the islands, from calypso to Haitian voodoo music. Also in the jazz amalgam mix are rock steady, reggae, belair, kongo and rock as well as the influence of Motown and R&B music Charles listened to on his parents' record player when he was growing up.
"Jazz is Creole music," says Charles who was born in Trinidad, relocated first to Florida and then New York to further his jazz studies (graduating, respectively, from Florida State's and Juilliard's jazz programs) and today teaches jazz trumpet at Michigan State University. "As a person in the new world, I've been influenced by so much music. And my family has a mixed background, with French Caribbean, Spanish and African roots as well as Venezuelan influences. I come from a fusion of rhythms, a fusion of cultures. That's what this album is all about: focusing on soul music that is Creole at heart."
As befitting an artist who excels with such a diversity of musical styles, Charles has performed with a range of musicians, from Roberta Flack, Rene Marie and David Rudder to Wynton Marsalis, Johnny Mandel, the Count Basie Orchestra and Maria Schneider. He also worked with steel pan all-star Len "Boogsie" Sharpe as well as jazz masters Frank Foster and Benny Golson.
Charles was taught by one of his mentors, primo jazz pianist and Florida State professor Marcus Roberts, that "going backwards is the only way to go forward." So, while the 10-song Creole Soul is steeped in the jazz tradition, the spirit of the Caribbean also drives it. The young trumpeter, in addition to composing six originals, delivers his unique spin on Creole-oriented tunes from past masters, ranging from Bob Marley to Thelonious Monk. The album—at turns, rootsy, spicy and grooving—features at its core Charles' crisp trumpet intonation and his lucid melodic lines. Joining the leader for the Creole music adventure is Charles' band, comprised of tenor saxophonist Jacques Schwarz-Bart, alto saxophonist Brian Hogans, Kris Bowers on piano and Fender Rhodes, bassist Ben Williams and drummer Obed Calvaire. Guests include vocalist Erol Josué, guitarist Alex Wintz and percussionist/vocalists Daniel Sadownick and D'Achee.