Professor of History
Education:
Ph.D. Washington State University, 1999.
M.A. Washington State University, 1993.
B.A. University of California, Santa Cruz, 1991.
Fields:
Latin America
Concentrations: Mexico, Cuba, and Atlantic Slavery
19th & 20th Century Middle East
Comparative World Women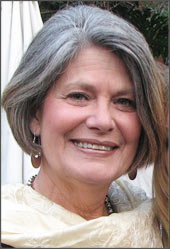 Building Location:
Bizzini Hall
See Building #2: Map [1]
Office Location:
C 118B - See Map [2]
Phone: (209) 667-3316
E-mail: mwalker@csustan.edu [3]
Courses Offered:
HIST 1020  World History Since 1500 
HIST 3090  Contemporary World 
HIST 3510  Colonial Latin America 
HIST 3520  Modern Latin America 
HIST 4500  Modern Mexico
HIST 4500  History of Mexico
HIST 4510  U.S.- Latin American Relations
HIST 4720  Modern Atlantic Slavery 
HIST 4750  Comparative World Women 
HIST 5920  Guerrilla Revolutions
HIST 5970  Graduate Seminar: Latin America
International Work:
Paper: "Historians don't know nothin' 'bout birthin' no babies: A Comparative Study of Slave in the Americas, 1792-1838." Presented at the CSU Session, Casa de la Americas, La Habana, Cuba, July 1, 2003.
Instructor: Universidad Internacional Cuernavaca, Morelos, Mexico, since 2004.
Seminars Delivered: Teaching Methods, Geographic History of the United States, Cuba, and Overview of United States History, January 5-9, 2009, at Hanoi National University of Education, Hanoi, Vietnam.
Workshop on Research Publication. Harold Stanislaw, Marjorie Sanchez-Walker, Keith Nainby. Conducted January 13-16, 2009 at Phranakhon Rajabhat University, Bangkok, Thailand
Universidad Nacional Autonomous, Heredia, Costa Rica 2013, USAC course "Before Starbucks:  Women in the Costa Rican Coffee Industry".
Professional Affiliations:
American Historical Association
World History Association
Latin American Historians of Northern California
California Faculty Association & Delegate to the Mexican American Caucus
American Historical Association
North American Congress on Latin American
Conference on Latin American History
International Migration Studies Association
Latin American Studies Association
Phi Alpha Theta, Gamma-Psi Chapter
Awards:
Elizabeth Anne B. Papageorge Outstanding Faculty Award, 2004
Professor of the Year: President's Commission on the Status of Women, 2004
Woman of the Year in Education. Soroptimist International, 2002
Papers & Publications:
"Comparative Studies on World Women."  Paper delivered on the panel Comparative History As a Teaching Tool," 128th Conference of the American Historical Association Conference, January 2-5, 2014, Washington, D.C.
"Vietnam," in the Encyclopedia of Motherhood. O'Reilly, Andrea and Geoffrey J. Golson [eds.] Sage Press, 2010.
Woven Within My Grandmother's Braid: The Biography of a Mexican Immigrant Woman,
1898-1982. Floricanto Press. Forthcoming 2009.
Review: Contested Policy: The Rise and Fall of Federal Bilingual Education in the United States, 1960-2001, in the Journal of Southern History. Pending.
"Fannie Zlabovsky and Grandma Stone's Buick: Tales of Rescue on the Eve of the Holocaust at the US-Mexico Border Crossing." Empire Conference. CSU Stanislaus, March 13-15, 2008.
Commentor on the panel entitled, The West and Latin American Identities: Regional and World Perspectives on Popular Imagery, Conflict, and Materialism. World History Association Conference. Milwaukee, Wisconsin, June 28-30, 2007.
"The Wider Cristero Rebellion, Mexican immigrants, the Catholic Church and transnational ethnic politics." Paper delivered on the panel Mexicali, Managua, Mexico, and the Mission: Situating Transnationalism in Everyday Americas Culture at the American Studies Association Annual Conference, Oakland, California, October 13-15, 2006.
"A Woman's Charity Based on the Dignity of Humankind: Mexico-United States Transnational Communication." Paper delivered on the panel Representations & Practices of Spirituality and round-table presenter on the panel Aunts, and Aunties: Narratives of Aunts and Aunting in Feminist Lives, at the Organization for the Study of Communication, Language and Gender Conference, Notre Dame, Illinois, October 14-17, 2004.
"Cuba, Castro, Ché, and Coco-Cabs: Reflections on my Trip to the Island of the Palm Trees," at the Spring Faculty Lecture Series, CSU Stanislaus, Turlock, California. March 24, 2004.
"The Evolution of an Academic Subversive: A Secret Memoir," Faculty Voices, A
Narrative Writing Project, California State University, Stanislaus, 2003.
Moderator, The Benevolent Impulse: Travel, Ethnography, and Imperialism, at the
Empire and Imperial Cultures Conference. California State University, Stanislaus, Turlock,
California. February 27-28, 2004.
Panelist, "American History IV," National Endowment for the Humanities, Division of
Preservation and Access. Washington, D.C., November 29-30, 2001.
"'Not a religious vocation, but a way to do God's work:' Women Immigration Advocates at
the U.S.-Mexico Border, 1922-1963." Paper delivered on the panel Women's Advocacy,
Reform, and the Politics of Immigration on the US/Mexico Border, 1917-1960s at the
Gender on the Borderlands Conference at St. Mary's University, San Antonio, Texas,
July 12-14, 2001.
Panel Chair and commentator: "Fragile Alliances: Native American & White Women's
Activism in the West at the Turn of the Twentieth Century," at the Women's West
Conference on Gender, Race, Class, and Region. Washington State University,
July 27-20, 2000.
"Parallel Lines of Shifting Humanity: The Encounter of Portugal and Africa
with Indigenous America, 1500-1800." Portuguese Summer Institute, CSU Stanislaus, June 17, 2000.
"Sarah Weadick" and "Caroline A. Boone," in The Encyclopedia of American Catholic
Women. (ed) Michael Glazier. South Bend: University of Notre Dame Press, pending.
Chapter, "Petra: The Biography of a Mexican Immigrant Woman, 1898-1982," for a two-
volume anthology on women in Latin America history. David G. Sweet (ed.). University of
Nebraska Press, pending.
"The Pet Bureau: the National Catholic Welfare Conference Immigration Bureau at El
Paso, 1933-1941," presenter in the session, Immigration and Catholic Advocates at
Ellis Island and El Paso in the 1930s. Paper Delivered at the American Historical
Association Conference Chicago, Illinois. January 6-9, 2000.
"Immigrants & Immigration Policy at the United States-Mexico Border," presenter and organizer of the panel U.S.-Mexico Border and Transborder Immigration Policy in the
1930s, American Historical Association Pacific Coast Branch, August 6-9, 1998. San
Diego, California.