Professor of History
Education:
Ph.D., Cornell University, 1991 (History)
M.A., Cornell University, 1988 (History)
B.A., Emory University, 1983 (History)
Specialty Fields:
Early National / Antebellum U.S.
U.S. Gender and Masculinity
U.S. Religious
U.S. Family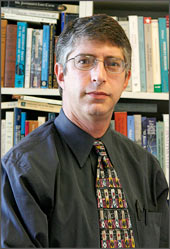 Building Location:
Bizzini Hall
See Building #2: Map [1]
Office Location:
C 118C - See Map [2]
Phone: (209) 667-3564
E-mail: bcarroll@csustan.edu [3]
Courses Taught:
 
Publications:
Books
Masculinities in America:  Readings in U.S. Gender History (Pearson, forthcoming)
American Masculinities: A Historical Encyclopedia (Sage Publications, 2003). Editor-in-Chief.
The Routledge Historical Atlas of Religion in America (Routledge, 2000).
Spiritualism in Antebellum America (Indiana University Press, 1997).
Articles and Essays
"Worlds in Space: American Religious Pluralism in Geographic Perspective", in Charles L. Cohen and Ronald Numbers, eds., Modern American Religious Pluralism (Oxford University Press, forthcoming)
"Reflections on Regionalism and U.S. Religious History," Church History 71/1(March 2002): 120-131
"'A Higher Power to Feel': Spiritualism, Grief, and Victorian Manhood," Men and Masculinities 3/1 (July 2000): 3-29
"The Context of Cassadaga: An Historical Overview of American Spiritualism," in Cassadaga: The South's Oldest Spiritualist Community, ed. John J. Guthrie, Jr., Phillip C. Lucas, and Gary Monroe (University Press of Florida, 2000), 1-26
"'I Must Have My House in Order': The Victorian Fatherhood of John Shoebridge Williams," Journal of Family History 24/3 (July 1999): 275-304
"The Religious Construction of Masculinity in Victorian America: The Male Mediumship of John Shoebridge Williams," Religion and American Culture: A Journal of Interpretation 7/1 (Winter 1997): 27-60
"Spiritualism and Community in Antebellum America: The Mountain Cove Episode," Communal Societies 12 (1992): 20-39
Encyclopedia Entries
A total of 36 entries have been or will be published in Encyclopedia of American Religion (forthcoming), Encyclopedia of American Reform Movements (forthcoming), Encyclopedia of the Early Republic and Antebellum America (forthcoming), Encyclopedia of the History of Women in America (forthcoming), Encyclopedia of the New American Nation (2005), American Masculinities: A Historical Encyclopedia (2003), Dictionary of American History (2003), The Family in the United States: Colonial Times to the Present: An Encyclopedia (2001), Contemporary American Religion (2000), American National Biography (1999), Encyclopedia of New York State (2005), and Encyclopedia of New England (2005).
Book Reviews
A total of 32 book reviews and review essays have been published or are forthcoming in American Historical Review, American Studies, Church History, Journal of American History, Journal of Church and State, Journal of Ecclesiastical History, Journal of Religious History, Nova Religio: The Journal of Alternative and Emergent Religions, Religious Studies Review, and on H-AMSTDY
Conference Presentations
Paper presenter, commenter, or panel chair at meetings of American Academy of Religion, American Historical Association, American Historical Association – Pacific Coast Branch, American Society for Church History, American Studies Association, Association of American Geographers, Communal Studies Association, Organization of American Historians, Society for Historians of the Early American Republic, and Social Science History Association