Event date
Monday, February 5, 2018 (All day)
to
Sunday, February 11, 2018 (All day)
Location
Various locations on & off campus
Contact
ASI/USU Front DESK
Phone
(209) 667-3815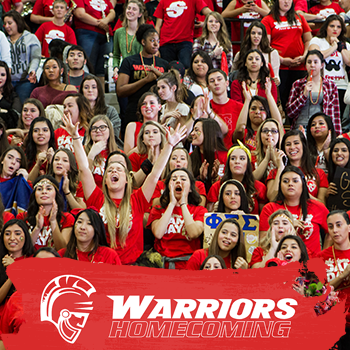 February 5-11, 2018
Stanislaus State welcomes alumni, students, parents, faculty, staff and the community to celebrate Homecoming Week: February 5-11, 2018. Homecoming is a time to bring Warriors back to campus to reconnect with friends and celebrate the spirit and pride of Stanislaus State.
Community Carnival - Stan Skate
Alumni Faculty & Staff Luncheon
Wear your Warrior Red
Alumni Pregame Social
Basketball games
and more!
More information [1]
Use the hashtag #WarriorsPaintTheTown to join the social conversation about Homecoming 2018.