Event date
Monday, March 12, 2018 - 12:00pm

to

Friday, April 13, 2018 - 4:00pm
Location
University Art Gallery | Theater Building (Bldg #7)
Who's invited
Open to Public
Contact
Nikki Boudreau
Email
nboudreau@csustan.edu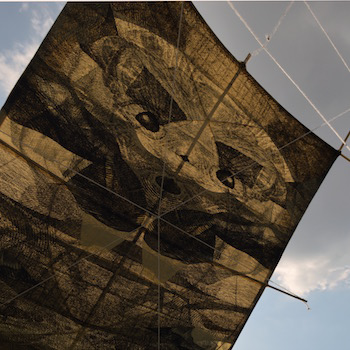 Exhibition: March 12 to April 13, 2017
Reception: 
Thursday, March 22 
at 5:30 pm | Artist talk at 6:00 pm
About the Artist:
Koichi Yamamoto is an artist who merges the traditional and contemporary by creating unique and innovative approaches to the language of printmaking. Koichi has worked with meticulous copper engravings to large-scale monotypes. Yamamoto completed his BFA in 1992 at the Pacific Northwest College of Art in Portland, Oregon then moved to Krakow, Poland until 1994, and Bratislava Academy of Fine Arts in Slovakia in 1995 to study copper engravings. He studied at the Academy of Fine Arts in Poznan, Polandin in 1996 and then completed his MFA at University of Alberta, Canada in 1999. He also worked as a textile designer in Fredericia, Denmark in 2000. Koichi's prints explore issues of the sublime, memory, and atmosphere. He has exhibited internationally and taught at Utah State University and University of Delaware. Yamamoto is currently an Associate Professor at the University of Tennessee in Knoxville. Another achievement he has accomplished is climbing to the top of Vulcan Cotopaxi (19,347') in Ecuador.
Artist Statement:
My recent prints examine two of our important relationships, first with the environment and second with other human beings. The first relationship is embodied in the monotype prints, which are by their very nature unique, expressive, spontaneous, and intangible. These qualities allow me to create prints that are unpredictable but that include a sense of gravity, darkness and light. The engravings, on the other hand, are calculated and repeatable. Ultimately, we cannot have one relationship without the other. The environment is exciting and nourishing, we depend on it but must also learn to survive in it. We must respect nature because it gives us life and if it is mistreated it can take our lives away. We need the stability of human relationships so as to be able to explore nature and through this exploration we create beautiful things in human minds. These graphic images are made from monotype with intaglio plates, specifically copper engravings. The five-hundred-year-old method slows down the image-making process—a sixteenth century standard. Engaging in the journey of production provides an opportunity to discover significance in a series of arbitrary decisions. Printing these images bisymmetrically they gain some resemblance to faces. Generally, the basic qualification of "face" requires two eyes and one mouth. This simple triangular composition of three elements is in many ways the foundation of visual communication. I find an interest in the unlimited possibilities of these combinations and expressions. Four bisymmetrical images have been printed and collaged on monotypes. The monotype surface becomes architectural space with a sense of gravity that recedes from the "belt" of intaglio prints. Expressions are mixed, sometimes becoming hidden artistic simulacrum.
Hours: 12–4 pm Monday–Saturday with evening hours from 4–9 on Thursdays 
Map & Location
View building 7 on campus map [1](The gallery is located in the Theatre Building).