Dr. Virginia Montero Hernandez received her PhD in Education from the University of California, Riverside in 2010. She was selected as a UCMEXUS-CONACYT doctoral fellow from 2005-2010. She was a postdoctoral scholar at the Graduate School of Education at UCR and Scholar in Residency at the University of California Institute for Mexico and the U.S (UCMEXUS). For the past three years, she has been Assistant Professor and Program Coordinator of the Master's Program in Education at the Autonomous University of the State of Morelos in Mexico. She has co-authored a book, book chapters, and several articles in the field of Higher Education, including critical issues in the community colleges, the academic profession, the context of Mexican higher education, and faculty learning.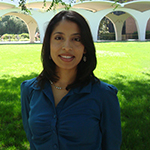 ​
Contact Information
Building Location: Demergasso-Bava Hall
See Building #21: Map [1]
Office Location: DBH 352 - See Map [2]
Phone: 209-664-6702
E-mail: Vmonterohernandez@csustan.edu [3]
She is an active member of the National System of Researchers, Level 1 with the Mexican National Council for Science and Technology (Consejo Nacional de Ciencia y Tecnología, CONACYT). She has been P.I. and Research Collaborator for several CONACYT and Ministry of Education funded research projects during the last four years in Mexico. Dr. Montero has designed and delivered three undergraduate and six graduate courses on higher education and qualitative research methodology. She chaired dissertation and thesis committees. She has actively participated in the development of research networks in which U.S. and Mexican scholars aim to understand the cultural and organizational construction of educational experiences and the academic profession in higher education institutions in Mexico and the United States. Her research explores the construction of educational experiences in higher education institutions by addressing micro and macro categories of analysis such as agency, identity, resilience, curricular structures, learning dynamics, interactional structures, organizational structures and behaviors, policy, and cultural resources. Dr. Montero Hernandez honors cultural diversity and is passionate about developing effective learning environments where individuals can gain self-knowledge, build skills up, and define personal projects.